Insuring a future for the West Kootenay
The merger of these two providers will benefit their clients immensely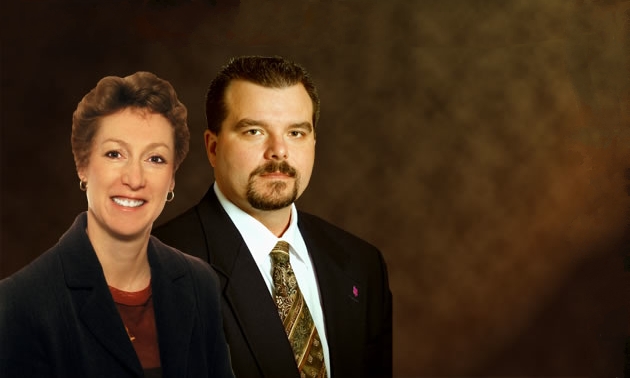 Exciting changes are in the works for two of the most respected insurance agencies in the West Kootenay. In December of 2010, it was announced that a merger would take place between independent insurance providers, RHC Insurance Brokers Ltd. and Anderson Insurance.
RHC Insurance currently has six locations—in Castlegar, Trail, Rossland and Grand Forks, with two offices in Nelson. Anderson Insurance has two locations—in New Denver and Castlegar. Both organizations will be merging under the RHC Insurance company title.
The decision to merge followed the retirement of RHC's previous co-owner, Stuart McDonald. His business partner, co-owner and general manager of business operations, Tammy Darough, has established a new partnership with Scott Moorey, who will be taking over from McDonald as the general manager of insurance operations.
"Stuart McDonald has been edging into retirement for the last year," said Darough. "Scott Moorey has an extensive insurance background. He was looking for an opportunity to expand his operation; we were looking for a good insurance person to take over from Stuart McDonald. The fit seemed perfect. We are now in the process of renaming the two Anderson Insurance offices to RHC Insurance Brokers."
Moorey comes from a long line of insurance experts, having bought the business from his father, Carvil Moorey. Both of them have an obvious passion for the industry.
"I bought our offices from my father, and I've been working for my father since 1991," said Moorey. "He just retired in December on the news of the upcoming merger—so he was very pleased with how we were able to put the deal together."
The change promises to bring an enhanced scope of service to local clients, catering to the needs of smaller West Kootenay communities in particular.
"RHC Insurance is locally owned and operated," said Darough. "We have our own in-house insurance programs for both personal and business insurance that are designed to meet the needs of property (owners) in the Kootenays. Our area is made up of smaller communities whose insurance needs are not the same as those in the urban centres. Because we are the underwriters of our program policies, in most cases we can issue the policy on the spot."
The benefits offered by RHC will enhance the already stellar reputation that Anderson Insurance has with its clients.
"We're going to have much more product offering," said Moorey. "(At RHC) it is very convenient for staff to offer a broad selection of coverages to clientele, which is a bit more advantageous than a small brokerage firm such as Anderson. So for our clients, it's going to be a nice change."
The merger will perpetuate the philosophy of both companies, working towards a common goal to provide quality and professional pride that extends all the way from its staff to its clients.
"Our aim is to provide an excellent working environment for our team members. We offer company support for education to advance our team members' insurance careers," said Darough. "Our philosophy is to always find the right insurance product for our clients at a fair price. Our goal is for (them) to understand their policies and the coverages they have. Taking the time to educate our clients is so important to us."
The fact that RHC is an independent provider makes it especially advantageous to West Kootenay clients. With only two shareholders and no board of directors to go through, the business processes of an independent firm are much more efficient.
"It allows us to act quickly when it comes to product changes or decisions," said Moorey.
"We are not tied to any larger corporations or organizations," said Darough. "We can truly look for the best products for our clients without having to stay within the parameters of corporate direction. Being independent allows us to search out many markets."