What does a social media manager really do all day?
KootenayBiz caught up with Raeanna Bullock, the social media manager behind Cranbrook Hyundai's infectious social media posts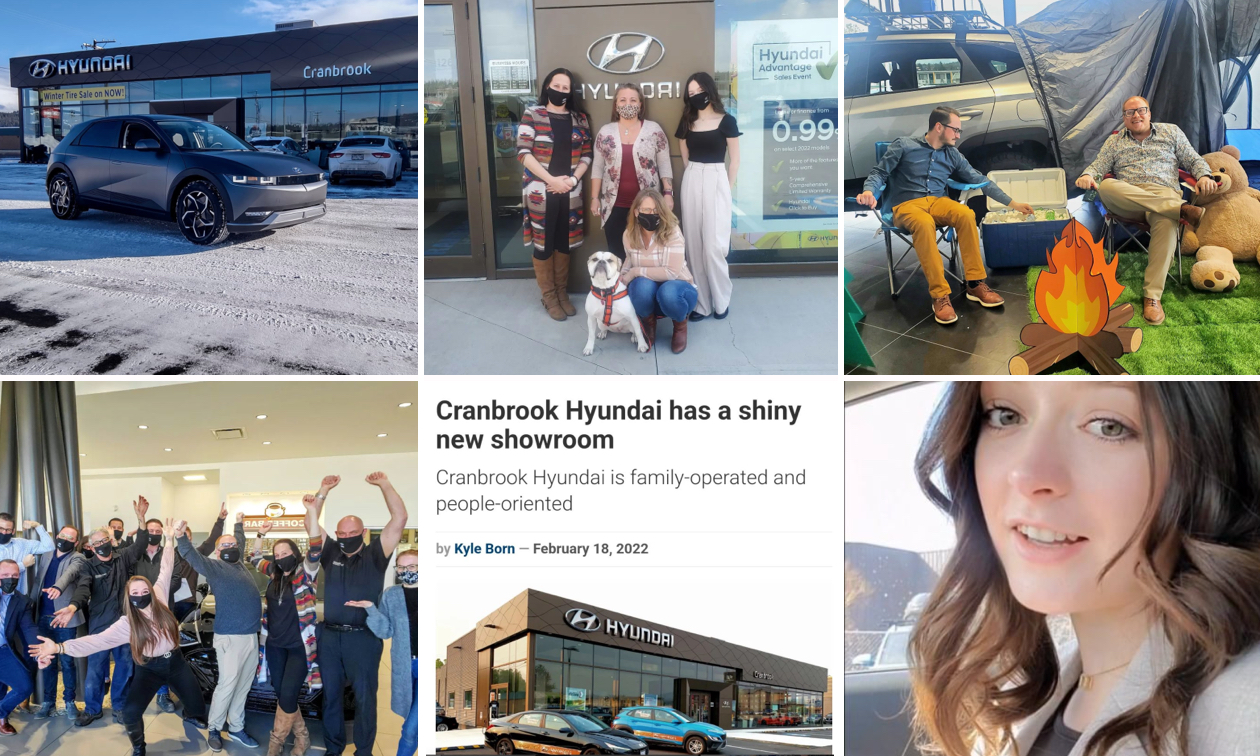 If you ever watched the popular Netflix show Emily in Paris, you may think that being a social media maven is a pretty sweet gig. Emily frolics about the city in the latest fashions, taking selfies while sipping cappuccinos and sampling croissants. The reality of being a social media manager, of course, is much different. In today's digital world, every business is now a media company, and coming up with content that is entertaining and informative and meets business objectives is not an easy job.
One Kootenay business that manages to not take itself too seriously—while still making a mark with its marketing—is Cranbrook Hyundai. Check out their Instagram and TikTok feeds and you'll see a group of people who obviously love where they live and are passionate about what they do. It takes creativity and dedication to research, plan, shoot, edit and post several times a week—a schedule that Cranbrook Hyundai has been sticking to for the last couple of years.
KootenayBiz recently caught up with Raeanna Bullock, the face behind—and often in front—of the automotive dealership's social media to find out exactly what a social media manager does all day. Here's what we found out:
What does a social media manager do all day?
That is a really good question because I feel like there is a misperception about the work that goes into this job. The majority of my job is researching. That involves researching what trends and sounds are popular at the moment, as well as researching the demographics of our viewers and how they respond to different types of content. At the end of the day, we want people to be excited when Cranbrook Hyundai pops up on their feed, and we can't do that if we don't know what they want. So a lot of my job is figuring out what that is.
Why do you feel social media is an effective way to communicate with customers?
I believe social media is such an important tool for communicating not only with customers but with the community as a whole. Through our social media, we basically open up the doors to our dealership and involve people in our day-to-day life, so you can feel like you know all of us. Our followers are truly like our friends and we are all a part of this huge Cranbrook Hyundai family.
Where do you get your content ideas from?
We get our content ideas from a bunch of different places. For the most part, our content will come from me brainstorming about what our followers would want to see online. But I also get requests/ideas from our staff, which is always amazing! And we have even had people request videos online in our comment section.
Do you plan out your content in advance, make it up as you go or a combination of the two?
It is definitely a combination of the two. Since we post as much and as consistently as we do, there has to be an organized idea about what is going to be posted throughout any given month. However, it has happened where our employees will just be having fun and laughing with each other and I will film and post it in real-time, and our viewers really respond to that sort of content as well.
What advice do you have for other small businesses that want to up their social media game?
My advice would be to really commit to your social media. It is just like anything else in life where the more work that you put into it, the more results you are going to get out of it.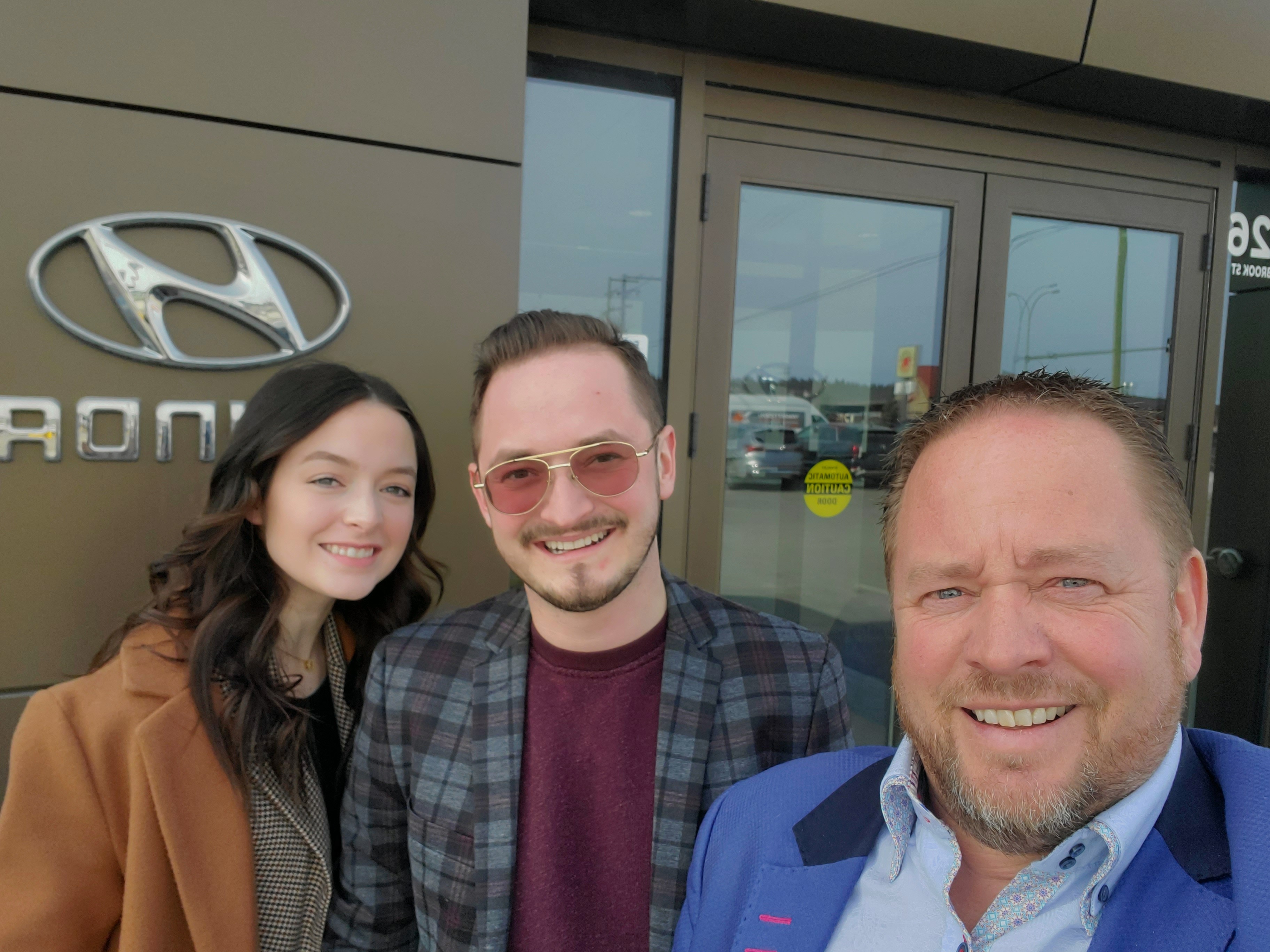 Can you tell me a little bit about your background? What path did you take to become a social media manager?
I went to school for business at Mount Royal University in Calgary and I majored in marketing. And throughout the whole degree, there was definitely a focus in the curriculum around social media, because it is being recognized as an important tool for businesses. So I was able to get a good understanding of it beforehand, which was really nice.
After I finished school, I was offered to move here and work at Cranbrook Hyundai as a Director of Promotions and Social Media. And to be honest, it wasn't even a question for me because I love British Columbia so much.
What do you love about your job?
Is "everything" too vague of an answer? No, but really, the people who work here make this job amazing. They were all so warm and welcoming when I moved here, and everyone is so fun! It's a really positive work environment and everyone is friends outside of work, which I find rarely happens.
What do you love about living in Cranbrook, B.C.?
I love the outdoor lifestyle here. My family and I never take a sunny day for granted and we have been able to snowmobile, quad, bike and hike so many beautiful mountains and landscapes around the Kootenays. I am definitely guilty of having about 700 pictures of Fisher Peak on my camera roll right now.
Which social media posts have garnered the most reaction for Cranbrook Hyundai?
We have had quite a few posts that have gained a lot of attention from all over the world. My personal favourite was our first viral video, which was Dalton (our general manager) and Ryan (our product specialist) shovelling after a big snowfall. And it was a completely unplanned video where I just asked to film them. They ended up having so much fun with it, and Ryan decided to dance at the end, and just their energy alone obviously spoke to a lot of people and they loved it.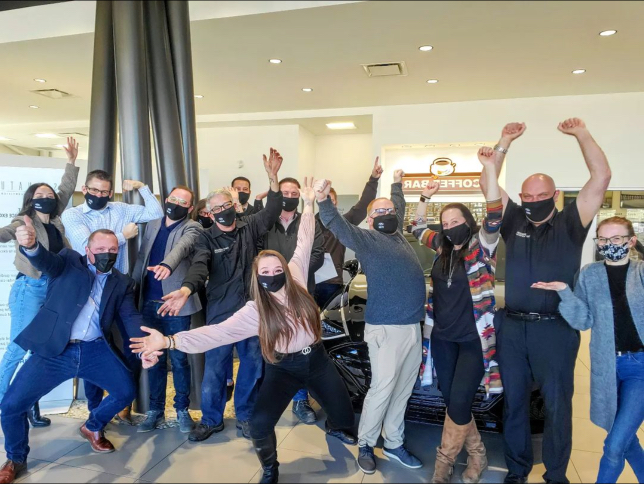 How do you get your workmates to get involved?
A huge reason for our social media is to showcase our employees and how amazing and fun they are. Whenever we film a video or have a mini photoshoot, it always ends with everyone involved laughing and joking with one another. So it is really easy to get my coworkers involved because everyone wants to be involved, and I think that really shows in our posts as well.
What are some of the goals for Cranbrook Hyundai's social media accounts?
A personal goal of mine is to create a mini fandom for our employees. So basically that means that I want our followers to know our employees by name and be excited when they see one of their favourite people in a video.
Why have you created posts that aren't directly about automobiles?
Because to us, it's just not the cars that make the dealership … it's the people who make the dealership. And we love the people in our dealership so, of course, we want to show them off!
How does your role at Cranbrook Hyundai expand beyond engaging on social media?
I am also the Promotional Director, so I work on our community outreach and make sure that we are helping out in our community and participating within our community in various events.
What community outreach programs have you worked on or have planned for the future?
The owner of Cranbrook Hyundai grew up here so it is definitely a priority that we work with various programs in the area. One that we love to work with is BGC Cranbrook (the Boys and Girls Club). We just love what they do.
Additionally, we love to involve our staff in our community outreach. An example is that we have done Christmas hampers, where our staff was responsible for making the full hampers for multiple families one year. It was a total success and all of our employees loved getting to personally be involved.
Is there anything else you would like to add?
If you haven't yet, FOLLOW US!