Rossland's Gold Rush Bookstore keeps the history pages turning
Since opening in 2016, this small-town independent bookstore has established itself as a community meeting place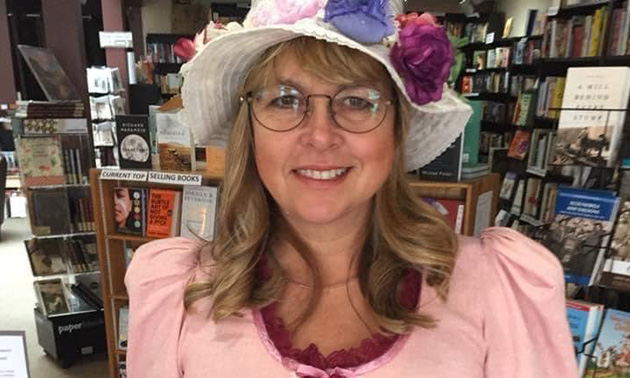 Michelle Fairbanks is helping to turn the pages of history—literally. She's the owner of the Gold Rush Bookstore, housed in a circa 1914 heritage building in downtown Rossland, and she's also the Chairperson of the Rossland Heritage Commission.
A local history buff, Fairbanks opened her bookstore in 2016. The community had been without a bookstore for a few years and after putting out a call for donated books, she was overwhelmed with support. She soon went on to establish accounts with new and bargain book suppliers and the rest, as they say, is history. Now in her sixth year of business, the store has evolved into a much-appreciated part of the downtown landscape, a place where even the local neighbourhood cat, Harry, likes to come in for a friendly pat and a visit.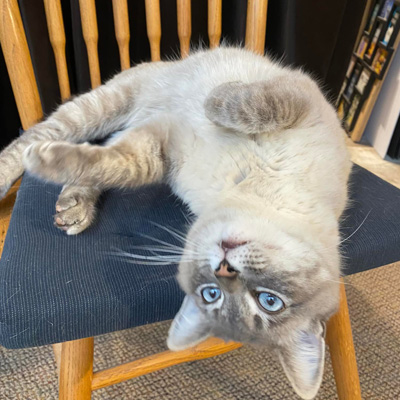 In addition to books, the store also carries games, puzzles, journals, art supplies, cards and gift items. There's a small cafe area featuring DavidsTea products, coffee and hot chocolate for take-out—patrons are welcome to browse through the store with a drink in hand.
"Having a local business allows you to be a part of the downtown community and meet all the tourists and newcomers to this wonderful place," said Fairbanks. "The bookstore is seen as a meeting place and gives people a sense of our community with the type of books and products we carry."
There's gold in them thar hills!
It's not surprising that one of the most popular genres of books among Fairbanks' customers is historical fiction, as Rossland itself holds a wealth of fascinating local lore.
"Our local author and local history section is very popular with the tourists who are curious about Rossland's gold mining history," said Fairbanks.
Known as the "Golden City", Rossland earned boomtown status back in the late nineteenth century when rich veins of the precious metal were discovered in the surrounding mountains. Flocks of fortune hunters descended on the small settlement and a burgeoning underground mining industry was soon established.
"Most people associate the gold rush in British Columbia with panning for gold, where our community is built on top of miles of deep tunnels that had riches of gold veins," said Fairbanks.
By 1897, Rossland was officially incorporated and had a population of over 7,000 people—at that time, it was B.C.'s fourth largest city. Many historic buildings and homes still remain in the area, as documented on the official register by volunteers at the Rossland Heritage Commission.
"The building that the Gold Rush Bookstore is housed in was originally the site of a livery," said Fairbanks, "A stable with horses occupied this general vicinity, with the famous Sourdough Alley located in the back area of the now current buildings of the bookstore and Legion building,"
The current structure—a two-storey, wood-framed commercial building—was built in 1914 and still retains some of its original features, including a decorative parapet above the upper storey windows. The building originally housed the George Owens Wholesale Liquor store, a throwback to the town's rough and rowdy mining roots. Over the ensuing decades, "many businesses occupied this space including a meat market, insurance office, medical office and residential apartments," said Fairbanks.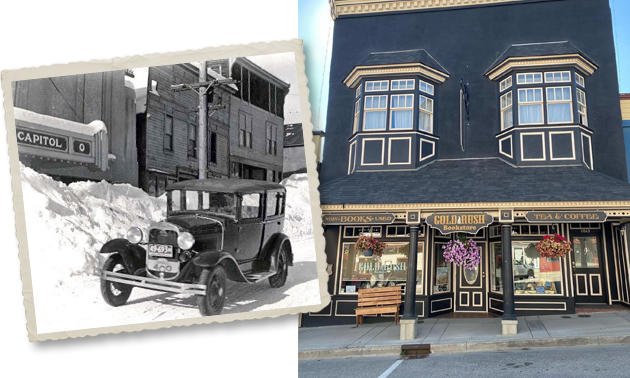 The bookstore with a heart of gold
Fairbanks has lived in Rossland for over 23 years, raising her family and setting down firm roots in the region. Preserving a sense of local history and providing support for her community are important aspects of how she runs her business.
"History is a fascinating endeavour that brings tourists to the area," she said.
Another tourist draw is the recent new addition to the bookstore, Fool's Gold Ice Cream. Located in the backyard of the property in what was originally known as "Sourdough Alley", the ice cream shop is open seasonally from May to September and is run by summer students.
"We have it set up so they can assist in learning retail skills and be a part of a business model," said Fairbanks, "This provides them with real-life business experience."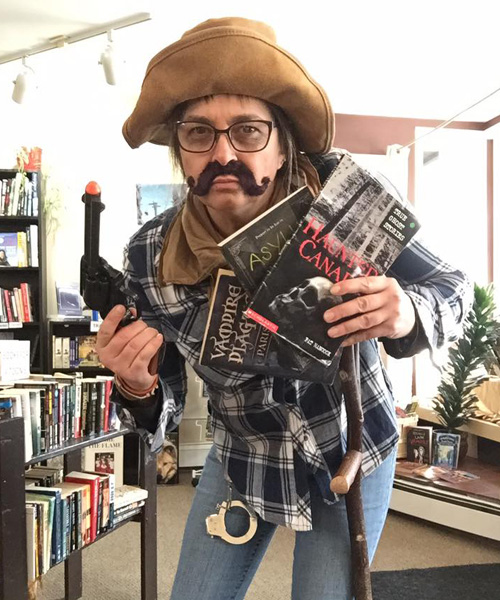 The Gold Rush Bookstore also assists local graduating students in the form of the Toonie Scholarship program, which provides a monetary grant to a deserving individual. From September to April, staff tally up the amount of books that are sold through their 'toonie' book sales. The application process requires that students write a short paragraph on the importance of independent bookstores or their favourite book and why.
Said Fairbanks, "We have had five recipients receive the scholarship over the past years. We also made a one-time scholarship contribution to a literacy program in San Jose, Mexico called entreAmigos. My daughter was able to deliver the cheque in person and meet the recipient."
This light-hearted businesswoman also makes sure to bring a sense of fun into her working days. During local events, like Rossland's Golden City Days, Fairbanks really gets into the community spirit by creating personas inspired by local characters, such as the "Golden City Bookstore Lady" or "Prospector Sam".
In Rossland—like everywhere—the pages of time keep turning. Our towns and cities evolve and change over the passing years and familiar faces come and go. What doesn't change, though, is our support of one another, our willingness to band together to make sure our communities continue to thrive into the future.
Fairbanks offers some final thoughts:
"As a small business owner, I encourage people to support our local independent businesses. The pandemic showed us how important it is, as a community, to shop local as your dollars help to employ local people and our economy. We had many shortages and delays with the supply chain and it was heartwarming to be part of a community that took care of each other."