It's a HOT Market: Fernie Real Estate Podcast with Todd Fyfe (Episode 2)
In this podcast, Todd talks about a busy 2017 real estate market in Fernie and Elk Valley with Kootenay Business magazine publisher Keith Powell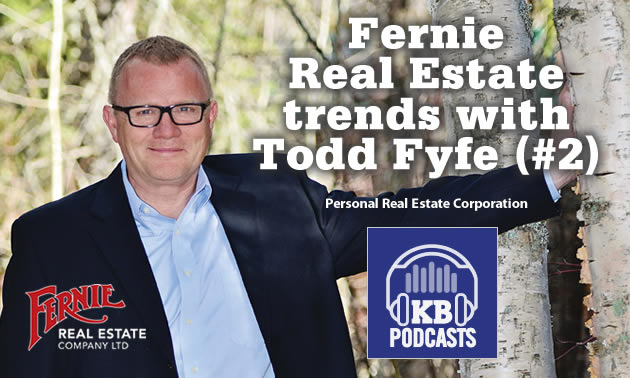 Todd Fyfe is the owner and managing broker at Fernie Real Estate based in Fernie. In this Podcast (Episode 2), Todd talks about real estate trends during the first six months of 2017 in Fernie and Elk Valley with Kootenay Business magazine publisher Keith Powell.
Here's an outline of this Fernie Real Estate Trends Podcast episode:
Fernie is a HOT real estate market: with Single Family Home sale up 44% and Condos and multi-family units up an incredible 94%. The sweetspot in the market is anything listed in $400K to $700K range.
He explains the wide variety of real estate options the Fernie area : residential single family homes, condominiums, rural properties, ski chalets and even a showpiece, one-of-a-kind 320 acre ranch property.
Todd Fyfe highlights the lifestyle opportunities that this 4-seasons community offers: Which includes mountain biking, world-class flying fishing and an abundance of hiking and walking trails.
Todd mentions three outstanding properties that Fernie Real Estate has listed – Including the SilverRock Condo project with lots of amenities and The Cedar mountain living development next to Fernie Provincial Park.
Todd Fyfe talks about his real estate team with over 80 years of experience, along with the expertise and knowledge they bring to selling real estate in Fernie and the Elk Valley.
We hope you enjoy this episode of the Fernie Real Estate Trends Podcast and we invite you to join us for future editions. Please feel free to contact Todd Fyfe or one of team through their website at http://www.fernierealestate.com