Snatching a business and lifestyle opportunity
A new electronics store signals a win-win for both consumers and the owners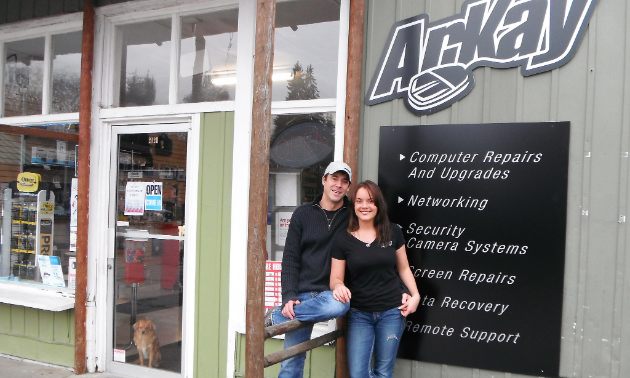 As a new year gets under way, residents of Nakusp and area can be pleased they have a fresh option for shopping locally: Arkay Computers. The electronics sales and repair store popped up on the main street in fall 2016 and was almost as much of a surprise to the owners as it was to residents. While visiting Nakusp for a friend's art exhibition, Reny Kitto and Carlie Wilkinson, who lived in Manitoba and own a sister store there, saw a space for rent. "That was Saturday," said Kitto. "By Monday, I said, 'Yeah, we'll take it.' "
Soon after, the store was stocked—from printer ink to Internet routers to large-screen TVs—Kitto's repair bench was set up, and customers were making their first purchases. In addition to servicing all types of electronics, the store performs security camera installations and is a Bell Mobility dealer. It's also a dealer for The Source and offers the same specials you can get anywhere else in Canada. This is a comfort in a small town, where prices can often be higher than those in larger centres. Now residents "don't have to drive to the city," said Kitto, "because part of the city came to them."
But why Nakusp? What drew the owners? "I love the place," said Kitto. "Both my kids were born here. There's still a community here, and people stop to talk to you. People are nice. People are friendly. People reach out to help everyone. We're not here to make money. We're just here to make enough to be here."
In demand, and growing
Kitto grew up in the Okanagan, where he learned how to fix computers in high school. "I guess I take that for granted, 'cause everyone I talk to since has never learned that process," he said. "We must have had an exceptional computer teacher."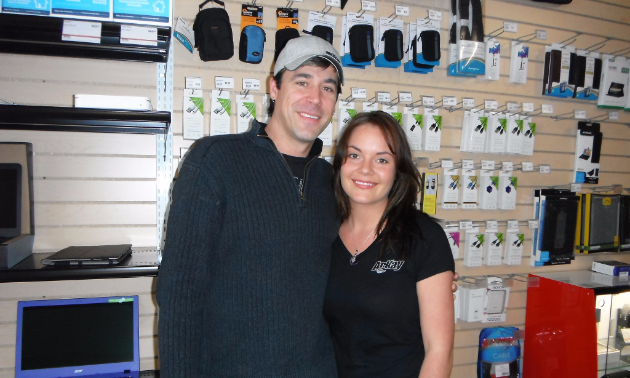 After he graduated, his mother moved to Nakusp to set up a drywall and insulation company. Kitto followed, worked in construction and established his own family here. But when his second son was barely six months old, the logging industry struggled and the area fell on hard times. Kitto and his family were forced to relocate to Manitoba, his then-wife's home province.
It's there, in an oil town called Virden, that Arkay Computers first grew. (The name is a play on Kitto's initials "R. K.") While doing fibre optic installations for Ledcor, Kitto started fixing people's computers on the side. Demand grew, and soon he was opening a storefront . . . then moving to a bigger location . . . then signing on with The Source. He met Wilkinson, a technician, while they were both doing major installations of security cameras across Canada. Now Kitto and Wilkinson are excited to have moved to Nakusp and opened their new location. As for the Virden one, it's passing into the hands of Kitto's very capable 19-year-old son.
A detective solving clues
While Nakuspians may be happy about all the products they can now easily buy close to home, Kitto's passion remains in the back, at his workbench. He considers himself "part Sherlock" as he deduces what's wrong with a piece of equipment and how to fix it. "In the 15 years I've been doing this, I have literally seen everything. The front part isn't me. The back part is me. This," he said, pointing to the rows of items for sale on display, "is opportunity for the people. This," he said, indicating his bench, "is my show back here."
Front and back combined, Kitto and Wilkinson have succeeded in creating buzz. Residents are keen on this newest option to stay out of their cars and off winter roads, knowing they can keep their money invested in town while still getting the best value. And Kitto and Wilkinson are keen on becoming a solid, long-standing part of the community.