Sheltering essential services
A new building in Nakusp houses public emergency response groups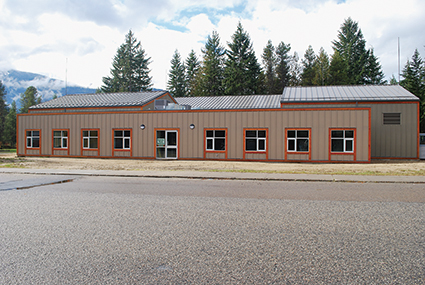 Emergency services in the Village of Nakusp are now consolidated into one $2.3 million building that will enhance response and co-ordination between fire, search and rescue, ambulance and emergency social services.
The new building replaces a 50-year-old fire hall with a new 14,000-square-foot facility for the myriad of emergency services that the village requires. It comes complete with training rooms and offices for everyone.
Designed for multi-purpose use, the building was constructed using the Wood First Initiative, a policy kick-started by the provincial government in November 2009, encouraging communities to build all-new public structures with wood.
It is the first building in the province to be finished under the voluntary community pledge.
Another special aspect of the project is that carpentry students from Selkirk College were able to work on the building as part of an apprenticeship program organized between the village and the school.
Joining the student helpers were mostly local contractors, while those that weren't, subcontracted from the community.
"Our aim was to hire locals and try to bring some kind of training component in, as well as house everyone in one building," said Nakusp mayor Karen Hamling.
Before construction, search and rescue and emergency social services had no office space or vehicle bays to call home, and grouping everything together with fire and ambulance services just made sense.
A larger room was also included in the plans to be used for training or as an emergency operations centre.
The training room can be used as a resource for the different entities that will be housed in the building, but the goal is to dedicate the space to more than just emergency response groups.
"We'll be open to taking on other organizations for training because we'll have the space for it," Hamling said.
Major sources of funding came from the federal government's Western Economic Diversification Canada program, the province's Columbia Basin Trust and the Southern Interior Development Initiative.
The fire department and search and rescue also chipped in money, as both organizations were saving up for a new home.
"They all have an office and a space that they can all work out of, and that's what I think is important—that they all have a home," Hamling said.
The project is mostly finished; all that's needed is some interior work such as painting and flooring, which Hamling hopes will be completed with community volunteers.