Premier Christy Clark speaks to the value of LNG
B.C.'s premier addresses the province's mayors, councillors and regional district directors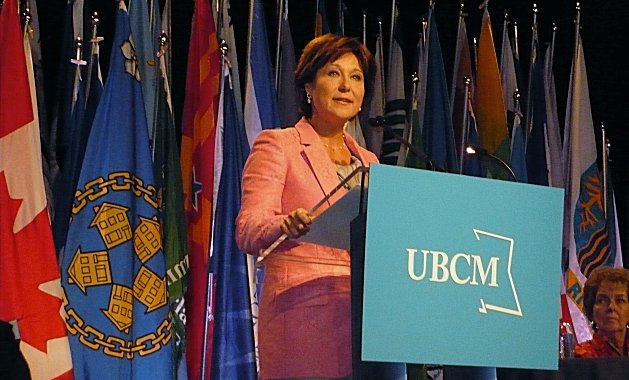 B.C. Premier Christy Clark touted the value of liquid natural gas (LNG) projects to the future of British Columbia in her address to elected officials at the recent Union of B.C. Municipalities convention in Vancouver.
"Natural gas belongs to British Columbia," she said. "It is ours."
She also said that if people don't believe LNG is coming down the pipeline, they should just look at the northern B.C. community of Port Edward. She said that the community, with a total municipal budget of about $2 million, hadn't sold a piece of land in the past 12 years. Until this year, that is, when Port Edward sold $2 million in land, and expects to sell another $2 million in land by the end of the year, Clark said.
Clark also announced a new government program designed to connect communities and LNG projects. The Province of B.C. is earmarking $150,000 in infrastructure planning grants to communities in the Northwest that will be impacted by the development of the LNG industry. The Ministry of Community, Sport and Cultural Development is responsible for finalizing grants to the eligible communities.
Clark said that B.C.'s clean natural gas will help reduce global greenhouse emissions.
She noted that Steve Thomson, minister of forests, land and natural resource operations, has been tasked with dealing with rural development, while Coralee Oakes, minister of community, sport and cultural development, will work to help communities grow their municipal economies.
Clark also emphasized fiscal restraint. "Being a doer starts with respecting taxpayers," she said.
Premier Clark said that, while she grew up as "a suburban kid in Burnaby," her family does have strong roots in the resource sector. She said her grandfather and great-grandfather were both fishermen on Vancouver Island, and that it was the fishing industry that allowed her father to be the first person in the family to go to university and become a teacher.
Clark ended her speech to mayors. councillors and regional district directors with this call to action:
"Let's be that generation that made our province better."