The year behind, the year ahead for Cranbrook
Mayor Wayne Stetski gives his annual report to Cranbrook & District Chamber of Commerce members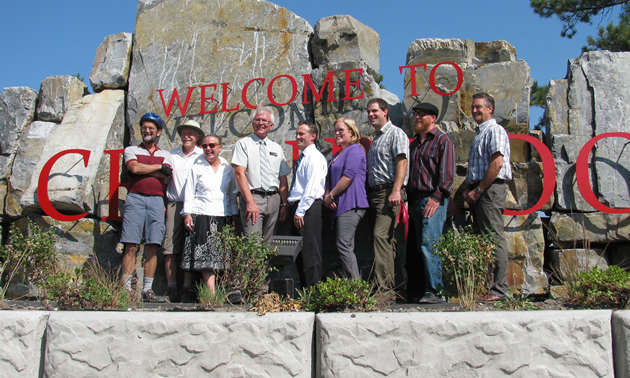 Cranbrook mayor Wayne Stetski presented his "state of the city" address to members of the Cranbrook & District Chamber of Commerce during the last week of September, where he emphasized his "holistic approach" to running the city, and talked about upcoming projects that residents can be excited about.
Mayor Stetski broke down that holistic approach into four areas: arts and culture, social values, the environment and the economy.
Arts and culture
Mayor Stetski spoke of the area's rich Ktunaxa culture. "We need to celebrate it," he said.
He noted the value of Cranbrook's Asia-Pacific connections, the establishment of a new Immigration Welcome Centre, and the success of Métis and Filipino cultural festivals during the past year. He said he's hoping to see a cultural weekend held in Cranbrook in the future that would widen the scope by including any cultural groups that want to get involved.
Thanks to increased funding, the Cranbrook Public Library is now open seven days a week, he said, and he was happy to report that the Symphony of the Kootenays "has risen from the ashes with a great new program" (after a one-year hiatus).
Stetski said concert events at Western Financial Place are also going great guns. "They now call us," he said.
Social values
Mayor Stetski said the City continues to work on improving access for those with mobility issues. To that end, six public buildings are now wheelchair-accessible, he said, a new elevator lift has been installed in the local seniors centre, and a stairlift incorporated into the Studio/Stage Door theatre facility.
He also praised local businesses like Home Depot that have, on their own initiative, added portable ramps to their entrances.
"Sometimes it's a simple thing like extending walk times at intersections," Stetski said.
He said the City is also keen on making Cranbrook a youth-friendly community, which is important so that young people either want to stay here or choose to come back after travelling or living elsewhere for a time. He said the City is working closely with Dana Osiowy, exective director of Big Brothers Big Sisters of Cranbrook, which recently hired a new youth co-ordinator.
Stetski also mentioned Cranbrook's new tennis/pickleball courts, extensions to Rotary Trail/Rails to Trails, and the new bike skills park adjacent to the skate park.
And he was very pleased that the Sunrise Rotary Club-sponsored Gran Fondo (a cycling participation event) attracted an impressive 275 registrants in its inaugural event in September, and will likely be much bigger next year.
The environment
Mayor Stetski said beautification efforts continue in Cranbrook, with more trees planted this year; the City's outdoor flower arrangements have earned a lot of positive comment.
The City has hired a new corporate energy manager, Jay Armstrong, who in conjunction with BC Hydro will encourage efforts to reduce our carbon footprint. The City also promotes the East Kootenay Energy Diet program, and is now an official solar community.
In the area of air quailty, Stetski gave kudos to Wildsight for its wood stove exchange program.
The economy
Stetski said Cranbrook's economy stayed "about the same" this past year. On the upside, "airport numbers continue to go up," he said, with a two per cent increase in total number of passengers by the end of the year. He is hopeful West Jet will eventually become a third airline option in Cranbrook.
He said Welcome Wagon greeted 75 new families, and the downtown saw some revitalization with a new dentist's office and the revamped brew pub, The HeidOut.
Coming soon to the Walmart-Real Canadian Superstore shopping area are new businesses The Dollar Tree and Sport Chek.
Upcoming and exciting
Stetski expressed his excitement about the following projects: the $20 million worth of planned improvements at East Kootenay Regional Hospital (which include a new intensive care unit and an updated electrical system; groundbreaking is scheduled for March 2014); Jean Trimble's plans for the old Armond Theatre space (the local entrepreneur's vision includes installing a concert hall, piano lounge, restaurant and lobby); and a permanent home for the Cranbrook & District Arts Council (location to be determined).
Stetski also noted that he and fellow councillors met with Premier Christy Clark and various ministers at the recent Union of B.C. Municipalities (UBCM) convention in Vancouver to pitch Cranbrook's needs for a homeless shelter and new high school; achieving university/college status for College of the Rockies was talked about as well.
Also under discussion at the UBCM gathering was a future greenhouse industry for Cranbrook, which Stetski calls "a natural fit," since the city is touted as being the community with the most hours of sunshine in B.C.
Because first impressions count, Stetski said the City hopes to improve Second Street South as a major through street, and said he is pleased with the more attractive Elizabeth Lake entrance to Cranbrook.
Stetski is looking forward to Cranbrook and Kimberley co-hosting the B.C. Mayors' Caucus in April 2014.
Finally, he said the biggest thing on his wish list would be to fill up Cranbrook's vacant lots and buildings, especially in the downtown.