Just Liquid Sports is feeling just fine
Cranbrook chamber recognizes business excellence at gala event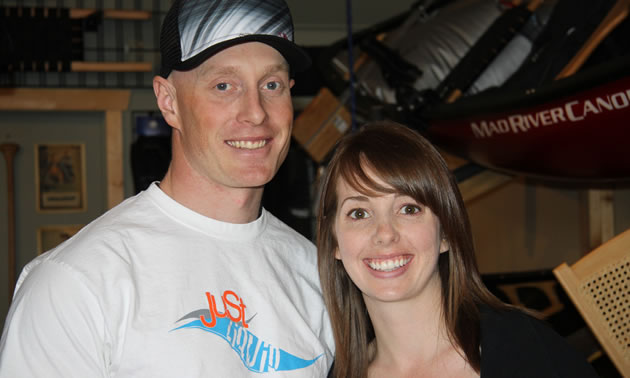 Just Liquid Sports was the big winner at the 2015 Business Excellence Awards hosted by the Cranbrook Chamber of Commerce Saturday, April 11 at the St. Eugene Golf Resort & Casino.
Just Liquid owner Rob Porter accepted three awards in the categories of Hospitality & Tourism, Retailer Excellence and Business of the Year (with one to 15 employees).
Porter said he started out with $7,000 in his pocket and has since seen the water sports company become the thriving business that it is today. Just Liquid Sports also offers popular community paddle nights at various lakes surrounding Cranbrook.
After accepting his third award of the evening, Porter credited his sister, Krystal Porter, for her help in running the business.
Here are the other winners:
Business of the Year (with 16-plus employees): Golden Life Management, which started in Cranbrook in 1998 in response to a personal need—a grandparent in need of care—and now employs about 1,000 staff in the East and West Kootenay, according to Celeste Mullin, COO of Golden Life and daughter of developer Endre Lillejord
Business Service Excellence (a new award this year): D'Arcy Giberson, Signal Collision
Professional Services Excellence: Jonathan Foubert and Ryan Johnson, Cranbrook Auto Repair.
Young Entrepreneur of the Year: Melissa Hambalek with Initial Designs Custom Embroidery
New Business of the Year: Sink N Ink Tattoo Shop, accepted by owner Kya Dubois
Business Person of the Year: Mike Hambalek of Caliper Machine & Hydraulics
Non-Profit Organization: The Community Connections Society of Southeast B.C.
Business Newsmaker of the Year (as decided by Black Press): The Baker Street Professional Centre, which was praised for helping revitalize downtown Cranbrook
A new system was implemented this year to determine the award recipients, with each nominee interviewed by a three-person panel.
The gala evening sometimes had an Oscars feeling to it with teary acceptance speeches and entertainment by the band Canadian Crossfire (not to mention the always entertaining co-hosts D'Arcy Kennedy and Kyla Cornish). Also recognized was Frank Sandor as the audience member with the most years in business (45 years and counting at Sandor Rental Equipment Ltd.).