The humble bee is the inspiration behind this Cranbrook tiny home construction company
Humble Bee Builds in Cranbrook takes the diminutive bee as inspiration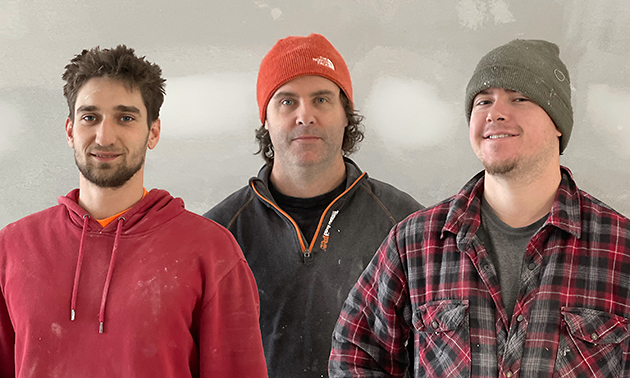 Cranbrook's tiny home builder, Humble Bee Builds, takes the phrase, "sometimes the smallest things have the biggest impact," to heart.
The company, dedicated to sustainable building methods, takes its inspiration from the diminutive bee. Masters of micro-living, bees are nature's architects and their hives are purpose-built and designed to maximize space. As pollinators, bees are also an essential part of a healthy and thriving ecosystem. It's this sense of preserving our natural world that owner Dennis Scott brings to his company and is especially passionate about.
"It is so important for more people to do their small part to help preserve our natural resources and habitats," he said. "We would like to show people that you don't have to sacrifice comfort in your living space by shrinking your dwelling."
With his love for creativity and alternative living, Scott has taken his vast knowledge in the construction industry and concentrated his efforts on manufacturing tiny homes that would make any owner proud. Elements like smart space-saving ideas, green options such as solar kits, LED lighting and heat pumps and the ability to live both on and off-grid are incorporated into the company's designs.
KootenayBiz chatted with Scott and learned more about this company which is eager to "bee" part of the change towards more sustainable and affordable living.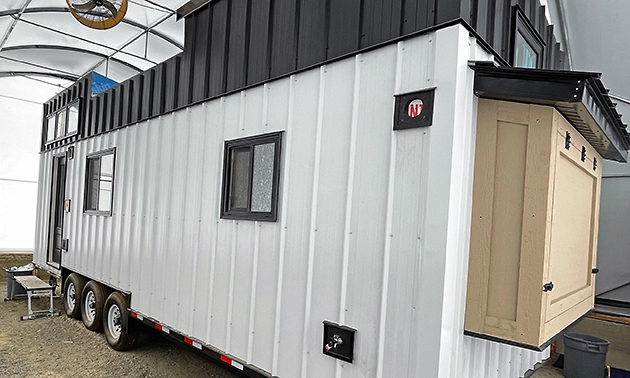 How long has Humble Bee Builds been in business? Do you have other employees?
We are a new company that started in January of 2022. Currently I have two employees - Blair Halifax and Clayton Champagne.
Please describe your business in a few sentences. What's your employment background? How and why did you get into the tiny home industry?
In 2006, I was working as a jointer in a cabinet shop—while growing up, I spent many hours with my uncle in his woodshop and developed a love for the trade. When I graduated, I felt that cabinet-making would be my best fit. I found out quickly that the industry was moving more towards manufacturing and using more efficient machines to do the work. This eliminated the thing I was most passionate about—creativity. I decided that if I was going to fill my creative thrust, I would need to find another avenue. I started my own company so I could control what I did day-to-day and could choose work that helped me evolve in the direction I wanted. Over the last 16 years, I've had so many opportunities to learn and develop skills in all aspects of construction, but still felt that my creative need was not fully where I needed it to be. This is where I decided to build THOWs (Tiny Homes on Wheels). My spec builds and my years of developing a specific skill set give me the knowledge and full creative control, which in turn fuels that passion for creating something like my uncle and I created in his shop so many years ago.
What are the core values that you bring to your business? What's important to you personally and as a business owner?
Humble Bee Builds is a company built on passion and a love for alternative living. Our core values are sustainability and quality in our product, giving my clients the best we have to offer in every aspect of these builds. Each project is meticulously thought-out and executed with sustainably always in mind. A fun and safe workplace is a priority for all employees. It is important for us to give every person who works with us the opportunity to move up through our ranks. We will always fill positions from within before looking outside the company.
How do you build sustainability into your tiny homes?
We have many options for a sustainable home: solar kits that include lithium-ion batteries, rainwater catchment, fully-sealed building envelopes with air exchange, heat pumps, LED for all lighting and hot water on demand. Humble Bee puts a strong emphasis on sustainability by purchasing products manufactured as close to home as possible, to reduce our carbon footprint. We also have a program in which a part of all sales goes towards a bee conservation foundation to offset some of the footprint we cannot eliminate.
What are the benefits of thinking small when it comes to housing?
It is so important for more people to do their small part to help preserve our natural resources and habitats. It's the little things that each individual puts into their daily routines that will have the biggest impact. We would like to show people that you don't have to sacrifice comfort in your living space by shrinking your dwelling. By eliminating what you ultimately don't need, living with only what is necessary will help us to stop over-consuming. This will, in turn, play a part in preserving that which is so valuable and life-sustaining here on our planet.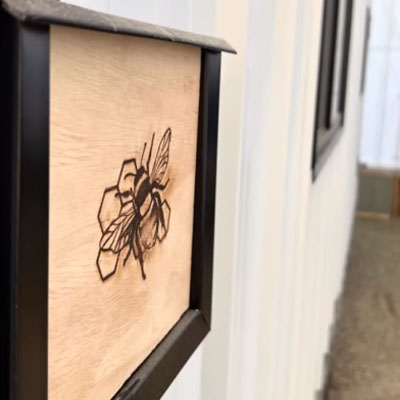 Do you collaborate with other local businesses in terms of building supplies or specialized expertise like electricians, plumbers, etc?
Yes. To name a few: Windsor Plywood supplies most of our inventory finish products, Home Hardware for building materials, metal experts for exterior materials. Our electricians are from M&R Electrical and we use Matt Michaud from MM Tile and Renos. Also, Mike, Rebekah and Randi from HECK Media have been wonderful.
Do you offer custom designs if a customer has a particular idea in mind for their tiny home?
Yes, we offer custom designs. The client will receive full drawings and renderings which are totally customizable to their liking. They can choose all finishes, appliances, cabinet styles and so much more. We also build spec homes as this is our best way to build in sustainability. When we choose the "what and hows," we can control our footprint much more efficiently.
Outside of your business, what are some of your favourite activities and things you are passionate about?
My family's favourite activities are camping in our beautiful region, mountain biking and skiing in the winter time.