Green power at KNC
The energy upgrades at the Ktunaxa Nation's government buildings demonstrate environmental stewardship here at home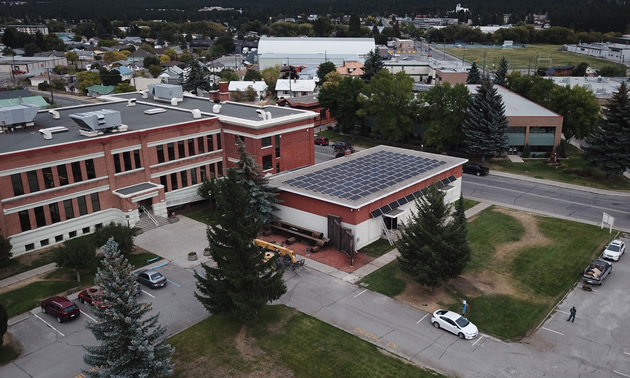 The beautiful brick building at 220 Cranbrook Street North was built in 1909 and functioned as the main elementary school in Cranbrook for many years. It underwent expansion in 1922 and has been home to the Ktunaxa Nation Council (KNC) since autumn 2012. It is one of the city's few remaining historic buildings.
As leaders in environmental stewardship in the Kootenay region, the KNC turned its attention to reducing its own environmental footprint and the cost of maintaining its home base.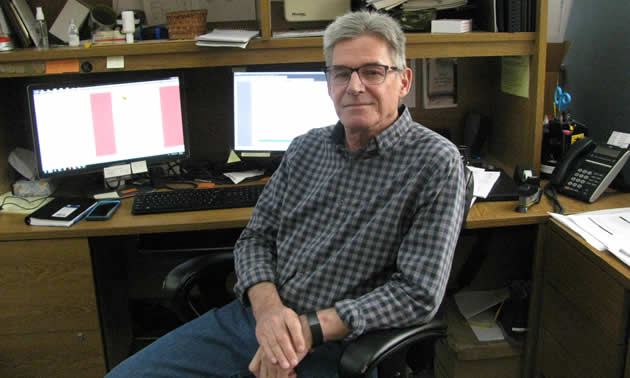 "This old building is expensive in terms of electricity," said Don Maki, facilities and capital acquisitions manager for the Ktunaxa Nation Council. "We used big halogen light bulbs since 1985, and each one of those 300 bulbs throughout the building heated to 42 degrees Celsius. So not only did they suck up a lot of energy, they caused our HVAC to work very hard to cool the building in the summer."
The KNC converted the lighting in the government building from halogen to LED in 2016, and installed 119 solar panels on the roof of its auditorium in 2017, resulting in combined annual energy savings of about $20,000. The solar panels also power a new P2 charging station for electric vehicles.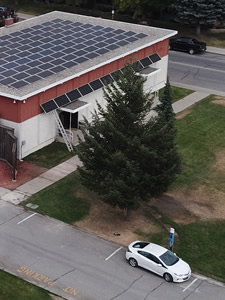 Bringing stewardship home
Funding for the $153,000 solar panel installation was received from Solar Now, Columbia Basin Trust, Accelerate Kootenays and the KNC itself.
"As First Nations environmental stewards, we had to do this," Maki said. "Part of our intention for the project is to model this for other groups, and we're planning to develop a series of four videos on how to do the solar project—what to expect and how to overcome problems."
Maki noted that the cost of solar panels is considerably less than it was a generation ago, but that the technology has advanced at such a rate that it's challenging to find adequately trained professionals to do the work, especially on such a large project.
"In major centres like Vancouver you would have less of a challenge," he said, "but living in small-town B.C., we don't have the same resources."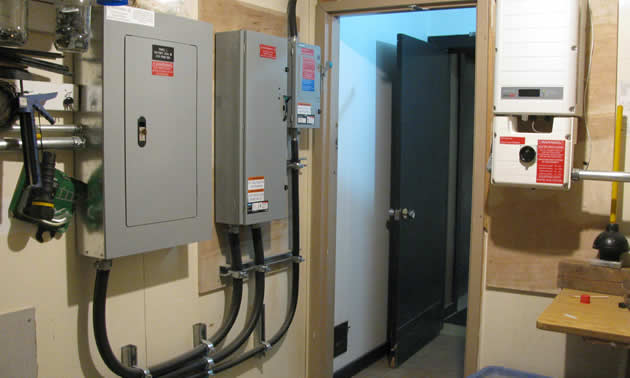 Local challenges overcome
"The building inspector and electrical inspector have an obligation to make sure everything is done right," Maki said. "We first had to be sure that the roof would bear the weight of the 119 solar panels, and we had to bring in an engineer from Calgary in order to stay on schedule."
Two years prior to the KNC solar installation, the College of the Rockies built a system twice as large over a period of 15 months. Thanks to advances in technology and a tightly focused effort from Maki and the team involved, the KNC's project was completed in just 53 days.
"The financial savings from this kind of project are not as dramatic as they are sometimes presented to be," said Maki, "but it's worthwhile doing. Cranbrook is one of the sunniest places in Canada and it's ideal for collection of solar power. We're still doing good for the environment, we're learning and sharing, and we are saving money."