Business community asked to help entice doctors
Shortage of family physicians in Cranbrook was the topic at a recent chamber meeting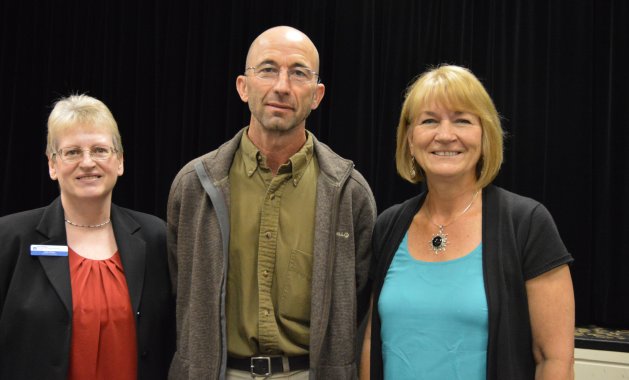 Cranbrook mayor Wayne Stetski put out a challenge to the local business community in light of the current shortage of family physicians in the city.
He proposed that businesses could offer items, Welcome Wagon-style, that might help attract new physicians, mentioning annual passes to a golf course or ski hill as examples.
Mayor Stetski made the remark at a recent Cranbrook & District Chamber of Commerce meeting that addressed the doctor shortage with a panel discussion and question and answer session with three representatives from the East Kootenay Division of Family Practice, Dr. Gregory Andreas, Jo Ann Lamb and Patti Phillips.
"You need GPs, and we need you," said Dr. Andreas, a family physician at the F.W. Green Clinic. He estimated that close to 4,000 people (about 20 per cent of the population) doesn't have access to a family doctor.
He spoke about creating "community stickiness," noting that if he (or she) is happy at home, the physician stays, and that means making the spouses and children of any recruited doctors happy too. He said physicians often look at schools and whether there is work available for their spouse. Work-life balance is also important to physicians, he said.
Dr. Andreas said doctor shortages are "a human resource issue for the whole world."
A task force in Cranbrook is currently working towards relieving the shortage, with representatives from the City of Cranbrook, Regional District of East Kootenay, Interior Health, College of the Rockies and the local chamber rolling out the red carpet whenever a doctor expresses an interest in locating a practice in Cranbrook.
Lamb spoke about her role in the A GP for Me initiative; this province-wide initiative is funded jointly by the Government of BC and Doctors of BC (formerly known as the B.C. Medical Association).
Phillips, co-ordinator of the East Kootenay Division of Family Practice, spoke to the role that Interior Health's nurses could take in freeing up physician time.
Dr. Andreas also noted that the Rural Recruitment Association of B.C. offers cash incentives to physicians who come to rural communities, and that Cranbrook could qualify for some incentives.