B.C. premier announced funding for nursing and the trades
Premier Clark spoke to the needs of rural communities at Cranbrook event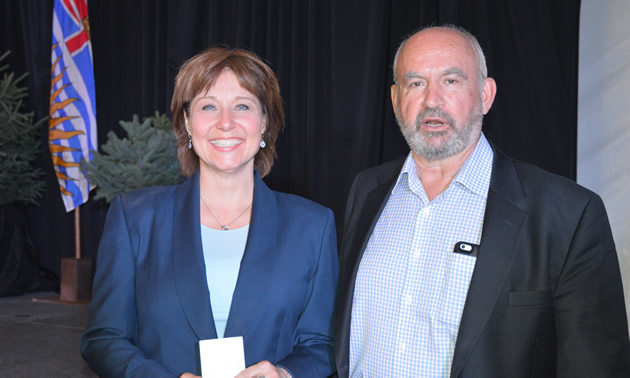 A record crowd attended the Cranbrook Chamber of Commerce's June 23 luncheon, sponsored by Scotiabank, to hear an address by B.C. Premier Christy Clark. About 265 guests, including some 95 per cent of provincial cabinet members, filled the pavilion at the St. Eugene Resort, listening as Clark touched on a wide range of issues and made two funding announcements.
$1.76 million in funding for College of the Rockies will support training of 600 people for in-demand trades.
Students will soon be able to complete their nursing degrees entirely at College of the Rockies. According to a government press release, $450,000 will be allocated to support the transition and planning work that will allow the students to complete the four-year University of Victoria degree program in the region.
"One thing that really matters to me is optimism," Clark said during her keynote speech. She praised Cranbrook as "a community of doers," and thanked East Kootenay MLA Bill Bennett for his work, particularly with the East Kootenay Regional Hospital. "Kootenay Bill is a warrior," she said. (The MLA has announced that he will not stand for reelection in 2017.)
The premier said she wants to reverse the trend of urban communities growing and rural communities declining, mentioning potential jobs at the Site C dam and other projects as "an endowment for our kids."
Touching on other topics that she said she was asked to address, Premier Clark called the PST "an inefficient tax," and said a working group is looking into it. She expressed herself as strongly in favour of the proposed Trans-Pacific Partnership. "We are a trading nation," she said.
Premier Clark would also like to reduce interprovincial trade barriers. "It's crazy that it's easier for us to trade with the U.S., Korea or Europe than with Ontario," Clark said. She noted that British Columbia has been a leader in this respect, taking down trade barriers on B.C. wines, for example. The premier said there is a "glimmer of hope" that a softwood lumber deal will be reached with the U.S., while acknowledging that there's still a long way to go.
During a question-and-answer session following the keynote address, Clark said the provincial government is helping small businesses by cutting red tape and minimizing regulations, and plans to reduce the small business tax by 40 per cent.
To a concern that raising CPP rates and the minimum wage will be hard on small businesses, she said that she doesn't want B.C. to be the province with the lowest or the highest minimum wage. She said changes to the CPP are not a done deal yet and that any increase would be modest and phased in gradually. She also said those costs to small businesses will be offset by the reduced small business tax and by investment in training.
Responding to other questions, she said rural dividends will help with infrastructure. "We need to help rural communities grow," she said.
Clark said "child poverty is parent poverty," and that her government is keen on getting people, especially single parents, off social assistance and back into the workforce, noting that everyone deserves "the dignity of a paycheque."