A consistent and conscientious company
A consistent and conscientious company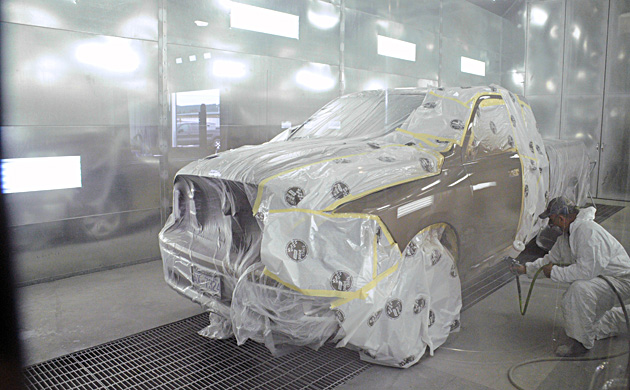 No one wants to see damage befall their automobile. However, when hard times strike, it's comforting for an owner to know that their vehicle is in safe and reliable hands. At Rocky Mountain Diesel, located in Cranbrook, B.C., the team of professionals are bringing vehicles back to a road-worthy shape.
Rocky Mountain Diesel provides automotive maintenance on a diverse range of vehicles, from commercial and recreational rigs to cars and trucks. The services available include sandblasting, painting, body repair, and a comprehensive list of additional services. It has a welding and fabrication shop and handles both ICBC and private insurance claims.
Impressive transformations
Chris Thom, the owner of Rocky Mountain Diesel, has been at the helm of the Cranbrook-based company for two years. In that time, he has seen the company undergo a massive transformation: the addition of a 697-square-metre facility, complete with a commercial frame-straightening machine and a downdraft paint booth. This expansion was another way for Rocky Mountain Diesel to differentiate itself from other automotive service providers.
Prior to the expansion, when a commercial vehicle was in a collision, its owners were forced to wait as parts were shipped to larger centres for painting or repair. There were no facilities within the Kootenays to serve these particular needs, costing commercial vehicle owners both time and money.
Now, with Rocky Mountain Diesel's new facilities, owners can see their vehicle back on the road within a matter of weeks instead of months. As the only facility of its kind in the region, it fills a valuable niche.
Construction of the new facility began on November 4 of 2009 and it opened for business on March 15 of 2010. Thom said that he has heard exceptionally positive feedback from his business's clients.
"One of the big bonuses with the body shop (was that) it gave us a competitive edge, offering services that no one else offers," said Thom. "Hopefully, that draws attention to the entire company as a whole, instead of just one aspect of it."
It's all about the people
While the impressive facilities attract attention, it is the people—both the staff and the clientele—at Rocky Mountain Diesel that can be credited for the company's long-standing success. Good communication and teamwork enable the mechanics, painters and body workers to finish jobs quickly and efficiently.
A strong returning customer base is a sign of an accomplished company, and indeed, Thom said that there is a group of customers that have been returning year after year for Rocky Mountain Diesel's services. The company has been operating since 1981 and has undergone numerous augmentations through the years. These include a move to its current location at 1125 Cobham Avenue West in 1989 and adding 464.5 square metres to its existing facility in 1993.
"A lot of (customers) have been with this company since its inception," said Thom. "To have a customer remain loyal to you for 30-plus years is something that we take great pride in."
Rocky Mountain Diesel's commitment to its clients is evident. Customer interactions are paramount at Rocky Mountain Diesel; the employees strive to make every customer feel valued and more than just another face.
"We really see each and every customer as a business partner, not so much as a customer," said Thom. "In order for us to be successful, they have to be successful."