Wynndel's Bad Duck Caramel expands beyond local markets
Family-owned and operated, Bad Duck Caramel is made with love from an old family recipe.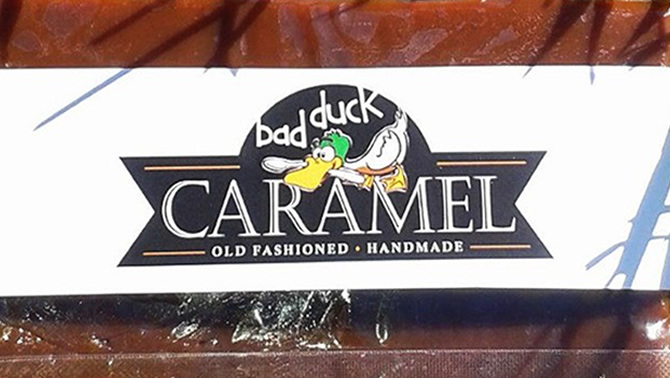 "That is the best caramel I have ever tasted! Why is it called Bad Duck?"
Bad Duck Caramel is an artisan caramel company from the Kootenays (Wynndel, B.C.) that is spreading caramel love east into Alberta and west to Vancouver with more stores to come in 2016.
Launched in October 2014 by Greg Perry and Carmen Ditzler, this small candy kitchen makes three kinds of caramel: Traditional, Memories of Pep Chew (peppermint caramel with dark chocolate) and Salted (garnished with Fleur de Sel) all of which are stirred, poured and packaged by hand. Greg grins, "We have a lot of laughs standing at the stove stirring or packaging, looking out the window, listening to the radio, watching the bird feeder." It's a full family business with the kids helping out in the kitchen and selling at markets.
Carmen and Greg are passionate about flavour and quality. Carmen explains, "We want our candy to be real and taste real. Our main recipe has only four ingredients: butter, sugar, cane syrup, milk, and 2 hours of stirring. One of our guiding principles is that my grandma would be able to recognize all of the ingredients."
So where did the name Bad Duck come from? "We knew we had a great product and wanted a fun label, branding and mascot to go with it, following the trend in wine labels," said Greg, chief caramel stirrer. Wynndel provided the duck inspiration with names such as Duck Creek, Duck Lake and lots of ducks. So, ducks were combined with the attitude of one of the family dogs named Rusty, who is very bad in a mischievous way. He loves to scare people, gets in trouble and eats everything under the sun including biting a pumpkin! But a candy company can't be mistaken for a dog treat so Bad Duck Caramel with Leroy the bad duck, as inspired by Rusty, was the choice.
Owners Carmen and Greg have worked hard to be ready for opportunities. This includes an inspected candy kitchen, bar codes, nutritional and French/English labelling and most importantly a HACCP compliant food safety plan. Bad Duck Caramel was poised to move beyond Farmers' and Christmas markets to selling wholesale into local independent stores as well when the offer came from Overwaitea Food Group through its Local Supplier program. "This program is an amazing opportunity!" explains Carmen. "We can now approach individual Overwaiteas, Save-On-Foods, Coopers and Urban Fare stores and grow our business at a steady pace to provide for our family and community."
Bad Duck Caramel is cooked to a precise temperature to be able to "just quack it!" inviting one to quack (crack) the bar of caramel on the table and break it into random pieces to enjoy with pleasure.
You can join in the fun. Find out more about Leroy the Bad Duck and where to find Bad Duck Caramel at www.badduckcaramel.com or on Facebook at Bad Duck Caramel.