The Josie Hotel in Rossland in the running for the 2019 Best New Ski Hotel in the World
The international voting window for the World Ski Awards 2019 is open until September 27, 2019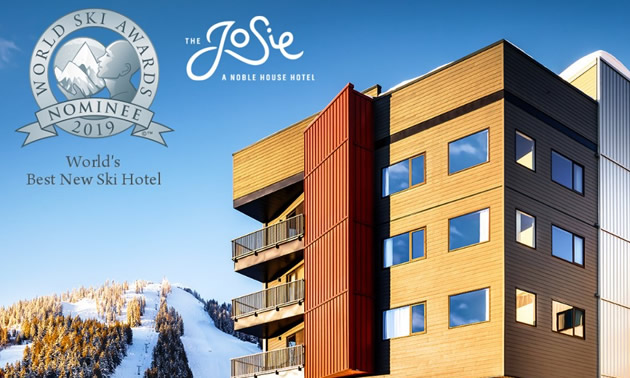 Rossland's new Josie Hotel is thrilled to announce that the hotel has been nominated as a Top 3 finalist for the World's Best New Ski Hotel 2019.
Here's some background on The Josie:
Experience the true soul exhilaration of living for today at The Josie hotel (The Josie). The Josie is a boutique ski-in, ski-out hotel located at the base of RED Mountain Resort (RED) in Rossland, British Columbia; the property opened its doors, welcoming distant travellers and locals alike, on November 28th, 2018.
With 106 guest rooms and suites, crackling fire pits, a premier spa, fitness facility and ski concierge services, the Josie merges boutique accommodations with authentic Red Mountain adventure and the distinct spirit of Rossland. The destination hotel boasts more than 1,500 square feet of unique venue space and an adjoining terrace, all with stunning vistas of RED and the Rossland range. The Velvet Restaurant and Lounge (The Velvet), The Josie's full-service dining establishment, serves locally-inspired craft cooking.
Share your love and vote for The Josie here: