No Frills opens with a flourish in Trail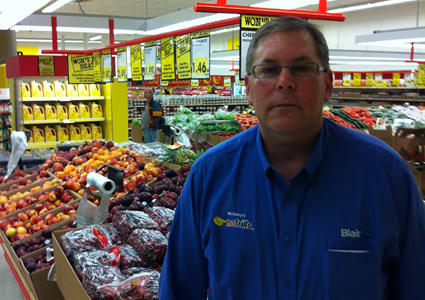 Extra Foods in Trail has re-branded, and after a brief closure, the store has re-opened.
The neon yellow decor of the new grocery outlet certainly stands out and the store is now called McAuley's No Frills.
The 28,000-square-foot store is located in the Waneta Plaza and was jam-packed with customers during grand opening week.
"We are very pleased with the look and feel of the new store," said No Frills franchise owner, Blair McAuley. "We have re-branded under the No Frills banner with more of a focus on our grocery lineup."
McAuley was the manager of the Extra Foods store, which took over the location from Ferraro Foods a number of years ago.
Both No Frills and Extra Foods are brands of the Loblaw's merchandising systems—No Frills focuses exclusively on grocery items at very competitive pricing.