New regional tourism website and mobile app showcases International Selkirk Loop
The new website and app provides community information, border crossing tips, ferry schedules and information about the Loop.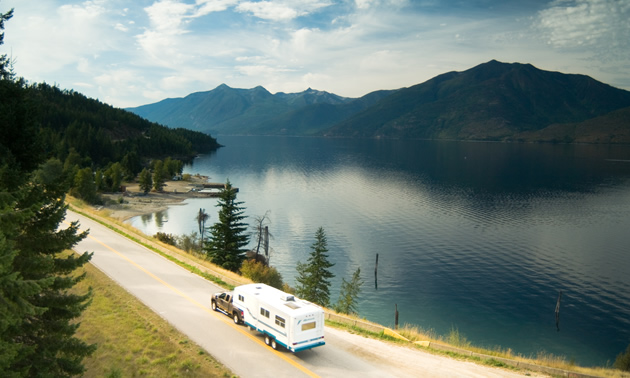 BONNERS FERRY, IDAHO – With its 280 mile/450 km of breathtaking scenery and vibrant communities, the International Selkirk Loop is a popular destination for vacationers and travelers. Now the ISL has just released two new tools aimed to both lure travelers to the area and ensure they find the fun activities and outdoor recreation this magnificent area has to offer.
The newly designed website at www.SelkirkLoop.org not only showcases North America's only International Scenic Byway, it also provides those planning a visit with things to do, community information, border crossing tips and ferry schedules.
"This area is fortunate to have such a wide variety of outdoor activities, friendly communities and amazing natural resources," said Stephanie Sims, Executive Director. "Our main goal with the new website was to simplify it for the user and help them discover everything they are looking for."
The website also has extensive interactive maps, lodging and dining information, a beautiful photo gallery and links to businesses that will help make their stay enjoyable.
"Reworking the old Selkirk Loop website was a great project for us—in part because we're huge fans of the gorgeous Selkirk Loop, and in part because it gave us the chance to do some innovative things with the new site," said Chris Bessler, owner of Keokee, a marketing and communications firm in Sandpoint, Idaho. "Aside from a fresh new design with bigger graphics and clearer navigation, the new website uses a lot of interactive mapping with Google map integration. That's particularly useful to help visitors discover and get to the places, attractions and services around the Loop."
Another project that has been in the works for the non-profit is the Selkirk Loop App. A recent traveler survey showed that 79% of travelers would use a mobile app from the ISL and we are please to announce that it is now available for download on both Apple and Android devices.
iOS: https://itunes.apple.com/us/app/selkirk-international-loop/id1135982888?mt=8
Android: https://play.google.com/store/apps/details?id=com.interactivetravelguides.selkirk

"The app is designed similar to our travel guide in that the traveler can navigate around the loop to each of the communities. We then highlight some of the things to see and do in that specific area and included some stunning imagery to go with it," said Stephanie. "The best part of the mobile app is that it is all-inclusive. You do not need cell service or wi-fi to use it, which is something we had to consider with our remote locations and international border."
The app was designed by Cody Edwards of Touch Point Designs in Corvallis, MT. "I love that with the app, you can easily access the loop's map at any time and then work your way around the Selkirk Loop. It doesn't matter where you begin your journey, the app accommodates that and then you continue tapping your way around the loop."
If you would like to know more about the International Selkirk Loop or become a member, please visit our website or contact Stephanie – [email protected]
About the International Selkirk Loop
The International Selkirk Loop is a 280-mile/450-km scenic drive encircling the Selkirk Mountains in northeast Washington, northern Idaho and southeast British Columbia. The Loop was established in 1999 as a non-profit corporation designated to enhance the local economy through the promotion of tourism along its route. For more information on the International Selkirk Loop and to join visit www.selkirkloop.org.