New FortisBC app built by Two Tall Totems gives greater access to online accounts
More and more people prefer to access FortisBC online services using their smartphones.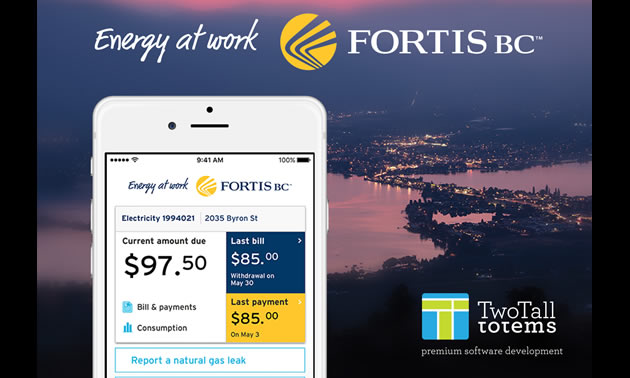 VANCOUVER, British Columbia, March 05, 2018 (GLOBE NEWSWIRE) -- FortisBC recently released a new mobile application that allows British Columbians to access their utilities account from their mobile devices. In addition to their existing web portal, the app acts as a platform for British Columbians to view their current and previous bills, monitor energy consumption levels, report gas leaks, be notified of electricity outages, and find information on saving energy all from a single portal.
Due to the complex enterprise backend of the app, award winning software development agency Two Tall Totems was contracted to ensure proper execution, and the implementation of robust security features. They put in place a reliable, scalable and fault tolerant gateway that reconciles FortisBC's existing infrastructure with the newly built app. The iOS and android apps, in addition to the existing web portal gives FortisBC customers higher accessibility to their utilities accounts online.
"We know that more and more people prefer to access FortisBC online services using their smartphones. Our new app gives our customers even easier access to their account information. We have also added other cool features that everyone can benefit from – like safety tips and rebate information," says Mark Warren, Director of Business Innovation & Measurement, Customer Systems and Operations at FortisBC. "Looking forward, I see our app as a springboard for a range of new mobile-friendly billing, notification and energy analysis features that FortisBC plans on introducing in the future."
"It is really exciting to design and develop an app that impacts the lives of so many of our fellow BCers. Furthermore FortisBC has been an amazing partner and shown great vision towards the creation of the mobile apps," says Chris Hobbs, President of Two Tall Totems.
About FortisBC:
FortisBC is a subsidiary of Fortis Inc., Canada's largest private utility company. It serves over 1.1 million customers provincewide, and provides natural gas and electricity to over 125 communities in British Columbia. It delivers over 20% of total energy consumed in the province and places an emphasis on safety, and finding innovative energy solutions.
Website: https://www.fortisbc.com/
About Two Tall Totems:
Two Tall Totems is an award winning custom software design and development agency based out of Vancouver, Canada experiencing rapid growth. With experience across 20+ different industries, their extensive technical capabilities include mobile development, AR & VR, IoT, AI, cloud computing, and enterprise solutions.
Website: https://www.twotalltotems.com