New $26.5M Upper Arrow Lake Ferry takes to water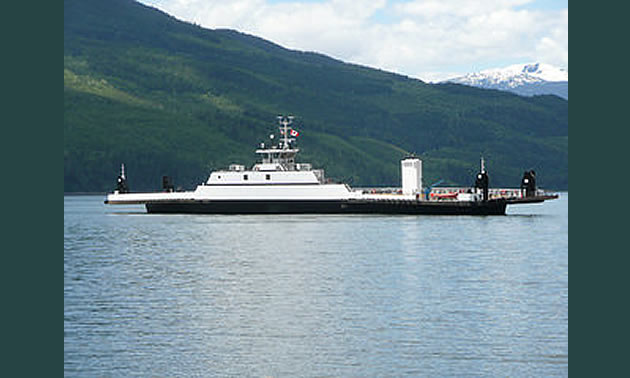 After several years under construction, and just in time for the busy summer visitor's season, the new Upper Arrow Lake Ferry is up and running.
The new ferry boat replaces two smaller vessels which used to ply the run between Galena Bay in Nakusp and Shelter Bay to the north.
Named the MV Columbia it can carry up to 80 motor vehicles and 250 passengers.
The ferry boat is 320 feet long, 64 feet wide and weigh approximately 2.5 million pounds (1100 Metric Tons).
The vessel has wider lanes and improved ramp transitions for faster loading and unloading. The sailing time is about 20 minutes.
In 2012, the Province signed a $26.5-million contract with WaterBridge Steel Inc. to design and build the new inland ferry. The vessel was constructed in Nakusp, providing employment for approximately 65 workers from across B.C. over the last two years.
The M.V. Columbia is more fuel efficient and produces fewer emissions than its predecessors. It also incorporates enhanced maintenance technology that will result in a high level of reliability. The vessel was designed to enable underwater visual inspections, eliminating the requirement to lift the vessel out of the water every five years for an inspection. The vessel's equipment and systems can be fully serviced from the car deck or inside the vessel.
The name 'M.V. Columbia' is representative of the location of the ferry, as the Arrow Lakes are widenings of the Columbia River. The name also commemorates one of the first Columbia River sternwheelers, the SS Columbia, launched in 1891.
With this major project complete it is reported that General Manager, John Harding of WestBridge Steel is hoping to sign on another ship building project in the near future to keep the Nakusp shipyard operational.
For information on B.C.'s inland ferries.