Murray Floyd and Cranbrook Beachcomber Hot Tubs honoured with major award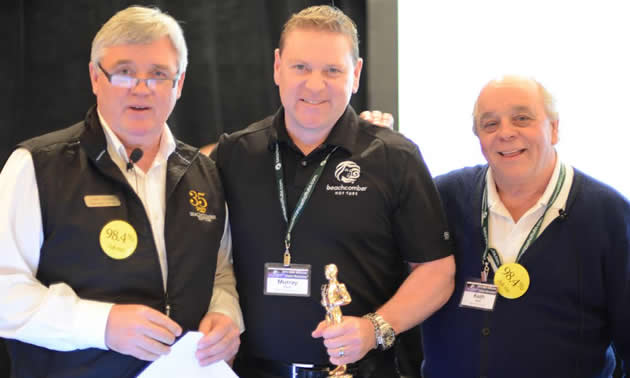 Beachcomber Hot Tub held its annual retail training workshops, called New Horizons, in Vancouver B.C. this month. Retail store owners and staff travelled to meet with Beachcomber's in-house trainers for three days of specialized training, motivation and instruction in the new 2014 hot tub product and sales programs. This year a special focus was placed on using new financial tools and marketing technology to help promote the quality and benefits of a Beachcomber hot tub for the whole family.
The Beachcomber Hot Tub store of the year awards are awarded to stores that performed above and beyond expectations in all product categories. The 2013 Beachcomber Hot Tubs & Plus Store of the Year for a Unique Super Centre was awarded to Beachcomber Hot Tubs in Cranbrook, British Columbia owned and operated by Murray Floyd, "This store is recognized for their excellent sales, outstanding customer support, and following the Beachcomber methods and programs to maximize their success" says Craig Lundman, VP of Sales and Growth for Beachcomber Hot Tubs. These awards were earned for top performance and dedication in 2013. This store has been a long standing Beachcomber retailer in their network of stores, serving Cranbrook and the surrounding area since 1973.
Beachcomber Hot Tubs is a manufacturer located in the community of Surrey B.C. Canada, and specializes in the building of hot tubs. Beachcomber ships to over 40 countries around the world, and distributes a lineup of fifteen different hot tub models in a variety of configurations, including Hybrid3® hot tubs.