Methode agrees to acquire Nelson's Pacific Insight For $144 Million
Methode Electronics, Inc. has entered into a definitive agreement with Pacific Insight Electronics Corp.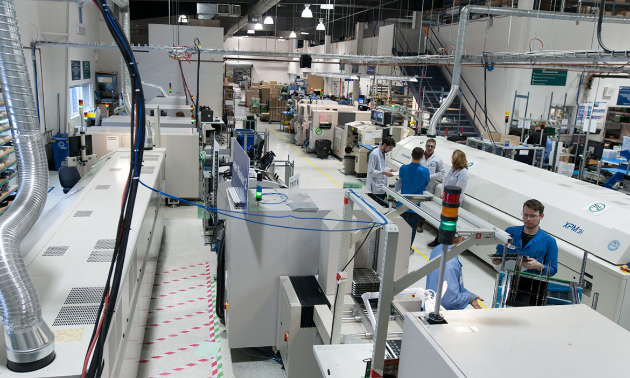 Methode Electronics, Inc., a global developer of custom engineered and application-specific products and solutions, announced that it has entered into a definitive agreement with Pacific Insight Electronics Corp., a global lighting, electronics and full-service solutions provider to the transportation industry, pursuant to which Methode will acquire all of the outstanding common shares of Pacific Insight in a cash transaction. Methode will fund the total consideration of approximately U.S. $114 million with available cash and its existing credit facility. Methode expects the acquisition to be accretive to earnings in its current fiscal year ending April 28, 2018. However, there are several media reports indicating a Chinese company has upped the ante for Nelson's Pacific Insight. "Shenzhen Kaizhong Precision Technology is making a last-minute bid to acquire all of the company's shares. They're offering $190 million," reported one media outlet.
The directors of Pacific Insight were quick to reject the "superior proposal" stating the company has considered materials that have been provided to the Company by Kaizhong. After reviewing these materials and receiving legal and financial advice, the board has concluded that the Kaizhong proposal is not a "Superior Proposal" for a variety of reasons, including:
Any transaction with Kaizhong is subject to the prior approval of Kaizhong's shareholders. Under the agreement with Methode, the Company cannot accept a proposal from a third party that is subject to shareholder approval. The Kaizhong proposal therefore cannot be a "Superior Proposal" within the meaning of the agreement with Methode.
The purchase price for the transaction proposed by Kaizhong is to be funded largely by bank financing. The commitment letter obtained by Kaizhong is subject to any agreement between Kaizhong and the Company being satisfactory to Kaizhong's lender. It is also subject to completion of financing agreements satisfactory to Kaizhong and its lender.
The transaction proposed by Kaizhong is subject to certain government approvals in the People's Republic of China. The ability to obtain governmental approvals, and timing of any such approvals that can be obtained, is inherently uncertain.
Having regard to the entirety of the materials received from Kaizhong, including all of the above, it is not accurate to describe the proposal received from Kaizhong as a Superior Proposal. Shareholders of the Company are therefore urged to take no action regarding the announcement by Kaizhong.
Pacific Insight is a global solutions provider offering design, development, manufacturing and delivery of lighting and electronic products and full service solutions to the automotive and commercial vehicle markets. Pacific Insight's vision is to offer advanced technologies including lighting and electronic solutions that create a better driving experience. The company's LED lighting systems and electronic modules are driving automotive innovation, as OEMs seek to differentiate their vehicles with advanced lighting technologies. A focus on design and manufacturing excellence, responsiveness and customer service has made Pacific Insight a preferred partner of choice for OEMs. Pacific Insight was founded in 1984 and has manufacturing locations in Fresnillo, Mexico, and Nelson, British Columbia, Canada, and has offices in Detroit, Michigan, and Vancouver, British Columbia. The company employs approximately 1,100 people across these locations. Trailing 12-month revenue was approximately U.S. $99 million as of March 31, 2017.
Methode's President and CEO Don Duda said, "Pacific Insight's innovation and technology in LED based ambient and direct lighting will expand our presence within the automotive interior, as well as augment our efforts in overhead console and other areas. Additionally, because of Pacific Insight's reputation as an expert in lighting, we see the potential to bring Pacific Insight's technology and expertise to our non-automotive customers as well. Finally, the addition of Pacific Insight will advance our objective to pursue strategic acquisitions where we can leverage our core competencies and provide an attractive value proposition for our shareholders."
Pacific Insight's CEO Stuart Ross commented, "Methode is the ideal partner for us given the complementary nature of our products and expertise. Importantly, Methode's global manufacturing footprint will provide us the ability to meet our customers' requested expansion into Asia and Europe. As part of Methode, we will be uniquely positioned to accelerate our innovations, and at the same time, strengthen and scale operations in a strategic manner. The size and strength of Methode will provide additional opportunities for all our stakeholders, including employees, customers, suppliers and local communities that we would not have had on our own. For our shareholders, this transaction will create compelling value by providing them liquidity at an attractive valuation and premium to market in an all-cash transaction."
The purchase price represents a valuation multiple of 8.6 times Pacific Insight's adjusted EBITDA, excluding revenue and cost synergies, for the trailing 12 months ended March 31, 2017. Adjusted EBITDA is a non-GAAP measure defined as net earnings before interest, taxes, depreciation and amortization, adjusted for unusual, out-of-period, non-operating expenses, and an adjustment for development costs that would be expensed under U.S. GAAP.
The acquisition will be accomplished as a court-approved plan of arrangement under Canadian law and is subject to customary closing conditions, including shareholder approval. The transaction is expected to be completed in the second quarter of fiscal 2018.
Foros acted as financial adviser to Methode. Locke Lord LLP, Stikeman Elliott LLP and Jones Day served as counsel to Methode.
About Methode:
Methode (NYSE: MEI) is a global developer of custom engineered and application specific products and solutions with manufacturing, design and testing facilities in China, Egypt, Germany, India, Italy, Lebanon, Malta, Mexico, Singapore, Switzerland, the United Kingdom and the United States. We design, manufacture and market devices employing electrical, electronic, wireless, safety radio remote control, sensing and optical technologies to control and convey signals through sensors, interconnections and controls. Our business is managed on a segment basis, with those segments being Automotive, Interface, Power Products and Other. Our components are in the primary end markets of the automobile, computer, information processing and networking equipment, voice and data communication systems, consumer electronics, appliances, aerospace vehicles and industrial equipment industries. Further information can be found on Methode's website www.methode.com.
About Shenzhen Kaizhong Precision Technology:
Shenzhen Kaizhong Precision Technology Co., Ltd. researches and develops, produces, and sells various commutators, slip rings, and connectors in China and internationally. The company offers automotive lightweight parts, high-strength and elastic parts, multi-layer insulated wires, and other core precision parts for motor and electrical control systems, as well as busbars and intelligent equipment. Its products are used in various applications, including automotive, household appliances, power tools, office automation, aviation and aerospace, intelligent home furnishings, and medical instruments. Shenzhen Kaizhong Precision Technology Co., Ltd. is headquartered in Shenzhen, China.