Metal Tech Alley celebrates grand opening in Trail
The Lower Columbia Initiatives Corporation (LCIC) this week launched a new game-changing economic development marketing program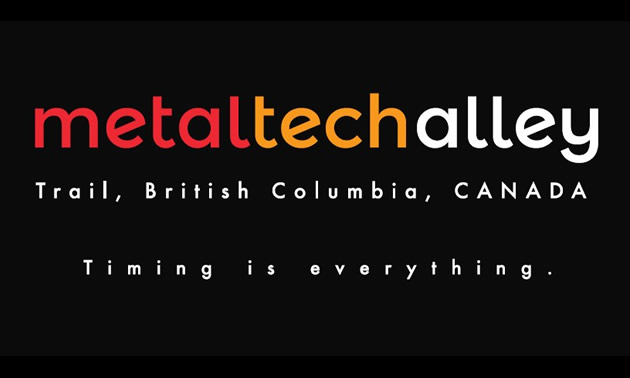 The Lower Columbia Initiatives Corporation (LCIC) this week launched a new game-changing economic development marketing program in Trail.
Metal Tech Alley has been created with the input and engagement of multiple stakeholders, citizens, business leaders and community officials, including funding from the Government of British Columbia (BC) through the Rural Dividend Funds Program.
"This new brand positioning represents our past, present and our future," said LCIC Chair Wesley Startup. "As a region that is leapfrogging into the Fourth Industrial Revolution, we're excited to begin building a brand and marketing program that reflects all the key elements of our economy and our business culture."
The LCIC is a partnership between the Columbia Basin Trust (CBT) and the five municipalities of Trail, Rossland, Fruitvale, Montrose, Warfield and Electoral areas A and B of the Regional District of Kootenay Boundary. Its mandate is to provide economic development services in the Lower Columbia Region, which it does with partners in both the public and private sectors.
"As a leader in the delivery of economic development services in Southern BC, our aim with this investment marketing program is to accelerate how we deliver economic and business development services, and one of our priorities is supporting partners like MIDAS and i4C to deliver results," said Startup.
The region is a hotbed of metallurgical and intelligent materials science, industrial matter recycling and emerging breakthrough technologies in Big Data and Internet of Things (IoT), said LCIC Executive Director Terry Van Horn.
"Our new brand positioning with Metal Tech Alley is intended to reflect the key assets and characteristics of our entire region. This especially includes the fact we have an incredibly affordable environment for both business and lifestyle, with some of the most cost effective industrial land in the province. It all adds up when you include things like, multi-modal access to global markets and the US border minutes away, and an extremely well-educated and diverse workforce to support continued business growth and innovation."
As an essential component of the campaign, the LCIC continues to forge robust partnerships with private sector partners like Teck—who's Trail Operation is the world's largest fully integrated refining complex for zinc and lead, as well as high tech partners like, Internet of Things trail blazers, Brian Fry, Pilar Portella and Tim Dufour of i4C, where the Metal Tech Alley event is being held.
"We have launched a catalyst that will continue to steer our region as a leader in technologies that manage industrial data, and I mean massive amounts of big data and information in a way we've not seen yet," said i4C partner Brian Fry. Along with his business partner Tim Dufour, Fry recently sold his cloud computing company Rackforce Networks Inc in a multi-million dollar deal with Toronto-based TeraGo. Fry and Dufour were pioneers in cloud computing who led the way for multinationals like Microsoft and IBM.
"We did all this from here in southern BC because the lifestyle is unsurpassed, and because with every year that passed technology made it easier for us to do so," said Fry. "We figured out ways to accelerate technological advancement so it would allow us to work from anywhere and still do business at the same speed as everyone else."
Technology has become the great equalizer when it comes to doing business anywhere in the world, and now tech leaders like Brian Fry and his partners are clearing the path again with Big Data storage, movement and analysis that integrates industrial processes with sensor intelligence and the Internet of Things. Steering the i4C project is well-known tech industry trailblazer Pilar Portella, whose background in data science is transforming the technology acceleration landscape in the Kootenays.
"We could not have done this without key partners at CBT, MIDAS and LCIC to name a few," said Portella. "Driving this is the collective dynamic of these visionary partners who understand the opportunities we have right here to cluster both industry and brain power. It's the perfect merger of industrial leaders like Teck—who is one of the most advanced metallurgical science leaders in the world when it comes to refining, with research and incubation programs at MIDAS, and with the investment and business development efforts being led by LCIC. We are triaging these advantages with our work in the Big Data and IoT landscape."
"The launch event is a game-changer for us," said Van Horn. "We've been working on this collectively for over four years, and to finally roll out the Metal Tech Alley campaign is thrilling for LCIC's board, staff and partners.
"We were determined to get this right for all the citizens of our region, who work hard to create the compelling culture and quality of life we enjoy every day, and we were committed to being deeply respectful of our history and the generations before us who made this all possible. IoT and Big Data is the integration of industry and fourth generation technologies this is the direction of the future, and most importantly, our companies are leading it."
The event unveiled the new site for the i4C Innovation Centre. It is an international Industrial IoT lab, production and testing facility that will include R&D, light fabrication, commercialization, and professional business support services with access to venture capital for scalable companies through early and mid-stage growth. The 46,000 square foot (sq ft) building offers a high-tech environment and is located at 9200 Industrial Road in Trail, BC, formerly the 5N Plus facility.
More than 100 guests, speakers and dignitaries attended the May 24th grand opening event where Metal Tech Alley leaders unveiled a new video preview and their plans for marketing the region as a technological leader in metallurgical and materials science development, industrial recycling and Internet of Things.