Making the Kootenays an even better place to live, work and play
Along with the grants, the Foundation is also helping local students pursue their dreams and goals by awarding $52,200 in funds.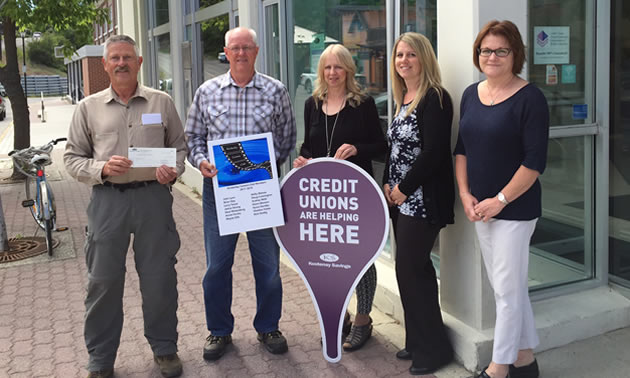 TRAIL, BC - The Kootenay Savings Community Foundation is excited to announce the distribution of $67,755 in new grants. These most recent grants, ranging from $500 to $10,000, will help support a wide range of projects all across the Kootenays - benetting the big, small, young, old and everyone in between.
From helping construct aordable housing units in Trail and Fruitvale, to expanding hiking and biking trails in Nakusp, to installing a new playground in Windermere – just to name a few – Kootenay Savings takes great pride in being part of the fabric of our communities. The twenty-six non-profit groups benetting from this latest round of funding include:
BC Community Response Network — $500
Beaver Valley Manor Society — $2,400
Bee Awareness Society — $1,000
Career Development Services — $1,500
Columbia Basin Alliance for Literacy - Salmo — $855
Friends of West Kootenay Parks — $1,500
Genelle Recreation Commission Society — $2,500
Glenmerry Elementary School — $5,000
JA Laird Elementary School — $3,500
Kimberley Camera Club — $750
Kimberley Nature Park Society — $1,500
Lower Columbia Affordable Housing Society — $10,000
Lower Columbia Development Team — $2,000
Nakusp & Area Bike Society — $1,500
Rossland Golden City Lions Society — $2,500
Rotary Club of Nakusp — $1,000
Sanctuary Pre-teen Centre — $2,000
Slocan Park Community Hall Society — $4,000
Slocan Lake Gallery Society — $500
Special Olympics Greater Trail — $3,000
St. Michael's School — $10,000
Royal Canadian Legion — $750
Trail Minor Baseball — $2,000
Tri-Village Kids Club — $1,500
West Kootenay Brain Injury Association — $1,000
Windermere Valley Child Care Society — $5,000
Along with the grants, the Foundation is also helping local students pursue their dreams and goals by awarding $52,200 in education awards, bursaries and summer camp sponsorships.
Kootenay Savings Community Foundation Quick Facts
Established in 2000 to support non-profit cultural, economic, educational, environmental, health and social projects.
Over $4.3 million in grants, endowments and bursaries distributed since inception.
Application form and more details available at kscu.com/Community.
Two application deadlines each year - March 31 and September 30.
About Kootenay Savings
With corporate offices in Trail, Kootenay Savings is a member-owned credit union with eleven branches throughout the Kootenays, over $1 billion in assets, 39,000 members and over 200 employees. In addition to the Community Foundation, Kootenay Savings also delivers wealth management strategies through its wholly owned subsidiary, Kootenay Savings MoneyWorks, and auto and general insurance through Kootenay Insurance Services Ltd.