Major log sort and re-load centre springs up in Yahk
It is being operated by RGM Holdings, a Cranbrook-based operator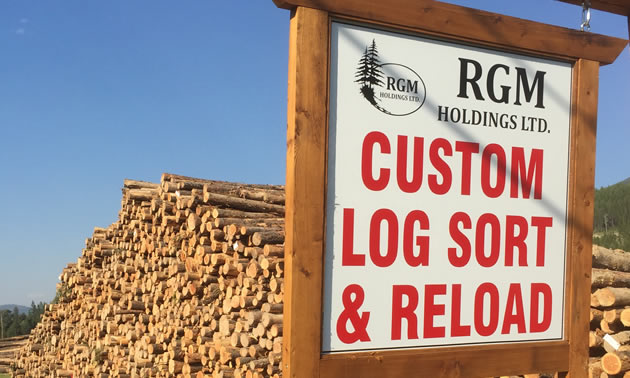 If you have driven through Yahk recently, you can't help but notice the major log sorting and re-load centre situated on the north side of the community. It is being operated by RGM Holdings, a Cranbrook-based operator owned primarily by Mike Jenks.
According to the corporate messaging on their website, here are some details on RGM Holdings: "For 25 years, RGM Holdings Ltd. has been providing a variety of services to the BC interior. From real estate and land development to logging and road building, we are experienced in a wide range of services. We pride ourselves on having over 100 years of combined experience in the logging and forestry industry.
"We are a leader in the logging and forest industry in BC and we provide services such as land development, real estate development, stump-to-dump logging, road building, log hauling, land clearing, and land-and-timber purchasing.
"We are fully certified by BC Forest Safe and all our trucks are equipped with GPS tracking technology to ensure everything arrives on time. We provide our services all over western Canada, including Cranbrook, Nelson, Golden, Creston, Trail, and the surrounding areas.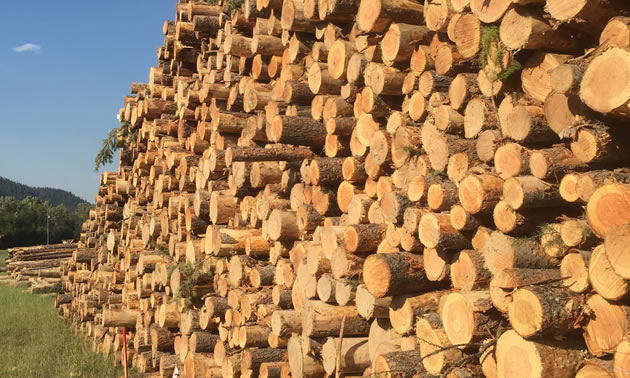 "RGM Holdings Ltd. operates a custom log sort and reload facility in Yahk, BC. We take pride in extending our services to many of the Kootenay mills and as well as to smaller logging operations throughout Southern BC.
RGM Holdings Ltd. proves to be the excellent reliable log service team, if you're a logger, or a forest products company. When you call, we'll give you a competitive quote on your required service, including all specifications required."
RGM Holdings had connections to Jemi Fibre Corp. of Nanaimo, BC, which was involved with the acquisition of WoodEx Industries Ltd., Kootenay Wood Preservers Ltd. (KWP) and Prairie Holdings from Winston Blackmore.
WoodEx operated a sawmill located in Edgewater, BC. The defunct sawmill was situated on about 50 acres of land and on a nominal board foot basis, it had capacity to produce about 110 million BFM per annum. Its principal wood product was designed for the Japanese housing market.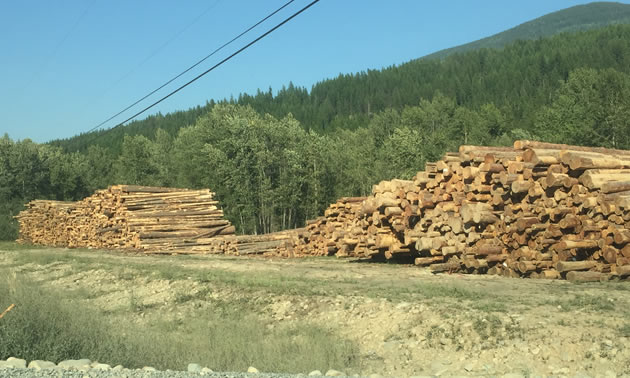 KWP is a post peeling and treatment operation and plant, with its principal operations located in Cranbrook, BC, on about 70 acres of land. It produces treated timber products for agricultural, highway and telephone pole use.
Prairie is a contract logger operating in the Kootenay region of BC. It has a current run rate of approximately 250,000 cubic metres of logging per annum.
According to financial documents WoodEx, KWP and Prairie, at the time of sale, were not dealing at arm's length with Jemi Fibre. The documents stated, "in that Mike Jenks and Georgina Martin, directors and principal shareholders of Jemi Fibre, are directors of NMS Ventures Ltd., which owns 50% of WoodEx, and are directors of RGM Holdings Ltd., which owns 50% of each of KWP and Prairie. Accordingly, each of the transactions will constitute a 'non-arm's length transaction'."
Subsequently, Jemi Fibre was sold to Vancouver-based, Canwel Building Materials Group, Amar Doman is the chairman and CEO of the company.
As the owner of Jemi Fibre, owner Mike Jenks became the one of the largest owners of private timber lands in the Kootenays. At its peak, Jemi Fibre purchased some 50,000+ acres of private forest land from Tembec and at the time of sale to Canwel, Jemi Fibre owned 136,000 acres of private timberlands and had an indebtedness of $25 million and some $50 million in senior loans which needed to be refinanced.
More than once have local officials and the environmental community issued complaints about companies owned and operated by Jemi Fibre and related operations, including "cut and run" logging operations on Vancouver's Gulf islands and aggressive private land timber harvesting in the East and West Kootenay.
It is unclear where the Yahk re-load center is obtaining their logs from or where they are selling their logs to, however based on its close proximity to the US border, some may be heading south. One thing is for certain — this is one of the largest custom log sort and raw timber re-load operations in the Kootenays.