Kootenay Export Navigator Workshop slated for Nelson
The Export Navigator workshop is specifically for manufacturers in the West Kootenay, hosted by advisor Michael Hoher.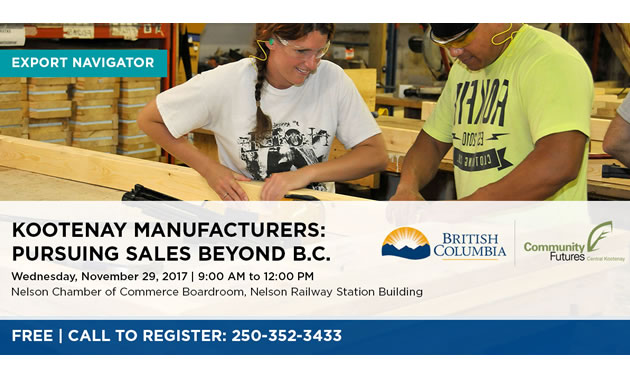 Calling all exporters and potential exporters in the Kootenays. On Nov 29, 2017, there will be an Export Navigator workshop specifically for manufacturers in the West Kootenays. The conference is hosted by export advisor Michael Hoher.
Here's a rundown of the agenda:
West Kootenay Manufacturers – Pursuing Sales beyond BC
Date: Wednesday, November 29
Time: 9am - noon
Cost: free of charge (limited capacity so register as soon as possible)
Location: Nelson Chamber of Commerce Boardroom, Nelson Railway Station Building, 91 Baker Street
Workshop description:
Diversifying revenue sources and sales channels is a must for every West Kootenay manufacturing enterprise to improve chances for long lasting business success. No matter your experience with exporting nor type of product, this interactive workshop will prove invaluable to those seriously looking to strengthen or grow their business by pursuing markets beyond BC's borders.
Look forward to learning how to:
skillfully use export terminology to your advantage in sales discussions and negotiations,
successfully identify and assess new target markets,
tap into numerous provincial and federal support services,
write a brief and concise export plan to add to an existing business plan or use with lenders, and
receive continued, free support from the Boundary – Kootenay Export Advisor.
Ideally suited for:
Existing manufacturing business with 2+ years in operation, export experience not necessary
Owner, general manager, export or sales manager
To register call:
Nelson Chamber of Commerce 250-352-3433