Invermere's Valley Echo shuts down after 64 years
The Invermere Valley Echo and the Columbia Valley Pioneer have been operating as one under a joint-operaing agreement.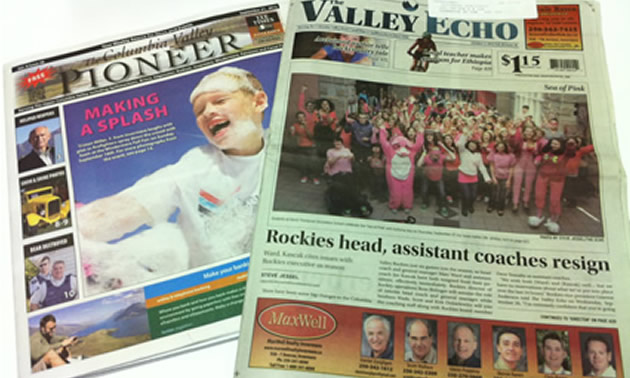 What started in 1953 – 64 years ago, came to an end last week, as the Invermere Valley Echo was sold and the weekly newspaper shuttered its doors, or sort of.
The Invermere Valley Echo and Columbia Valley Pioneer, two "competing" newspapers in Invermere have been virtually operating as one under a joint-operating agreement between their corporate owners since 2012.
Black Press (who printed both the newspapers) and Misko Publishing have been sharing editorial, sales and publishing staff while producing both newspapers – the Echo coming out on Wednesdays and the Pioneer on Fridays.
As one of the paper's editorial staffers, Lorene Keitch, recently wrote, "What started as a competing newspaper merged into a joint operation between two newspaper chains, with the majority of staff working for both newspapers. Together, the team has built hundreds of newspapers, created thousands of ads, taken hundreds of thousands of pictures, written stories on every topic possible and covered the broad Columbia Valley community within both newspapers' pages."
Here is the official notification about the "sale" and closure: "The Columbia Valley Pioneer acquired The Invermere Valley Echo on July 1. It is our intention to merge the operations of the two newspapers and the July 13th edition will be the final issue of the Echo as a free standing newspaper. If you are a subscriber to the Echo you will be contacted in order to arrange for a refund of the unused portion of your subscription. We thank you for your support of The Echo and everyone at The Pioneer looks forward to continuing to serve you for many years to come."
The Valley Echo was owned by BC's dominant newspaper chain, Black Press, and the Columbia Valley Pioneer is owned by Bob Doull and his company, Misko Publishing, which has a number of newspaper properties in B.C. Doull purchased the Columbia Valley Pioneer from former publisher Elinor Florence several years ago.