Fernie Brewing Company raises a glass to The Professor with new seasonal beer
Fernie Brewing Company honours late brewmaster with new seasonal brew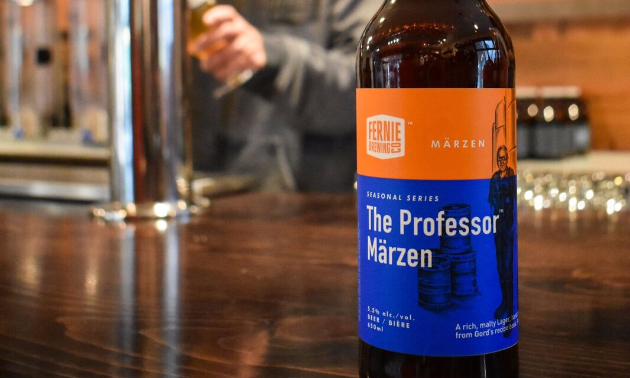 On a perfect fall Fernie day, inside Fernie Brewing Co.'s (FBC) tasting room, the latest FBC seasonal brew was officially launched. The brew is close to the heart of staff, family and friends of FBC. The Professor Märzen is a commemorative brew, named after and stemming from, a partially created recipe found in past FBC brewmaster Gord Demaniuk's recipe book. Aptly, this brew launches almost to the day that Jeff Demaniuk, FBC's now head brewer, was announced to be filling the large rubber boots of his late father, Gord Demaniuk, who passed away after a long and courageous battle with cancer last September.
A huge fan of lagers, Gord had always wanted to add a Märzen to FBC's lineup. Unbeknownst, soon after Jeff joined the crew, a partial recipe for a malty, amber coloured Märzen was found in Gord's recipe book. There was no doubt that this beer was to be added to FBC's brew calendar. A few months later, Gord's recipe was completed with much love and respect, by current head brewer and son, Jeff Demaniuk, and FBC's team of brewers.
Full beer information available at ferniebrewing.com Their tasting room and storefront are open 7 days a week from 11 AM. FBC is located two minutes east of Fernie, off Highway 3.