Fernie Brewing launches new brew during renovations and expansion
Fernie Brewing is celebrating summer with a new beer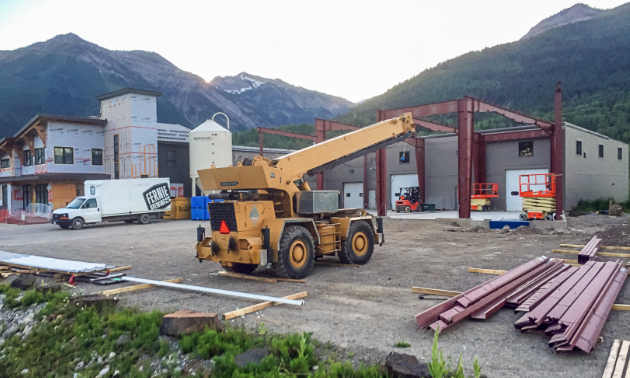 Amid an extensive renovation and expansion at the Fernie Brewing Company, they have also launched a new seasonal Ale called Base Camp, West Coast Pale Ale.
"After a lengthy wait, summer is finally here. To celebrate, we're launching our long-awaited addition to our seasonal line up, Base Camp West Coast Pale Ale," said Fernie Brewing Company in a media release. "A bold, hop forward Pale Ale, boasting a delicious tropical aroma, this on-trend brew is a style of beer which our Head Brewer, Jeff Demaniuk, was eager to brew upon his arrival to Fernie Brewing Co. back in the fall of 2016. Six months on and it's come to fruition, with a timely summer arrival."
FBC further states, "As the illustration of a Boler trailer on the bottle suggests, Base Camp makes a refreshing pairing to weekend camping trips, post-surf celebrating, and long days at the beach. An ode to our FBC craft-loving comrades on the coast.
Whilst the Kootenays may not be known for legendary surfing, the easy-going essence of the West Coast is certainly captured in this delicious brew, and can be enjoyed equally whilst camping lakeside.
This perfect summer beer leaves nothing by the wayside, with Mosaic and Ekuanot hops delivering tropical fruit flavors and a hint of caramel from the Crystal malts. Available from July to September, Base Camp's arrival is timed to quench a thirst and satisfy a craving for the perfect Pale Ale in the heat of summer."
Here's breakdown on the FBC ongoing expansion plans and how to access their beer products and merchandise:
Tasting Room & Store
As you know, we offer Beer Tastings, Growler fills, packaged product and merchandise. However, we have limited space to house all of this, so we are expanding our tasting room and store area. We aren't altering our limited service in any way. The additional space will increase our seating and allow for more circulation space in our currently very cramped Tasting Room. As part of this project, we're also adding to our office space upstairs.
Warehouse
We are also expanding our warehouse for more storage and tank space. Our packaging and production will not be impacted. It will be business as usual on the production side of things throughout the renovations and expansion.
Where to Buy?
Unfortunately, the store will be closed during the renovation. As such, we will be directing store customers to our local accounts to purchase our packaged product at local liquor stores. Meanwhile, Giv'Er Shirtworks has kindly agreed to sell our merchandise while we are closed, so we will be directing traffic to them for a selection of shirts, crewnecks and trucker hats. Plus we will be offering FREE SHIPPING to Canadian customers through our online store during the renovation, with a number of online promotions throughout this period.
A wide selection of Fernie Brewing Co. beers remain available on tap at many great local bars and restaurants.
Last year, Fernie Brewing Company saw their sales to BC Liquor stores jump 41.3% to $2,959,377, making it the largest craft brewer in the Kootenays.