Enhanced ways to get moving, have fun and get fit
38 groups and organizations will benefit from the Recreation Infrastructure Grants program.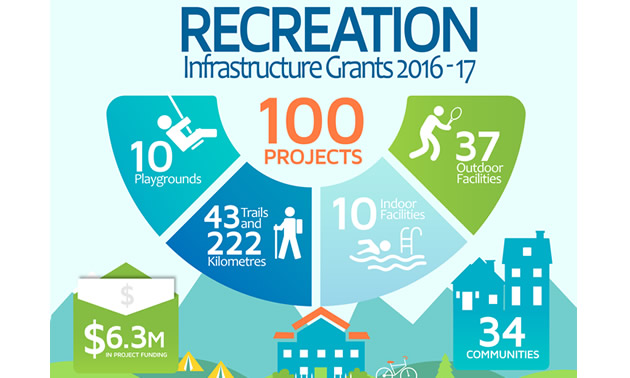 (Columbia Basin) – Columbia Basin Trust is providing $1.8 million for 38 projects to support a variety of groups and organizations in building infrastructure that encourages active lifestyles in the Basin. The Recreation Infrastructure Grants program supports community efforts to create new or upgrade existing recreation facilities and trails in the region.
Since the program launched in early 2016, the Trust has funded 100 projects with $6.3 million, including 222 kilometres on 43 trails, 36 outdoor facilities like playgrounds and tennis courts and 10 other facilities like riding arenas and gymnasiums. Projects are located in 34 Basin communities. The final intake for the program will open November 2017.
"Residents have told us they would like the Trust's help to build stronger, more resilient and more enjoyable communities, and part of this is having the amenities they need to lead active, healthy lifestyles," said Kindy Gosal, Columbia Basin Trust Director, Special Initiatives. "We're pleased to see such a positive response to the program, and we're happy to support these community-based projects that have a lot of the preparatory work done, have commitments for other funding, and have local residents willing to pitch in and make the project work."
Read about all the approved projects and learn more about the program at ourtrust.org/rig.
Recent recipients include the following:
A Trail for All Abilities
It already gives you a fantastic view over Slocan Lake, and now the Butter Mountain trail in Rosebery is going to get even better. The North Slocan Trails Society will be nearly doubling the trail by adding seven kilometres to the existing 8.7-kilometre trail. This includes a 3.5-kilometre section for bikers who may use equipment like hand bikes, trike bikes and wheelchair bikes.
"Studies show that mountain biking brings in tourism, and this project will expand the user experience and establish the North Slocan as a recreation destination, including for adaptive mountain bikers," said Mike Koolen, project manager. "Plus for many locals, trails are the sole source of exercise and recreation. They too will benefit from increased trail opportunities."
Seniors-only Gym Expands
The seniors-only gym in Fruitvale is so popular it needs to get bigger. The Village of Fruitvale will be doing this by repurposing an unused kitchen, expanding the current fitness area to add new equipment and accommodate 100 more users.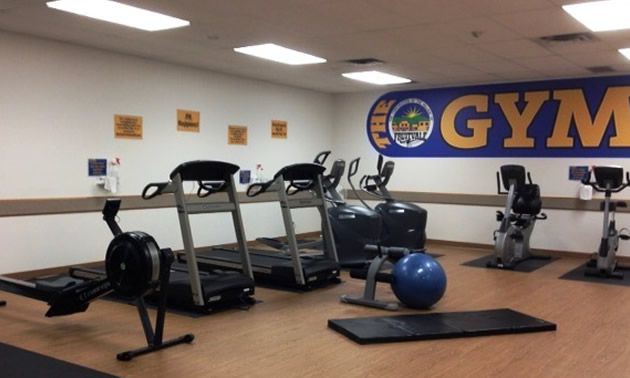 "This facility has made such a difference for many of our senior residents, improving their lives both physically and mentally," said Patricia Cecchini, Mayor of Fruitvale. "This project will expand the fitness area by 41 per cent, reducing wait times for fitness equipment and encouraging more seniors to work out in a setting where they feel comfortable."
A Permanent Home for a Popular Sport
Disc golf is one of the fastest growing sports in North America: healthy, easy to learn, suitable for all ages and skill levels and inexpensive. To encourage the sport in the Kootenays, the Elk Valley Disc Golf Association will be installing a permanent 18-hole disc golf course at Wycliffe Regional Park.
"This new, well-designed course will help grow the sport locally and provide the opportunity to host provincial events in the Cranbrook area," said board member Fraser Bowden. "It will provide seasoned players opportunities to improve their games, attract new players to the sport and create a venue to host organized tournaments and league play."
RIG by the Numbers
Columbia Basin Trust supports the ideas and efforts of the people in the Columbia Basin. To learn more about the Trust's programs and initiatives, and how it helps deliver social, economic and environmental benefits to the Basin, visit ourtrust.org or call 1-800-505-8998.