Cranbrook's Andre's Electronics is headed for "the strip"
Andre's Electronics is expected to be open in their new location at some point in the fall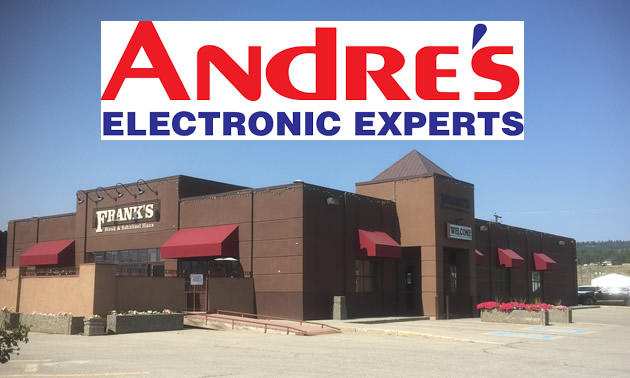 Another Cranbrook business is getting on the relocation bandwagon. With the retirement of the owners of Frank's Restaurant, Andre's Electronic Experts are re-locating to the vacated premises.
Andre's came into the Cranbrook market a number of years ago when they purchased Muntz Audio and Video from longtime retailer/owner Derek Broadhurst — one of the original owners of a Muntz Stereo franchise which were popping up in western Canada in the 1970's.
The former Frank's restaurant will be transformed into a more spacious space for Andre's line up of electronic products and will also give the store a much more prominent location on Cranbrook's busy commercial thoroughfare – Cranbrook Street North (AKA "The Strip') across from the Tamarack Centre.
Based out of Kelowna, Andre's website states, "Since 1976 when Andre Sr. started as a TV and microwave repair shop, Andre's continues to be family owned and operated by Andre Jr. and his great staff. As a family business we are in touch with our clients' needs, as we are just like them! Andre's Electronic Experts has been a TELUS authorized dealer for 23 years. Andre's has 20 locations in ten communities throughout the Interior British Columbia. Our 12 full service locations, seven Telus cellular locations, and one dedicated car audio location are proud to carry all of the top brands."
Andre's current Cranbrook location on Kootenay Street is being advertised for lease or sale and you can expect the electronics retailer to be in their new Cranbrook Street North location this fall.