Cranbrook-born Darrell Jones now president of Overwaitea Food Group – and star of its TV ads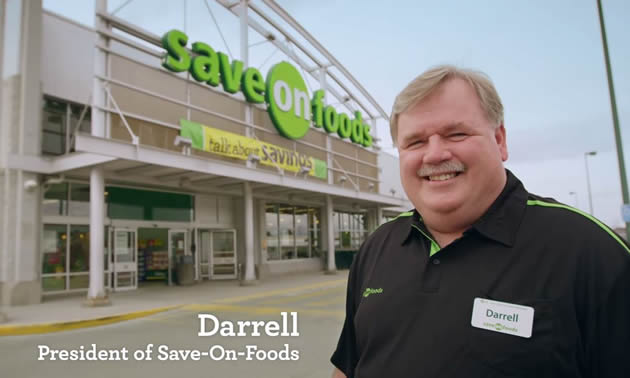 Those in the grocery industry know Darrell Jones as president of Overwaitea Food Group. But to the residents of Cranbrook, B.C., Jones is the family friend you grew up with, according to a report in Canadian Grocer magazine.
Jones took on the role of president just two years ago, but got his start with Overwaitea Food Group 37 years ago bagging groceries. Now, he's the face of Overwaitea's latest marketing campaign.
Dan Howe, VP marketing, communications and rewards with Overwaitea, says Darrell epitomizes the company's brand – local, genuine, friendly, loyal and passionate.
"Building the campaign around him was a no-brainer," he says. "People can relate to him – and they connect his strong values with the company."
Jones is a central figure of the Save-On-Foods website – there's even an "About Darrell" page featuring an ad showcasing his story and the importance of his team members. Here's what the profile on Darrell states….
"It all started 37 years ago in the local Overwaitea Foods in Cranbrook, BC – Darrell Jones got his start with the Overwaitea Food Group bagging groceries after school. Instead of hitting the hockey rink, Darrell was building the foundation for his grocery career which would take him to store teams in 23 communities, leading fellow team members and learning the ins and outs of all things Overwaitea! Darrell made the ultimate leap from his humble beginnings in 2012 as he became President of the Overwaitea Food Group, allowing him to continue to share his passion and excitement for the stores, teams and customers. Although he's still not scoring any goals on the rink, he's scoring some great deals for Save-On-Foods – so stay tuned and keep your eyes open for all the exciting "Darrell's Deals" headed your way!"Darrell Jones will the guest speaker at the Cranbrook Chamber of Commerce monthly luncheon on the third Wednesday in November.
Source: Canadian Grocer