Cranbrook and District Community Foundation Fund for Salvation Army Soup Kitchen fund grew by $4,000
Cranbrook once again surpassed expectations with their big-heartedness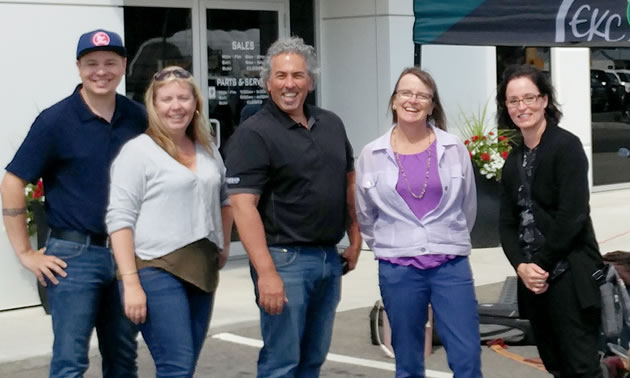 Cranbrook –The Cranbrook Salvation Army's Soup Kitchen endowment fund received $4,000. Denham Ford Cranbrook held their third annual, 'Our Hometown for Hunger' event on August 14th. Steve Zsillei, Marketing Manager at Denham Ford and Riley Wilcox, Account Executive from the B104 and the Drive, led the event with support from East Kootenay Community Credit Union (EKC).
"The skies parted for a fantastic event, our goal was $3,000, and we raised $4,000! Many thanks to all the hungry people who came out to support, all the food vendors, and our volunteers," said Steve from Denham Ford.
Cranbrook once again surpassed expectations with their big-heartedness. Funds were raised by donations, contributions from the food trucks and both EKC and Denham Ford donated an additional $1,000 each.
This fundraiser hit the sweet spot of generosity and enjoyment. People lingered to enjoy the company, music and food. The stage was set with Heather Gemmell and Keith Larsen of the band Idlewild. They performed a variety of songs from Neil Young's Heart of Gold to their own covers.
The Chopstick Truck, Mama's Dumplings, Wicked Weenies, Mr. Mikes, Frybread for Fund$ and The Food Truck served an amazing variety of food including fry bread tacos, Mike burgers, hot dogs, glory boxes and noodle bowls.
The crowd included young families, the business community and local favourites like Bud Abbott and Karin Penner. Major Kirk Green and Nancy Lemire, Community Ministry Coordinator, answered questions on the Salvation Army. Volunteers from CDCF, Wayne Eburne and Lorraine Frocklage took care of the donation table. Denham Ford management and staff were on hand as were CEO, members of the Board, managers and staff of EKC.
Lynnette Wray, Executive Director of Cranbrook and District Community Foundation, was incredibly thankful for everyone who attended and supported the event. "Great team effort, great community support, all for an important cause." She went on to say, "We sincerely appreciate the commitment to growing the EKC endowment fund, to benefit the Salvation Army food programs." Sean McCormack was the winner of the car blanket and barbeque set from EKC and Vast.
EKC helped established the CDCF endowment fund to benefit the Salvation Army's Soup Kitchen in 2004. Their initial donation of $10,000 followed by $9,000 has helped grow the fund to over $20,000. Jean-Ann Debreceni, EKC's Board Chair was instrumental in establishing the endowment fund. She commented, "The fund allows a community recipient like the Salvation Army Soup Kitchen to be able to count on funds every year. This helps them plan and ensure they can continue funding a project. The more money in the fund the more the group receives every year."