Columbia Valley Logging Contractor is Canfor's Top Canadian 2018 Contractor
The Canfor 2018 Contractor Awards were recently held in Cranbrook, B.C.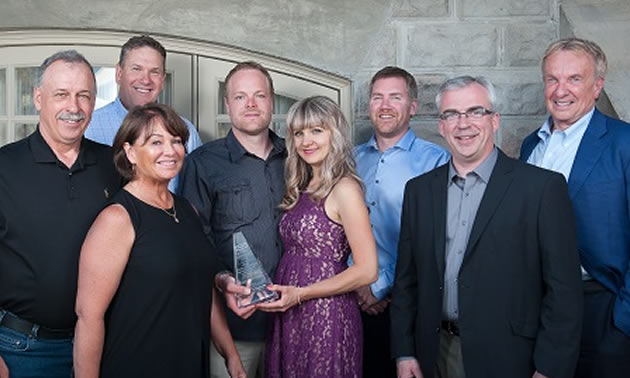 Logging contractor, Chasse Holdings of Invermere was recently honoured with Canfor's Top Canadian Contractor Award.
In a statement Canfor said, "The contractors that we work with play a key role in Canfor's success, which is why each year we like to take the opportunity to recognize those with exceptional performance with the Canfor Contractor Awards. This includes forestry contractors which harvest timber for us on our tenures in BC and Alberta and undertake increasingly challenging and extremely important work for us, delivering the high quality fibre we require to supply our western Canadian operations."
An awards ceremony took place May 23 in Cranbrook, BC. Kevin Horsnell, a Canfor representative, said, "I was joined by Don Kayne, President and CEO; Stephen Mackie, SVP, Operations - Canada; Mark Thom, General Manager, West Region Fibre; Russ Martin, General Manager, North Region Fibre; and Al Andersen, General Manager, South Region Fibre, as well as the Woodlands Managers and some of their staff to present Canfor's 2018 Contractor Awards."
The following companies were recipients:
Top Canadian Contractor - Chasse Holdings Ltd. (Kootenay division)
Business Leadership Award – Blue Valley Enterprises Ltd. (Vanderhoof division)
Log Quality Award – Lia Lan Industries Ltd. (Chetwynd division)
Safety Award – Goat Creek Logging Ltd. (Vavenby division)
Kevin Horsnell added, "I enjoyed spending time with the award winners and having the opportunity to personally thank each for their commendable performance and for all the great work they do for Canfor. Congratulations to each of the winners and thank you to all of our contractors across Canada and the United States who are so important to the success of our company."
Congratulations to the owners and staff at Chasse Holdings in Invermere.