BC Rural Dividend grants support projects in Kootenays
The rural dividend encourages economic diversification, innovation, sustainability and collaboration.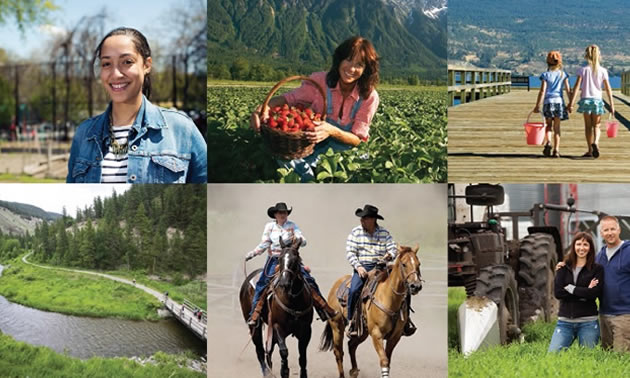 As part of its rural development mandate, the Government of British Columbia is providing over $103,000 for cultural, social and infrastructure projects in the Kootenay region, Nelson-Creston MLA Michelle Mungall and Kootenay-West MLA Katrine Conroy announced today.
"These grants recognize the ongoing efforts of Kootenay residents to improve their communities and contribute to more vigorous rural economies in British Columbia," said Mungall.
"The wide range of projects being supported by the BC Rural Dividend program in the Kootenays says a lot about the ingenuity and resourcefulness of the people who live here," said Conroy. "The grant recipients will make their communities stronger and more vibrant."
The funding is part of nearly $700,000 in project development grants being awarded to eligible local governments, First Nations and not-for-profit organizations under the BC Rural Dividend program. These grants, up to $10,000 each, help rural communities develop projects to stabilize their economies and create long-term local employment.
"Congratulations to everyone involved," said Doug Donaldson, Minister of Forests, Lands, Natural Resource Operations and Rural Development. "The selected projects reflect the strength of rural communities – people working together for the good of the community."
The Field Recreation Advisory Association is being awarded $10,000 to repurpose St. Joseph Catholic Church into a community arts and wellness centre and a multifunctional space for community events.
The Kimberley Trails Society is being awarded $10,000 to build a climbing trail to the top of the trail network in the Bootleg Mountain Recreation Site.
The Creston Valley Chamber of Commerce is being awarded $5,000 to draft and implement a business recovery strategy for local communities, in co-operation with the Regional District of Central Kootenay, the Town of Creston and other stakeholders.
The Healthy Community Society of the North Slocan Valley is being awarded $10,000 to hire an affordable housing expert to help create an affordable housing plan for the North Slocan Valley.
The Kaslo Outdoor Recreation and Trails Society is being awarded $10,000 to hire a trail co-ordinator, who will work with local groups to build an inventory of existing trails, and plan and prioritize trail maintenance and development work.
The Nelson Nordic Ski Club is being awarded $10,000 to support a feasibility study and design of a new ski lodge for the Nelson Nordic Ski Club to meet the demands of club membership and allow the club to offer more community events.
The Upper Columbia Co-operative Council is being awarded $9,955 to explore the financial, market and operational viability of a regional co-operative/social venture incubation program in the Nelson area.
The Revelstoke Chamber of Commerce is being awarded $9,602 to fund research and curriculum development by an Okanagan College professor for a Business Diploma Program in Tourism Management, to be offered in Revelstoke.
The Village of Slocan is being awarded $10,000 to develop a conceptual design plan and cost estimates for improvements to the north end of Harold Street, which would address parking, sidewalks, landscaping, drainage and overall beautification.
The Village of Silverton is being awarded $10,000 to create a business plan, governance model and partnership model for a co-work space in the Silverton General Store.
The Visions for Small Schools Society is being awarded $8,970 to assess the benefits and sustainability of hiring a youth recruiter to recruit and retain youth for the Seven Summits Centre for Learning in Rossland.
The rural dividend encourages economic diversification, innovation, sustainability and collaboration, and recognizes the diverse needs of individual communities.
Quick Facts:
Projects were assessed and approved based on the following criteria:
Rural communities most in need.
Improved community resiliency and economic strength.
Partnership-building and enhanced shared prosperity.
Project feasibility and sustainability.
Economic impact on rural communities.
Attracting and retaining youth.
Innovation in economic development.
Learn More:
BC Rural Dividend program: www.gov.bc.ca/ruraldividend