BC Hydro to upgrade key Fernie substation and adds new warning system at Elko Dam
The existing Fernie Substation is aging and reaching capacity.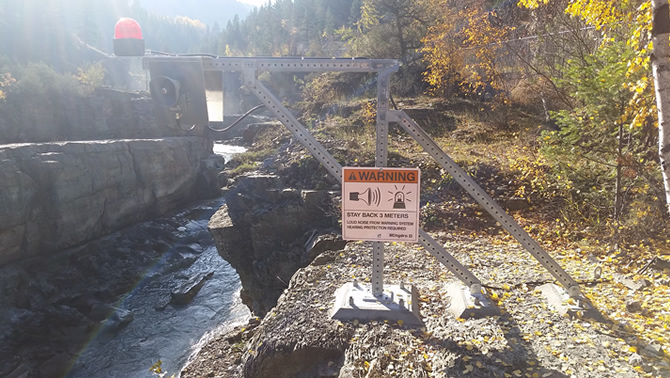 BC Hydro has announced plans to upgrade a key substation in Fernie and a new early warning system at their Elko Dam.
The existing Fernie Substation is aging and reaching capacity. BC Hydro must upgrade the facility to meet growing electricity demand in Fernie and the surrounding area to provide clean reliable power to homes and BC Hydro to upgrade the Fernie Substation. Upgrades include:
replacing one of the existing transformers with a larger capacity transformer,
the addition of new circuit breakers and 25 kilovolt feeders,
modernizing the switchyard and protection and control equipment,
expansion of the substation site, and
replacement of existing wood poles with steel structures.
Following several months of discussion and consultation with the City of Fernie, including review of the proposed substation design & aesthetics and approval by the Design Review Panel committee, BC Hydro will also enhance the visual appearance of the newly upgraded facility with landscaping and architecture accents consistent with Fernie's downtown heritage theme.
BC Hydro has attended several meetings with the City of Fernie to provide information about the project, answer their questions and receive input. Opportunities for the public to learn more about the project will be scheduled and advertised in 2016. BC Hydro is currently finalizing the substation design. Initial work to prepare the site will begin in the fall of 2016 with construction starting in the spring of 2017. The project is expected to be completed by the end of 2017.
Key Quotes on Fernie Substation Upgrade:
Chris O'Riley, Deputy CEO & Capital Infrastructure Project Delivery, BC Hydro:
"Demand for electricity is growing as B.C.'s population and economy grow. At the same time, our electricity system is getting older. That's why we are investing, on average, $2.4 billion a year over the next 10 years on our infrastructure. Increasing capacity at Fernie Substation will ensure BC Hydro customers in Fernie and surrounding area continue to enjoy clean reliable power now and into the future.
Mayor Mary Giuliano, City of Fernie:
"I'm pleased to see this investment in key infrastructure in our city. Over the next 20 years Fernie is expected to continue to grow, and more people mean more homes and businesses needing power. Electricity is vital to not only our day-to-day lives, but our continued economic growth."
Bill Bennett, Minister of Energy and Mines:
"Low-cost, reliable, clean electricity is one of British Columbia's key advantages – it means we can attract investment, grow our economy and have a better quality of life. This investment in upgrades to the Fernie Substation will help ensure we can meet future demand for reliable power in the Southeast, benefiting residents, businesses and industry."
BC Hydro also announced that they have put into place and operation a new Elko Dam Warning System. It is designed to warn of potential danger in and around the Elko Dam and canyon area. "This month, BC Hydro put into service a warning system on the Elk River at the Elko Dam.

A series of six stations with strobe lights and sirens between the dam and the powerhouse will go off 15 minutes before spillway gate changes of three feet or more. The warning system will raise awareness of river hazards associated with dam operations and improve safety for people in the canyon," Sally MacDonald, BC Hydro, community relations person.