Arrow Lake Ferry construction nearing completion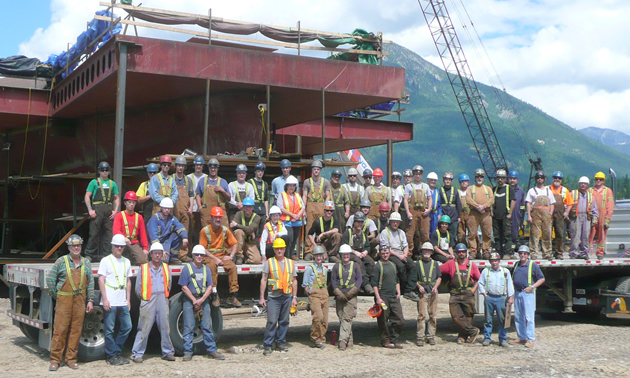 The long awaited and eagerly anticipated new Arrow Lake Ferry is nearing completion. Waterbridge Steel launched the steel superstructure back in July and now the ferry is being outfitted for operations including the installation of piping and electrical systems. Slated for seaworthy testing in the near future, operations of the ferry could start as early as the May long weekend in 2014.
"It'll be gracing the shores before the long weekend in May," John Harding, president of Waterbridge said in a recent interview with the Arrow Lake News. He also is quoted as saying, "WaterBridge is proud of the fact that the new Upper Arrow Lake ferry will incorporate the most efficient, state-of-the-art engines and propulsion equipment. We are, however, most proud of the abilities demonstrated by our supervisors and crews who have been drawn from across B.C. to the community of Nakusp to successfully construct the largest inland ferry ever built in B.C."
The current workforce on the Nakusp shores for Waterbridge is in the range of 35 to 40 employees. The company recently completed a new steel fabricating shop on the outskirts of the Nakusp fueling some expectations that the company might be in line for some additional ferry work.
In June of 2012 WaterBridge Steel was awarded a contract by the Ministry of Transportation and Infrastructure to design and build an 80-car commercial ferry to run on the Shelter Bay to Galena Bay route on Arrow Lake in the Central Kootenays.
The ferry will replace two existing smaller vessels that are reaching the end of their life-cycle. The vessel will be 320 feet long, 64 feet wide and weigh approximately 2.5 million pounds (1100 metric tons). Estimated budget on the construction project is $20 million.
At the time launch in July 2013, Minister of Transportation and Infrastructure Todd Stone stated, "This is an important milestone for the new Upper Arrow Lake ferry. Aside from providing safe and reliable transportation to travellers in the area, this project is providing good jobs for skilled trades people right here in British Columbia."