Municipal leaders join Chamber board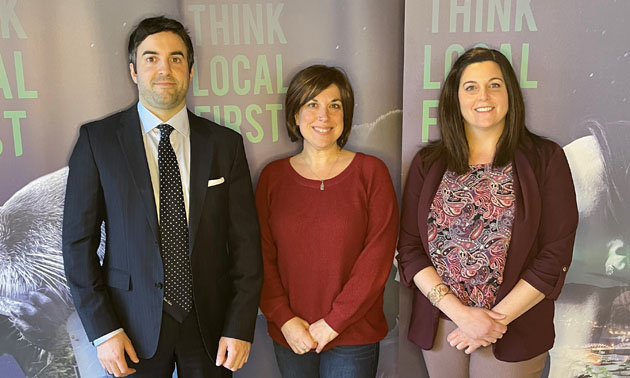 "Cliche but true: businesses are the heart of a community," said Fruitvale Councillor Julia Mason
A new year brings new opportunities to improve the region's economy, as newly elected municipal representatives take action to connect with the local business sector.
Councillors Doug Wilson from the City of Trail and the Village of Fruitvale's Julia Mason have joined the Trail & District Chamber of Commerce's Board of Directors as non-voting municipal liaisons for the board's four-year term. The diverse group will meet for the first time this month to continue working toward a stronger economy, according to Executive Director Erika Krest.
"We're looking forward to working with the liaisons, and to continue communicating with all South Kootenay municipalities regarding economic development opportunities, the needs of the business community, and all other topics related to further harmonizing the work between the Chamber and the communities we serve."
Uniting communities and building connections
Fruitvale Councillor Julia Mason is enthusiastic about her new role and believes the Chamber can help unite the communities in a way that acknowledges their specific assets and resources. Identifying what each has to offer and understanding the business community's needs is the first step in her goal to encourage connection and sharing of local commerce opportunities.
"The cliché is true; businesses are the heart of a community and really establish the tone and culture of what influences and entertains our people," she says. "We need to work together to grow the economy, to bring joy to people, and to live in such a way that we are self-sufficient, self-sustainable, and self-entertained. The visitors are a bonus!"
She adds that Fruitvale is changing in an exciting way, with more room for growth and creativity. A new daycare facility, housing development, and recreational improvements, including the development of the South Kootenay Green Link, an off-highway bike and E-bike commuting route connecting Rossland, Warfield and Trail, top her list, as does the opening of REN Energy, a renewable natural gas facility that will create new jobs and feed into the local economy.
The Trail Chamber's Economic Development Plan
The Chamber is in the preliminary stages of developing an economic development plan, a newer focus outside of its regular operations as a central hub for professionals to network and market their services and an advocate for the business community at the provincial table. Krest sees this work as a natural fit for the organization, as its grassroots approach means the Chamber acts as the eyes and ears for regional businesses.
By inviting municipal leaders to be present during board meetings, the Chamber hopes to identify opportunities that have the business community's best interests in mind. Quite frankly, the area's rich entrepreneurial spirit means #ThinkLocalFirst is more than a hashtag; it's a way of life for residents and communities at large.
Mason concurs. Like many, the longtime South Kootenay resident got into politics to make a difference. She says she'd love to see municipalities and the Chamber enact policies to help address some of the unique challenges local businesses are facing.
"We live in a beautiful area; however, I know from experience working as a school administrator, work-life balance can be challenging, especially for business owners," she explains. "I've heard that some businesses are struggling to find workers, which can lead to burnout and the domino effect of businesses closing. Then there are the added stressors of protecting property from theft and vandalism; plus, derelict buildings can also damage the reputation of a community's downtown business core. So, what prevention and safety measures can we put in place? Should municipalities ensure vacant buildings in business areas are renovated and/or advertised for rent? And how can we recruit workers to our area?"
Collaboration is welcome
Having regional leaders on the board is not new, as Trail Councillor Paul Butler and Fruitvale Councillor Bill Wenman previously served, but having newly elected officials step up following the municipal elections in October 2022 ensures representation remains current. The Chamber welcomes participation from all of the South Kootenay municipalities it serves: Fruitvale, Montrose, Rossland, Trail, Warfield, and Regional District of Kootenay Boundary Areas A and B.
"The Board knows the importance of encouraging and promoting healthy relationships with the municipalities and other business organizations," says Chamber President Michelle Gardner. "We feel that by working together we can better address the local issues that affect our business community. We coordinate our efforts on the economic development front as well, so having liaisons on board ensures our goals and efforts are being regularly relayed to councils, strengthening our regional efforts and relationships."
___________________________________________________________________________________________
. . .
___________________________________________________________________________________________
Chamber Stories is a monthly feature that informs the business community on available resources; encourages businesses to take advantage of Chamber member benefits; and celebrates the diversity of South Kootenay enterprise. Visit www.trailchamber.bc.ca/news for more Chamber Stories.