We will be accepting Influential Women in Business nominations until March 8
Has your community nominated its influential women?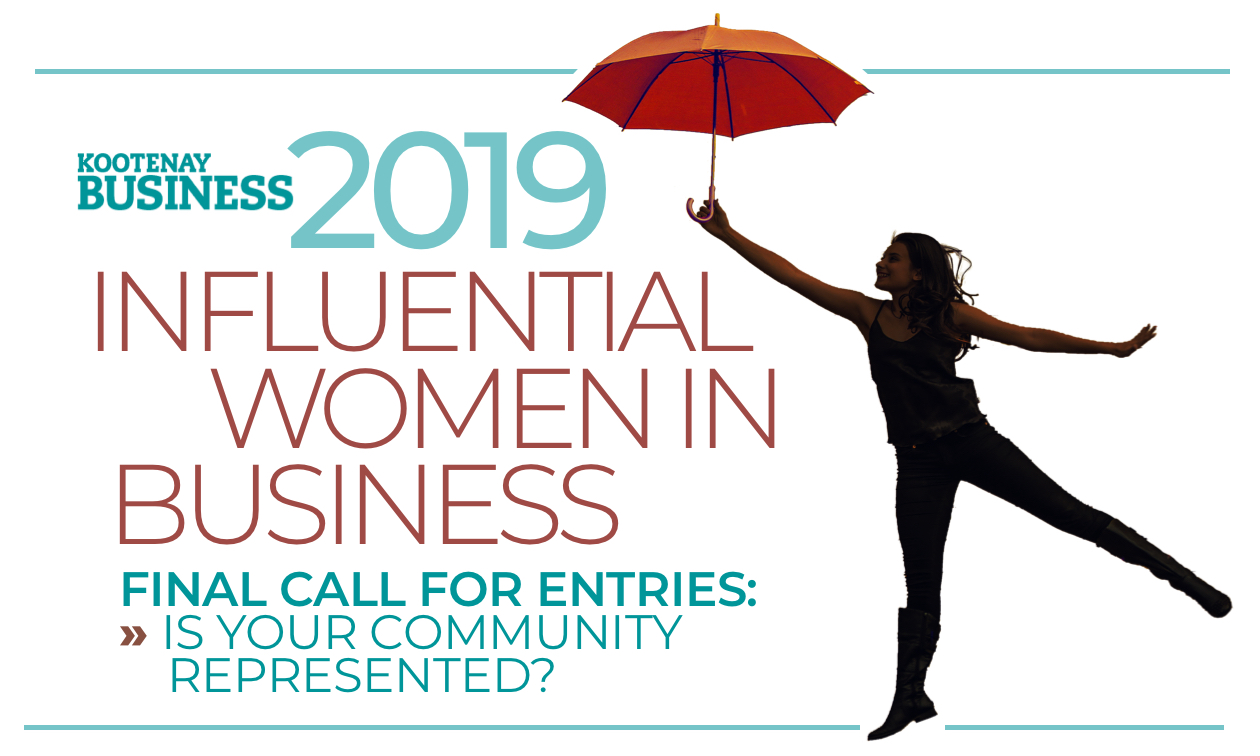 We are proud to once again celebrate Kootenay business women for their skills, entrepreneurial savvy and community contributions. While we have been receiving many nominations for our awards, we still need more! As such, we have extended our nomination deadline from February 28 to March 8.
We appreciate all those who have taken the time to nominate their own influential woman and fill out our form, and hope that this extension allows others to submit the names of women from smaller Kootenay communities. We would love to see greater representation from the West Kootenays (as we know there are many wonderful women in the area who deserve special recognition).
To date, we have received 44 nominations for the East Kootenay region and only 13 from the West Kootenay region. We will present awards to three accomplished women in the West Kootenay and three in the East—recognizing them as the most Influential Women in Business for 2019.
The women who are qualified for an Influential Women in Business nomination are those who go above and beyond in their communities, supporting the local economy, innovation efforts, community groups and growth initiatives. Many of these women are community leaders and role models in their business sectors, and have unique skill sets that make them notable players in their industries. They also give back to their communities through mentorship, volunteerism and charity work.
Do you know a woman who deserves recognition for her business successes and serves as a role model in her community? To submit your nominations before the new deadline, head over to our website and fill out the submission form or follow this link on your mobile device. To get ideas for potential nominees, read about last year's nominees/winners on our website.
Our current nomination numbers:
West Kootenay: 14
Rossland (1)
Trail (1)
Castlegar (1)
Fruitvale (1)
Nelson (4)
Grand Forks (0)
Christina Lake (1)
Revelstoke (3)
Nakusp (0)
Kaslo (0)
West Kootenay (2)
East Kootenay: 43
Golden (0)
Radium (1)
Invermere (10)
Kimberley (11)
Cranbrook (15)
Fernie (5)
Sparwood (1)
Creston (0)
Elkford (0)