Think local first: growing food literacy at the heart of community decisions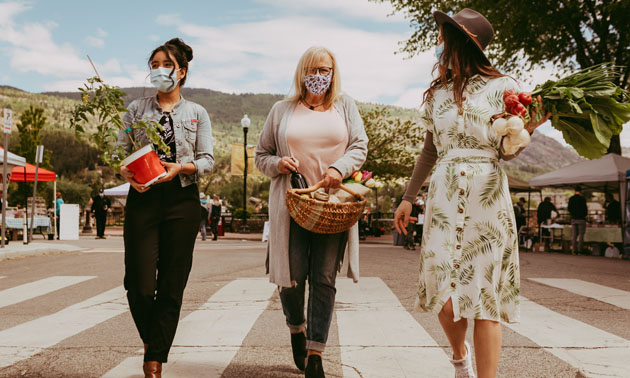 Think local first—think local food.
A growing trend to support local food has inspired a food business consultant to plant a teen chef club in the region—and so far the yield looks promising.
Mandi Lunan is giving 13-to-18-year-old South Kootenay residents an opportunity to explore, play and build confidence in the kitchen through the Kootenay Teen Chef Club (KTCC), and she's educating young learners on the benefits of supporting local farmers while she's at it.
With assistance from the Trail & District Chamber of Commerce and Trail's IncrEDIBLE Farmers' Market, the fun, mostly virtual social-media-based program gives teens the tools to find recipes, shop for ingredients, and enjoy cooking in their home kitchens. Empowering youth to connect with local growers and nurture themselves with nutritious meals is not only a way to foster a valuable life skill, but may even spark interest in a potential career in culinary arts or agriculture.
"Today the Kootenay Teen Chef Club is sowing the culinary seeds of inspiration for the adults of tomorrow," says Lunan, "It boosts youth members' self-confidence and makes the home kitchen more approachable."
Teens are connected to local growers through $25 vouchers, allocated monthly for shopping at Trail's IncrEDIBLE Farmers' Market, where they can find produce, eggs, meat, dairy, and more. Young chefs are further supported through the KTCC's Facebook community, where the club shares recipes to provide inspiration prior to market visits. Borrowing the Chamber's #ThinkLocalFirst philosophy, the shoppers will pursue local, in-season ingredients, engage with farmers and food producers, and interact with Lunan, who will be on-site as the program's market ambassador.
Working with youth is a passion for the Ottawa transplant, who was inspired by Operation Come Home, a preventive services hub for vulnerable and homeless teens. Years ago, she cooked breakfast at weekly drop-ins and was the lead consultant for their social enterprise—a catering company called Foodworks—which employed program youth.
By leveraging support from the Chamber and the local farmers' market, Lunan's passion for bringing more food programming to youth in the region came to fruition with financial backing from Columbia Basin Trust (CBT), Kootenay Savings Credit Union, and Teck Trail Operations.
The program's online framework easily lends itself to broadening the reach in years to come. While limited to 30 participants this year, Lunan hopes to deliver the program long-term and see it grow, with the goal of continually inspiring more teens to learn their way around the kitchen and their local farmers' market.
The Village of Warfield's community garden project adds to local food security
The Village of Warfield is increasing food literacy and raising both nutritional standards and food security through community garden beds, enthusiastically planted this year.
The Growing a Greener Community Project welcomes local residents to harvest produce, with surplus donated to the Trail Food Bank. Funded by Teck Trail Operations, CBT and the Village of Warfield, the project is delivered in collaboration with Webster Elementary School, Trail United Food Bank and more, as many hands make light work.
"It's important to think of food in terms of the many ways it impacts our daily lives," says Village Councillor Cyra Yunkws, "We eat with our families and friends, we celebrate milestones and successes with meals, and we gather around food to mourn. Food is more than sustenance; it's embedded in our cultures, our habits, and our communities."
Warfield Village council believes this is more than enough reason to think strategically, thoughtfully and inclusively about food-related decisions. They've recently formed the Warfield Food Advisory Committee and when not tending the community garden beds, members are enjoying the flowers they've planted in pollinator plots created in partnership with the David Suzuki Foundation. The Village also developed a Food Charter to outline key values and provide guidance for future policies, initiatives, and programs. Community resident and Trail and District Chamber of Commerce Executive Director Erika Krest participated in a series of sessions held last summer that invited residents to weigh in on important values.
"Supporting initiatives like the teen chef club and the development of food charters not only helps our communities in this recovery phase, but also nurtures the next generation of entrepreneurs," says Krest.
___________________________________________________________________________________________
. . .
___________________________________________________________________________________________
Chamber Stories is a monthly feature that informs the business community on available resources; encourages businesses to take advantage of Chamber member benefits; and celebrates the diversity of South Kootenay enterprise. Visit www.trailchamber.bc.ca for more Chamber Stories.