The Kootenays' most experienced fixed-price builder is looking for new homeowners in Cranbrook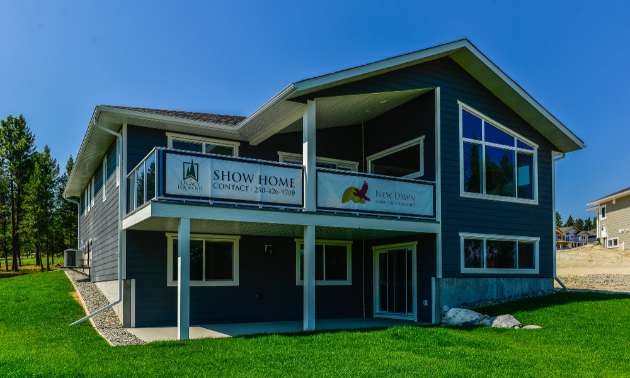 Single family homes are available at Legacy Lookout in Cranbrook
If you've been on the lookout for a beautiful new home set within a signature golf course with a Rocky Mountain backdrop, you're in luck! Legacy Lookout at Wildstone Golf Course is a new active living community developed by New Dawn Developments.
New Dawn Developments is an award-winning construction and land development company based in Cranbrook, B.C. They are proud to be a full design-build company, meaning they draw plans and build your home. New Dawn is the Kootenays' most experienced fixed-price builder. Their motto is "on time and on budget."
New Dawn's Legacy Lookout is located in the heart of Canada's first Gary Player/Black Knight—designed golf course, with three holes of golf and a signature water feature in the immediate vicinity.
Book a tour at Legacy Lookout at Wildstone.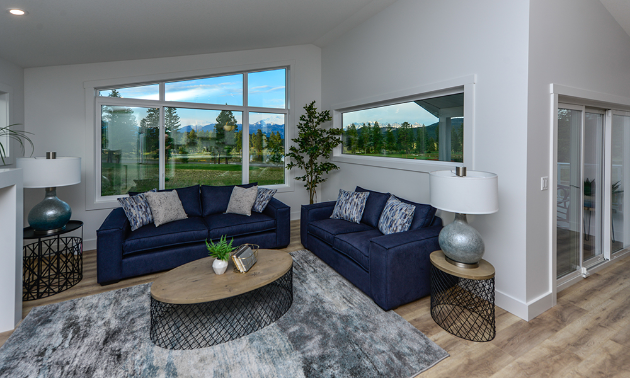 FAQs
How long has New Dawn Developments been in business? Who runs the company?
New Dawn Development was started in 1978 by Rick Jensen. Son Chad joined the business in 1996 along with Roy Duperron. From the beginning, New Dawn built a reputation as a business with exceptional customer service and superior workmanship. Today, it is a highly diverse firm of construction professionals with a range of project experience that spans more than four decades.
What is a fixed-price builder?
As a Fixed Price Builder, New Dawn takes the guesswork out of building a home. The price New Dawn gives you at the beginning is the price you pay when your home is done. This approach helps prevent cost overruns, keeps project milestones on time and makes financing easier to manage. It also allows you to look forward to your home the way you envisioned it.
With your budget and financing taken care of, the risk is off your shoulders, and now you can focus on the joy of building your dream home!
What awards has New Dawn Developments won?
Georgie Award—excellence in home building and renovation in British Columbia
Cranbrook Chamber of Commerce Excellence Award
Kootenay Business Best of Business Platinum Award—Building/Construction Contractor and Interior Decorator/Designer
What is the scenery like around Legacy Lookout?
Legacy Lookout boasts stunning views of the Rocky Mountains and pristine green spaces.
What amenities are nearby Legacy Lookout?
Legacy Lookout is inside Wildstone Golf Course, so golfing is always an option. The Strip (Highway 3, the primary artery through Cranbrook) is nearby, which has stores like Wal-Mart, Home Depot, Real Canadian Superstore and many popular restaurants. For the outdoors, there are plenty of places to hike close by and you can hit the slopes at Kimberley Alpine Resort or Fernie Alpine Resort.
Which units are available at Legacy Lookout?
Take a look at the units available at Legacy Lookout.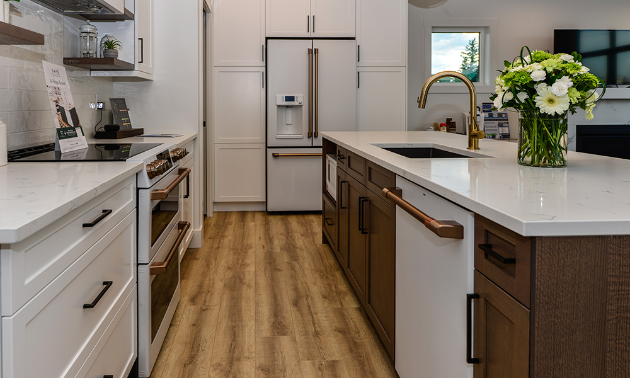 What floorplans do I get to choose from at Legacy Lookout? Do I get to customize my own if I want to?
Take a look at the range of floor plans available at Legacy Lookout. You can also customize your own if you would like to.
Is there a show home that I can walk through?
Yes! Book a tour at Legacy Lookout at Wildstone.
Can New Dawn Developments design a home for me?
Yes. New Dawn is a full design and build company able to take your ideas from concept to completion.
Does New Dawn Developments build custom homes?
Yes. New Dawn is the largest and longest standing custom home builder in the Kootenays.
How much does it cost to build a custom home at Legacy Lookout?
Cost of construction varies depending on materials and finishing choices, which are decided during the planning and design process. Once the design is comleted, based on the initial budget provided by the client, the plans are sent to trades and suppliers for final pricing (the tender process).
How long does it take New Dawn Developments to build a home at Legacy Lookout?
New Dawn typically completes homes within six to eight months of digging the basement.
What is the process for building a new home at Legacy Lookout with New Dawn Developments?
As you progress through the building process, you will be faced with many decisions. Here's a summary of the process at New Dawn Developments:
Consultation stage. Typically, New Dawn starts the design process by meeting with their sales staff. They will answer any questions you may have about the design and building process, and then ask you lots of questions about the type of home you want. You establish a budget that you are comfortable spending for your new home.
Together with their sales staff, New Dawn completes their project Planning Workbook to get a feel for the fit and finish of your home – from exterior to mechanical, faucets to flooring—they talk about it all!
Design stage. The process begins in New Dawn's Design Centre, which features all the latest building technologies and products. Their designers help guide you through selections of everything from kitchen cabinets to bathroom fixtures to the exterior finishing options. It's all there for you to experience first-hand and everything is documented in their Project Workbook. When New Dawn builds your home, you will also have the guidance of their experienced Interior Designers. These designers also help you choose products that fit within your budget.
Construction contract. New Dawn has a full Estimating Department that will work to ensure they have the most competitive pricing, best trades and latest in product innovations for your home.
Build stage. Throughout your build, you will have a site supervisor to oversee all work. They will co-ordinate trades and continually work on scheduling to guarantee possession, which usually is six months from when New Dawn finishes digging the foundation for your home.
Possession stage. From start to finish, New Dawn enjoys getting to know you, your lifestyle, what you desire in a home and, most importantly, making your dreams come true. And when your home is built and they hand you the keys, you are still not alone as this is when our Service Department takes over. They will assist you with any questions or concerns you may have during your first year and ensure that you are 100% satisfied with your new home. Feel free to contact New Dawn for a detailed breakdown of their New Home Warranty.
Can I make changes/upgrades throughout the building process?
Decades of experience have taught New Dawn that clear, honest communication is key to a successful build. New Dawn maintains 100% transparency through all stages of the project. If you change your mind on something, no problem. New Dawn can accommodate just about any custom request, and any changes will always be pre-approved by you. At New Dawn, they aim to eliminate surprises so that every build is completed on time and on budget, as you would expect.
What sort of new home warranty does New Dawn Developments provide?
When your home is complete and New Dawn hands you the keys, you are still not alone as this is when you meet their service manager, Mike Dolighan. Mike will be your contact for any warranty or service work you may need during your first year.
Here is the breakdown of New Dawn's New Home Warranty:
First 12 months—coverage for any defect in materials and labour. All via their in-house warranty and service department.
First 24 months—coverage for any defect in materials and labour supplied for the electrical, plumbing, heating, ventilation and air conditioning delivery and distribution systems. In addition, coverage for any defect in materials and labour supplied for the exterior cladding, caulking, windows and doors that may lead to detachment or material damage to the new home – via Traveler's Insurance
5-year building envelope warranty
10-year structural defects warranty
Does a custom home cost more to build?
You want a home that is unique, but you are concerned about the cost of building what is traditionally considered a luxury. You are not alone; as a custom home builder, New Dawn hears many concerns along these same lines. However, the truth is that building a custom home doesn't have to cost more. With their comprehensive design process and decades of experience in the construction industry, New Dawn can ensure that you get what you want at a price that doesn't have to exceed your budget. Along with a cohesive team of professionals and the best subtrades in the business, New Dawn Developments provides top-quality work at highly competitive prices.
Is there a show home that I can walk through?
Yes! Book a tour at Legacy Lookout at Wildstone.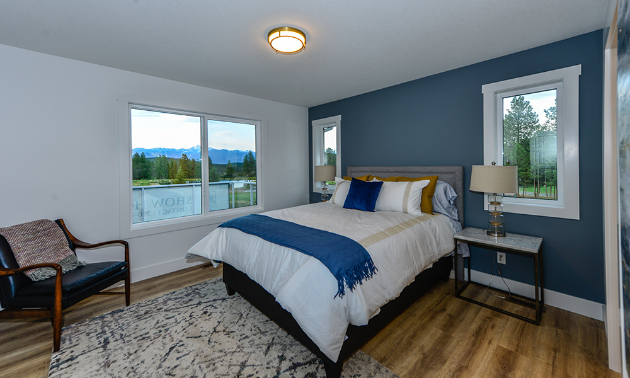 New Dawn Developments 5-star reviews:
"We love our new home and plan to stay here for many years. We wholeheartedly recommend New Dawn Developments to anyone considering building a home." — Joan & Darrell
"I am so happy with how my home turned out. It is exactly what I was dreaming of. New Dawn and their expert team helped make it happen." — Janet
"Building a ski-in, ski-out house in a stunning location was a once-in-a-lifetime opportunity for us. Rick and the whole team at New Dawn Developments made this dream a reality in a completely stress-free way. I would not hesitate to recommend you build your dream with New Dawn Developments." — Julian
"The home is spectacular and the workmanship is top notch. It is truly a dream home. The design takes advantage of the incredible views on all sides. I gave the designer a list of my wants and she delivered a great plan." — Sharon and Steve S.
"With frequent communication during the construction phase, the building process was smooth and on time, even though our lot presented challenges and we were not living in the area. The result was a high quality home that exceeded our expectations and that we could not be more proud of." — Bob and Sandy H.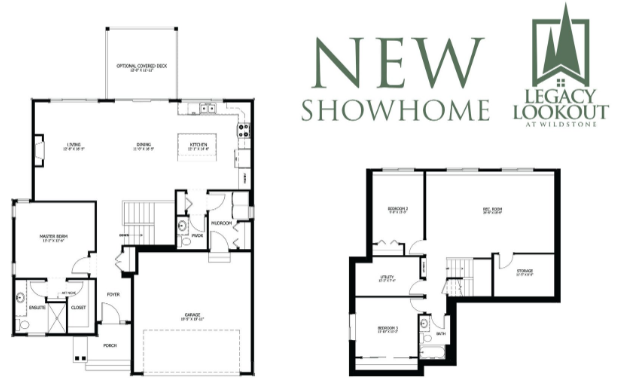 Legacy Lookout Feature List:
Exterior:
Pinnacle Allura Fiber Cement Siding (50-year warranty)
Painted white smart trim around windows and doors
Dual-pane, low-E, Argon-filled white vinyl windows
Craftsman-style fibreglass front door
Steelcraft Carriagecraft garage door in white with black iron accents
IKO Cambridge 30-year asphalt shingles in driftwood
Cultured stone
White aluminium soffits, fascia, eaves and downspouts
Aluminium rail and pickets around raised decks
Pressure treated radius edge decking
Smart trim clad posts
Concrete driveway and walkway to front door
Landscaped yards with in-ground sprinklers
Kitchen:
Shaker-style cabinets
Quartz countertops
Pot and pan drawers
Full-height subway tile backsplash
Laminate countertops
Delta Marley faucet in chrome
Flooring:
12 x 24 tile in entry, mudroom and baths
Laminate in kitchen, dining, living room and hall
Carpet in bedrooms
Mechanical:
Variable-stage natural gas furnace with humidifier
Heat Recovery Ventilator (HRV)
50-gallon natural gas hot water tank
Natural gas line to barbecue
Waterline to fridge
Irrigation line for sprinklers
Plumbing Fixtures:
Delta chrome faucets
Blanco Silgranit kitchen sink
Low-consumption toilets with slow-close seats
Maax one-piece shower stall
Interior Finishes:
Taymor London front door lock set in matte black
Taymor Villa door knobs in satin nickel
6″ flatstock paint-grade baseboards
2 panel MDF doors
2 wall colours for paint
Light Spantex ceilings
Taymor Orion bath hardware in satin nickel
4-mm clear-glass shower door in ensuite
Undeveloped basement with rough-in for future bath
Is there a show home that I can walk through?
Yes! Book a tour at Legacy Lookout at Wildstone.