The City of Cranbrook's data portal is the answer to accessing the Key City's hidden figures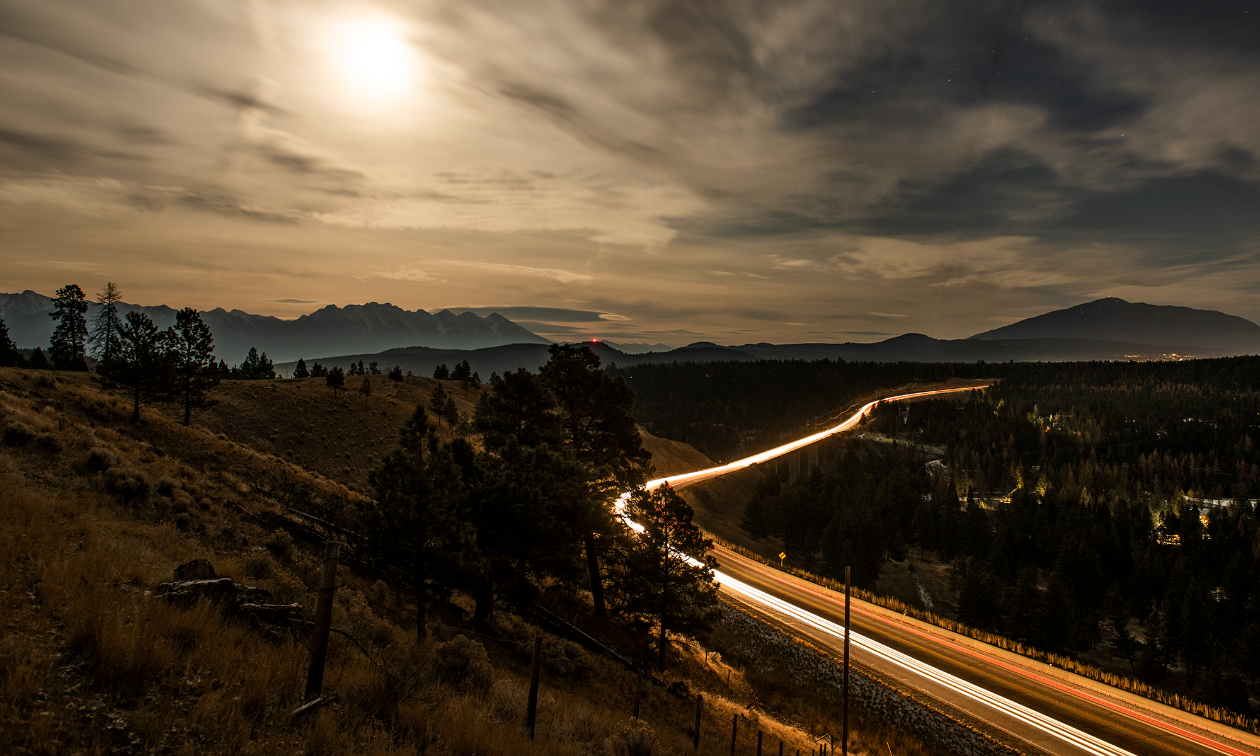 Cranbrook's new data portal website is the dashboard for decision-making
We may be living in the age of information, but consuming useful knowledge isn't exactly simple or straightforward. For Kootenay business owners looking to accrue valuable facts in a user-friendly format, the City of Cranbrook's data portal is the solution.
"Data gaps are a problem," said Darren Brewer, business development officer for the City of Cranbrook. "We wanted to present the data in a friendly way."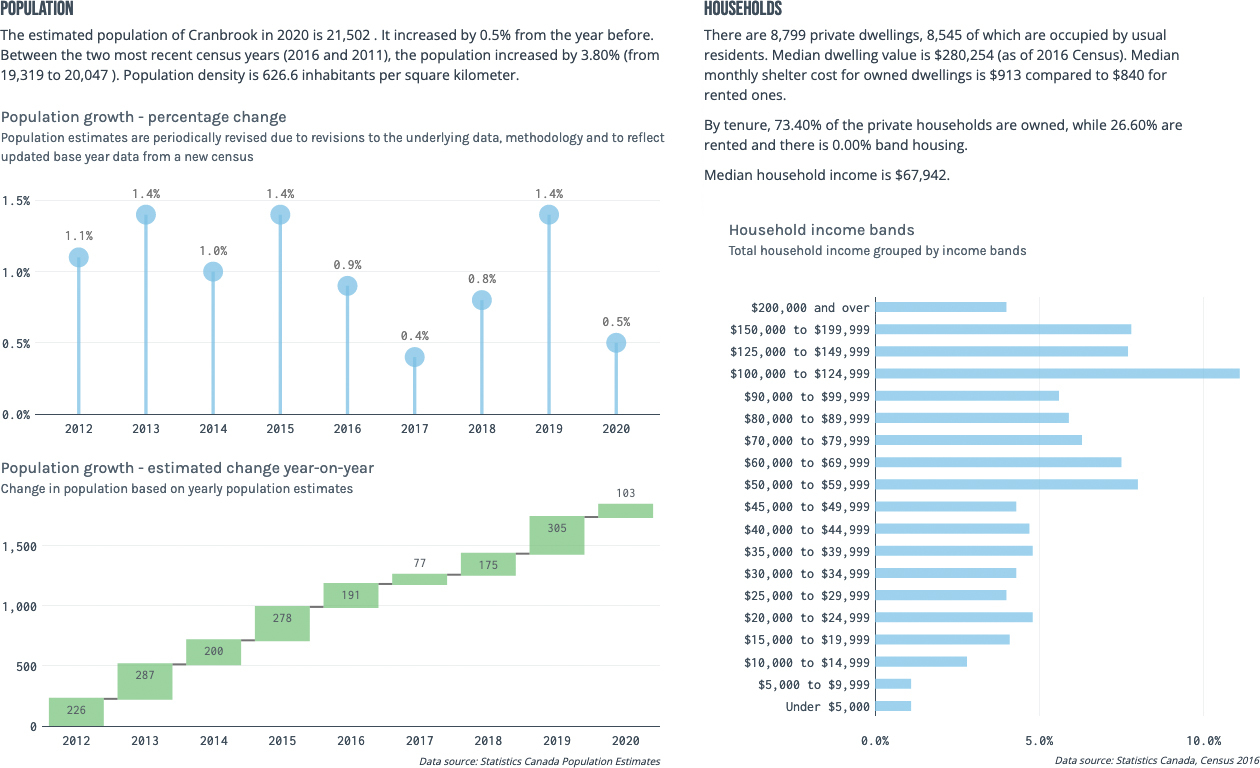 Cranbrook's new data portal offers users the opportunity to gain greater clarity about the Cranbrook marketplace and capitalize on their newfound intelligence.
"We've geofenced parts of our community," Brewer said. "On the explore tab, there's a map of the City of Cranbrook. Based on the topic you want, you can choose to look at population, average age, post-secondary education . . . You can click on these maps and, depending on what you highlight, find out how many people live in that given area, for example.
"If you're a business, you might want to click on the economic indicator tab . . . that will tell you about population growth and employment rates. On the community profile part, you can break into different things like age, income and education."
Who benefits from this data?
The data gathered on the City of Cranbrook data portal have a variety of applications to various business leaders, decision makers and the City itself. Take public transit as an example:
"For our transit, not a lot of people use it and it's costing a lot of money," Brewer said. "Our transit consultant is going onto this website and is able to look at the transit routes while making decisions for which routes we should keep or expand.
"You can find out on this website where most of the young people are in our city. Based on that, you can make decisions about how to promote your business."
People from various walks of life can use the data portal as the Cranbrook knowledge base. Researchers and scholars can use the portal to seek information for their academic work. Investors and developers can find reliable information they need. Entrepreneurs can find clues to where and what is needed in the community. Residents can get to know their community better. For example, single family homes make up 63 per cent of all dwellings in Cranbrook, and the average household size is 2.3 persons per household.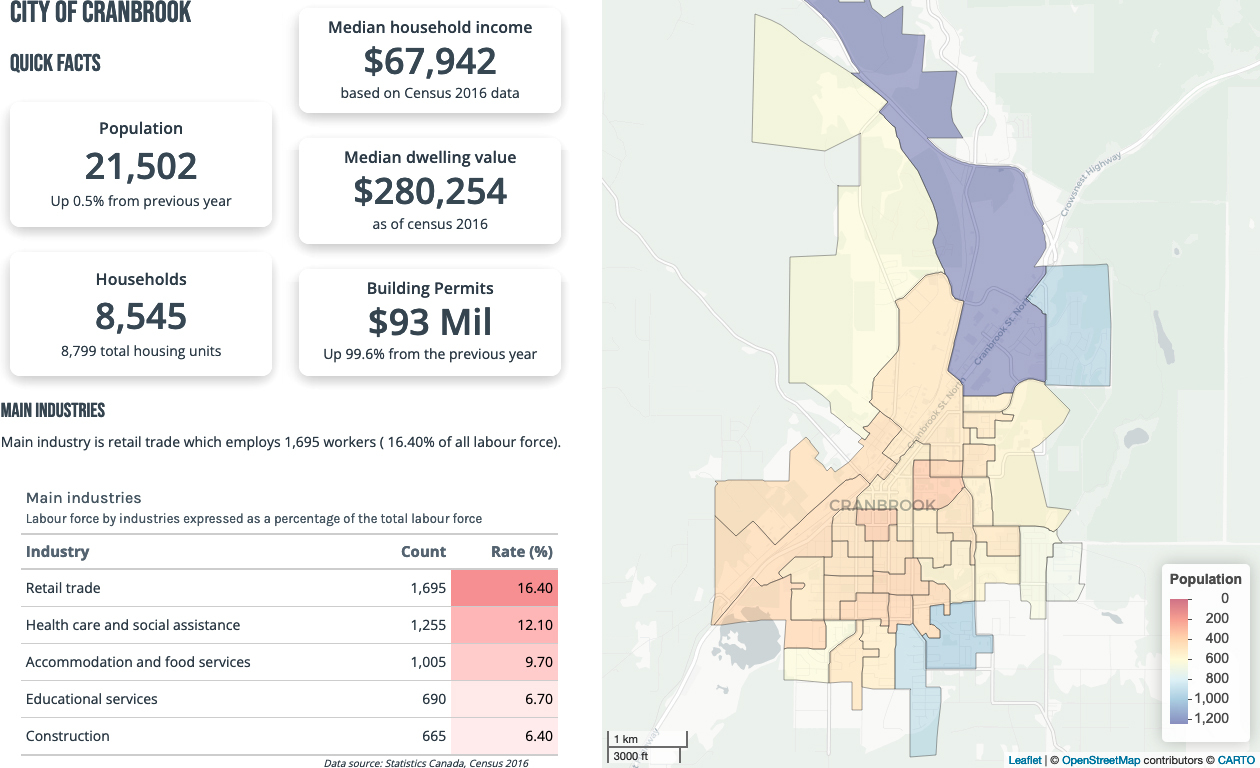 Information helps business owners understand current needs and predict future changes and prepare accordingly. Users can learn and recognize the strengths, challenges and opportunities in the community.
Where do these statistics and figures come from?
The City of Cranbrook gathers data from publicly accessible places, then identifies data gaps. From there, the City hires consultants and economists to help fill the gaps.
"There are a lot of different ways to interpret the data," said Brewer. "We use consultants that help us understand and explain the rationale for why a stat is the way it is."
Once the necessary data is gathered, it needs to be organized into a visually appealing style. Ruby Industries, a data science consulting company in West Kelowna, has been tasked with this responsibility. Data collected across different platforms and sources are presented in a format that is easy to digest by a wider community, bringing transparency and information to a broad range of potential users.
"We remove all these data collection hurdles from the users and help them focus on their job," said Izabela Bogdanovic, CEO of Ruby Industries Inc. "Data is always fresh and always in one place, helping people focus on their options instead of them having to dig around for data every now and then—a process that is time consuming as well as prone to errors. The information is organized in a user-friendly manner, so it is easy to data-surf and find information you are looking for."
Users can easily generate and download custom reports in PDF or Word format. Reports in Word can then be further edited, if desired.
"The data portal establishes the investment profile of Cranbrook and is an essential tool in attracting new investments and business for the prosperity of the community," Bogdanovic said. "It sends the signal that Cranbrook is investment-ready and has accurate, reliable and timely information available at their disposal.
"Data can power better decision-making in virtually any industry, and the need to wield that power will create new jobs. In this age of information, there is an increasing need for data. Having a reliable data source should be a strategic goal for every community."
Cranbrook's data portal will be updated as more information is gathered and organized, such as the latest census data. To keep on top of all the latest stats, subscribe to receive email notifications when new data sets get published or existing ones get updated.