Teck is a player in the EV revolution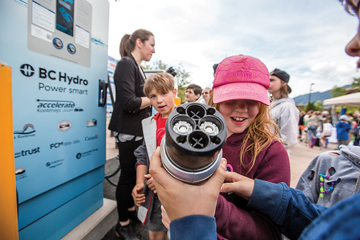 The Canadian mining company supports new technologies
The move to electric vehicles (EVs) across British Columbia, and, in fact, throughout North America, is a boon to innovative companies like Teck, the largest employer in the Kootenays.
For Teck, the advancements being made in EVs and autonomous technology offer tremendous opportunities for selling the products they produce.
For example, an average gasoline-powered car uses about 20 kilograms (kg) of copper, a hybrid uses about 40 kg and an EV has roughly 80 kg. A hybrid electric bus contains nearly 90 kg of copper, while a battery-only electric bus contains nearly 370 kg.
The EV revolution will also require steel makers to make lighter and stronger steels to compete with other materials needed to make these vehicles. Teck's Product Technology Centre (PTC) is playing a key role by working with steel mills to develop new zinc alloys and galvanizing processes that can usher in this next generation of Advanced High Strength Steels (AHSS). This ensures that steelmaking coal remains a core material in this next generation of vehicles.
All EVs are mandated to use a 12-volt advanced lead battery for essential emergency and safety systems, including lighting, battery management system (BMS) for traction battery and ABS brakes. These batteries contain about 10 kg of lead, a metal produced at Teck's Red Dog Operations, and refined at Teck's Trail Operations.
Trail is also uniquely positioned to supply the growing demand for specialty metals such as germanium and indium, which are needed for sensors in autonomous vehicles.
In addition, in the spring of 2018, Teck was pleased to invest in a Canadian-first initiative: a regional and community-driven strategy to accelerate the adoption of electric vehicles. The Accelerate Kootenays initiative has installed 10 out of the 13 direct current fast chargers (DCFCs) planned across the region.
Electric vehicle drivers now have a fast charging corridor across Highway 3 in the Kootenays, and by project completion the Kootenays will have over 1,800 kilometres of connected roadways for electric vehicle travel.
Fast charging infrastructure is owned and operated by BC Hydro and FortisBC in their respective areas. Level 2 stations are installed in partnership with local governments in strategic locations that will optimize economic co-benefits in the community.
Larry Davey, Vice-President of Planning and Development at Teck said, "This charging station (in photo above) is a great example of Sparwood's focus on sustainability, a commitment shared by the thousands of Teck employees in the region."
He added, "Our involvement in the Accelerate Kootenays initiative aligns with our efforts to support the transition to a low-carbon economy, along with providing the metals and minerals required for clean technology."
As part of its ongoing commitment to the fostering of EVs in the Kootenays, the Teck Elk Valley Social Responsibility Office recently purchased a Mitsubishi Outlander EV to use while travelling around the Elk Valley on company business.
"Teck's involvement in the Accelerate Kootenays project has helped us connect the Highway 3 corridor with the fast charging stations," said Megan Lohmann, project manager, Accelerate Kootenays. "This provides benefits to communities across the corridor and allows residents and visitors to travel reliably with electric vehicles.
"The decision to introduce an electric vehicle to their company fleet is exciting and we hope that others will follow Teck's lead. Using an electric vehicle for company travel can reduce CO2 emissions and fuel costs, as well as making a strong sustainability statement."
According to the International Energy Agency (IEA), the number of electric and plug-in hybrid cars on the world's roads grew to more than three million in 2017, a 54 per cent increase compared with 2016. China accounted for about half of that growth, with sales of 580,000 vehicles, followed by the United States with 280,000 vehicles.
Though sales of EVs are still only a fraction of overall vehicle sales, the IEA predicts that EV ownership could reach 125 million by 2030, driven by government policies, stricter emissions standards, and financial incentives and rebates.
Teck is pleased to support projects like Accelerate Kootenays that demonstrate
their commitment to sustainability and innovative business practices.
THE FUTURE IS HERE
Electric vehicle facts:
■ EVs contributes to a cleaner environment
■ An EV costs approximately $360 per year to operate compared to $1,600 for a gas vehicle
■ There are more than 450 public charging stations in B.C. You can use them free of charge.