Relax and refresh at Blush MediSpa, Cranbrook's premier medical salon and spa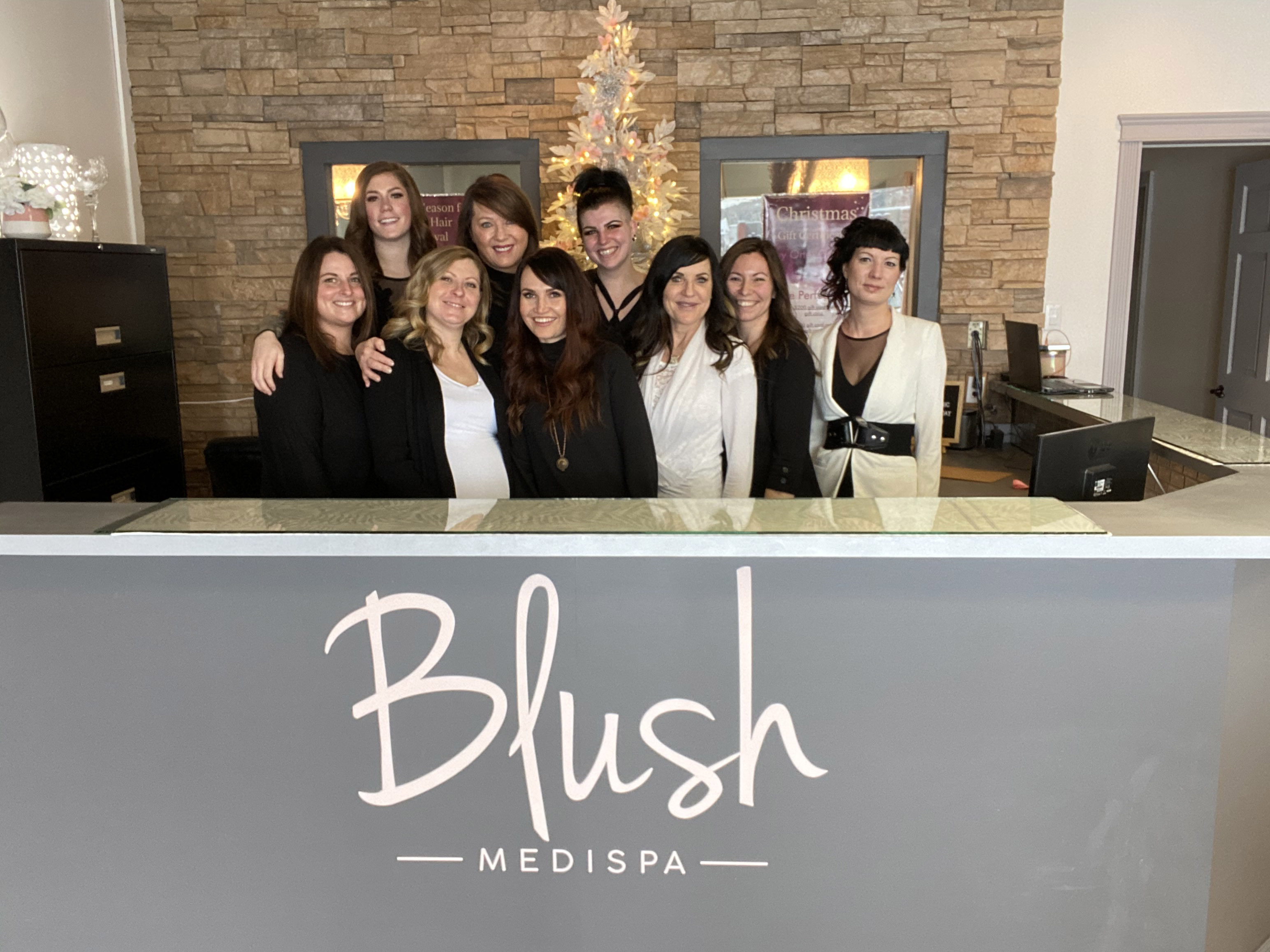 The professional team at Blush MediSpa offers a range of beauty and health & wellness treatments to clients
Imagine being able to access the kinds of beauty services and treatments that are often found only in big city locales. Formerly known as Urban Roots Salon & Spa in Cranbrook, Blush MediSpa is the Kootenays' premier medical salon and spa, offering its clientele a wealth of services including beauty and body treatments, salon services, skincare, botox and therapeutic medical laser treatments.

In order to better reflect their affiliation with other company-owned medical spas around the province, the business changed their name earlier this year. The owner of the company, Dr. Jonas Laforge, provides naturopathic medical services and Botox treatments to his medical spa clinics throughout British Columbia, including seven years working in the community of Cranbrook.

How does a medical spa differ from a traditional beauty spa? Essentially, the difference is in the types of services and procedures that are offered. While Blush MediSpa continues to offer many of the same beauty treatments they have always been known for, such as salon services, manicures, pedicures and body waxing, they now offer a variety of health and medical treatments that are performed under the supervision of a qualified medical practitioner.

Deborah Walsh is the manager of Blush MediSpa and has been working in the beauty industry for over 28 years. A Kootenay girl herself, she and her team of eight talented professionals are mostly born and raised in the region. Dr. Nicola Bennett is the resident naturopathic doctor and provides medical treatments with the help of her team. Together, the highly-qualified staff has over 100 years of combined experience working in the health and beauty industries and strives to create a relaxing, rejuvenating experience for each client who walks through the door.

"Generally, our clients are about 80 per cent female versus 20 per cent male," said Walsh, " and ages range from about 20 up to 65." Popular services include Best Friend Spa packages, Botox and filler clinics, and luxury facials.

"Our services are always evolving," said Walsh, "depending on what our clientele would like to see offered."
The newest naturopathic and medical health treatments
As a medical spa, the focus of the business is providing a range of beneficial, therapeutic treatments and procedures that are designed to optimize the health and well-being of clientele. For many people who are inexperienced with the services a medical spa can offer, they are often pleasantly surprised by the comprehensive range of treatment options that are available.
A consultation with one of Blush MediSpa's professional staff members is the recommended first step.
In order to provide the best possible health solutions and treatments available for their clientele, the staff at Blush MediSpa strive to keep up-to-date with the latest and greatest techniques in the field.

The newest procedures and treatments at Blush MediSpa include:
Next-generation micro-needling and dermal stamping: A non-surgical procedure, micro-needling and dermal stamping aims to tighten, lift and rejuvenate skin. It promotes anti-aging and helps to improve the appearance of sun-damaged skin and wrinkles. It is also effective for skin problems, such as pigmentation issues, trauma/acne scars and stretch marks. Blush MediSpa also offers bloodless PRP (platelet rich plasma) micro-needling services that help to boost the therapeutic benefits of regular micro-needling treatment.
Hair regrowth and thickening services: Blush Medi-Spa offers hair micro-needling treatments with anti-age skin solutions. Helping to promote regrowth, the treatment improves the thickness, density and fullness of your hair.
Botox and injectable filler treatments: Performed by Blush MediSpa's certified naturopathic doctor, Botox and filler treatments noticeably improve the look of wrinkles and crow's feet. The treatment is quick and requires minimal downtime recovery.
Vitamin IV infusions (Myers Cocktail): Performed under the supervision of the Blush MediSpa professional medical team, vitamin infusions consist of multiple vitamins and minerals and are guaranteed to boost your body's natural immunity.
Medically supervised weight loss: Many people struggle with weight loss. With the help of Blush MediSpa's knowledgeable medical team, weight goals are within reach.
Food sensitivity and allergy testing, hormone balancing: Dr. Bennett, Blush MediSpa's naturopathic physician, can perform allergy testing for people with food sensitivities or digestive issues. Hormone balancing testing is also available.
Vaginal rejuvenation: Blush MediSpa provides non-hormone vaginal rejuvenation systems to support menopausal changes, urinary incontinence and other vaginal issues.
Laser services at Blush MediSpa
A new addition to the company, the new state-of-the-art laser system upgrade brings a new level of service to Blush MediSpa.

"We are very excited about our state-of-the-art laser system upgrade," said Walsh, "which is new for 2021. It is excellent for hair and tattoo removal, skin tightening and skin rejuvenation."

Blush MediSpa offers a full range of body hair removal options for both men and women—everything from simple chin hair and chest hair removal to Brazilians. Body ink can also be safely and effectively removed. For tattoo removal, a consultation with one of the spa's professionals is required to help decide on the best course of treatment.

Many people suffer from sun-damaged skin, acne, blemishes and rosacea. IPL (intense pulsed light) laser treatment can be very effective at treating these skin conditions. IPL is a safe and non-invasive procedure.

Blush MediSpa also performs vascular laser treatment under the guidance of medical professionals. This treatment is effective at eliminating or reducing the appearance of spider veins and small blood vessels that are often seen around the nose, eyes, cheeks and lips.
A medical spa devoted to the community
Made up of a devoted and caring team of professionals, the staff at Blush MediSpa are experts in their fields: estheticians, massage therapists, professional hair stylists and medical professionals. They are also members of the community: the friends, neighbours and parents you may bump into once in a while and stop for a quick chat. It's that personal touch that makes Blush MediSpa the Kootenays' premier medical and beauty spa.

"Our focus," said Walsh, "is what the community wants."
_________________________________________________________________________________________
. . .
_________________________________________________________________________________________
Blush MediSpa in Cranbrook continues to offer the same spa and exceptional beauty services they have always been known for.
Cuts and colours for men, women and children
Hairstyles for formal occasions
Balayage, perms, hair extensions
Keratin smoothing treatments for smooth, shiny, frizz-free hair
Micro-shading/blading, brow tinting/shaping
Lash lifts, tints, extensions and volume fills
Semi-permanent makeup, including eyeliner and lip blushing
Manicures, pedicures, gel nails
Hydra facials, exfoliation and massage
Waxing services
Massage