Laundry list: Keeping Kootenay businesses clean and green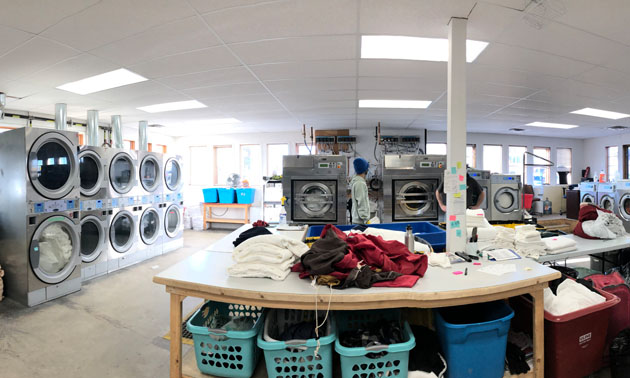 East Kootenay Regional Laundry makes laundry day brighter for area businesses
Ever wonder what goes on behind the scenes of a commercial laundry business? Turns out, the answer is pretty straightforward. Says Matt Ford, owner of East Kootenay Regional Laundry, "Really simple. We wash the dirty laundry."
All joking aside, there's a little more to running a laundry company than simply tossing bedding and linen into giant, industrial-size washers all day. Logistics play a big part. And that's a good thing for Ford. With his career background, he's used to the detailed and complex co-ordination and efficiency required to run a commercial laundry setup.
"My background is in heavy equipment—parts, sales and logistics. I didn't realize how similar it would be to laundry," he said.
Ford and his wife, Chrissy, bought the business back in December of 2018. They are both long-time Kootenay residents. Matt grew up in Sparwood and Chrissy was born and raised in Cranbrook. With four kids between the ages of 3 and 17, the family fully embraces everything the area has to offer.
"We take great pride in the Kootenays and its culture," Ford said.
It's that same pride that carries over into the workplace with its six employees—two of them with special needs. The busy staff at East Kootenay Regional Laundry work hard to keep companies in clean linen all across the region. A wide range of clients and businesses, from high-end boutique hotels and restaurants to automotive mechanic shops and the mining and logging industry, take advantage of the time and cost-saving benefits of outsourcing their laundry needs. And East Kootenay Regional Laundry makes that process easy.
Keeping Kootenay businesses in bright whites
Scheduling a meeting with one of EKR Laundry's professional service managers is the first step for business owners interested in managing their commercial laundry needs. An assessment is done and recommendations are suggested on the best service options, including whether pickup or delivery is needed on a regular basis. There's an East Kootenay Regional Laundry truck on the road seven days a week for the convenience of customers. Businesses can also drop off laundry directly at the company facilities in Cranbrook.
Once received, all laundry orders are tagged and tracked throughout the entire cleaning process to ensure it is never mixed up with another customer's order. The end result? Presto! A prompt delivery of clean-smelling, freshly-laundered, ironed and folded linens delivered to your premises when needed.
What kinds of items does East Kootenay Regional Laundry take care of? It depends on the nature of the business. The laundry needs of a hotel will obviously differ from those of a medical clinic, a restaurant or an automotive shop. According to Ford, they process everything from hotel bedding, sheets and towels to greasy and heavily soiled items such as overalls and uniforms. With such a diverse range of client needs, the commercial laundry facility is committed to cleanliness—all machines are sanitized between individual loads. Scent-free cleaning products are also available upon request.
Not only clean, but green as well
Embracing environmentally-friendly products or processes is an important consideration for many people, and it's an important part of East Kootenay Regional Laundry's operation. The business is equipped with industrial high-efficiency washers and dryers that save on detergent, energy and water usage.
"We do not use any solvents or harsh chemicals," said Ford, "and we are in the process of purchasing an eco-friendly dry cleaning machine as well; it will not use perchloroethylene."
Supporting the community is just as important as being part of it
Just as giving back to the environment is important for the company, so is giving back to the community. They are proud supporters of many local organizations, including the Key City Gymnastics Society, the Cranbrook Lacrosse Association and the Cranbrook Minor Hockey Association. As a community service, the East Kootenay Regional Laundry washes all little league and non-profit sports team uniforms for free. Ford coaches hockey in his spare time, and the whole family are outdoor enthusiasts, spending time enjoying snowshoeing, fly fishing and riding dirt bikes. Son Bryce volunteers his time at a local motorcycle shop, R&R Rebel Cycle, and the family are big believers in the "shop local" mantra.
Running a business includes a long laundry list of responsibilities, but by outsourcing some of those needs to the cleaning professionals at East Kootenay Regional Laundry, business owners can breathe a sigh of relief when it comes to laundry day.
__________________________________________________________________________________________
. . .
__________________________________________________________________________________________
Tackling laundry: The ins and outs of specific cleaning needs
How commercial laundry is dealt with depends on the industry. Here's a rundown on the four main types of laundry and how the professionals at East Kootenay Regional Laundry deal with it:
Hotel laundry: First impressions count, and in the hospitality industry, they count even more. Guests expect clean, crisp bedding, fresh unwrinkled sheets and fluffy soft towels. Management expects that clean linen will be consistently and reliably available for housekeeping staff to do their jobs efficiently. With a quick 24-hour turnaround, East Kootenay Regional Laundry delivers laundry on time and to the specifications required.
Restaurant laundry: Catching spills and splashes of food, wiping dirty hands, cleaning up messes—the tablecloths, napkins and kitchen towels in a restaurant are designed for heavy-duty use and re-use. Staff at East Kootenay Regional Laundry are adept at removing tough food stains while still being delicate with items.
Industrial laundry: Dealing with grease, oil and dirt is par for the course for companies in the mining, logging, construction and automotive industries. Tough, ingrained dirt requires aggressive treatment to remove. Using environmentally-friendly cleaning methods, staff at East Kootenay Regional Laundry can remove even the toughest stains. The company also offers a mending service for repairs to uniforms, coveralls and other items.
Medical laundry: Medical laundry often requires specialized treatment like disinfecting, sanitizing and using scent- and perfume-free cleaning products. East Kootenay Regional Laundry is equipped to deal with the specific types of laundry needs that are found in places like care homes, medical and dental clinics, and hospitals.