Buy or build a house? This Cranbrook couple tackled that hard decision with an uncommon approach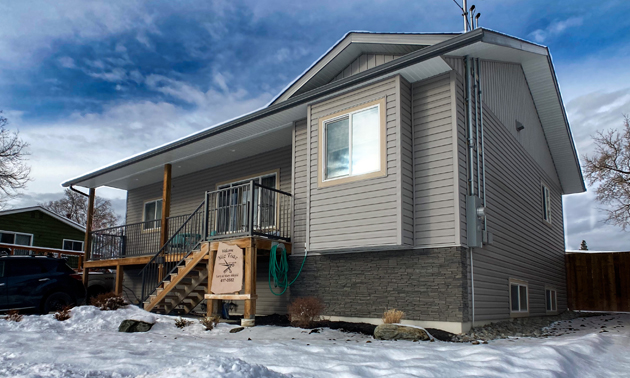 Misty and Larry Ahlefeld now have their dream home with Misty's business on the top floor
What if you love your location but not your house? Do you buy a house or build one? That was the tough decision facing Misty and Larry Ahlefeld of Cranbrook, B.C.
The couple took the obvious first step—they started looking at real estate.
"We went looking, and at that time prices were a bit steep for what you would get," said Misty.
Additionally, Misty had specific needs for a house, as she has a home-based hair salon.
"We had bought our current house in 2001, and we really liked the area we are in," she said. "It's quiet and central in town, by Laurie Middle School and now the dog park. Plus, my clients knew where I was."
The Ahlefelds next thought about doing major renovations on their existing house, and they got some estimates for the work. That's when a new idea hit them.
"So after looking and then getting quotes to do major renos to the old house, we made the decision to build on our own spot we already had," Misty said. "It just made sense! So that's what we did—we took the old house down and built a new one."
Choosing a custom home builder in Cranbrook
Misty said, "Steeples Construction was our go-to from the start. We didn't even get any other quotes."
Why was the decision for a custom home builder so easy for Misty? Because she personally knew the owners—Earl Hoath and Terri Sharpe.
"I have known Earl for many many years," she said. "He's a friend, and I knew we could trust him with this build. I met Terri years ago when I worked at a salon in town. We have always had a great relationship with both of them. They are very professional and friendly."
Steeples Construction prides itself on open and honest communication with clients, the ownership team and their staff, resulting in a strong relationship.
"Terri and Earl each have a very important part they play in their company," Misty said. "They were patient and helped with all the paperwork and building permits we needed from the City of Cranbrook. They looked after everything."
Designing a dream home and facing challenges
For a house designer, the couple chose Susan Lamb Design in Kimberley.
"She worked out great for us," Misty said. "Susan had our plans done and ready to go to Steeples Construction before we knew it. No stressing at all … lol."
The build took about six months, from mid-May to mid-November in 2017. Steeples Construction had the old house bulldozed and hauled away in one day.
"That was a fun day, watching it go," said Misty. "Goodbye old ... hello new!"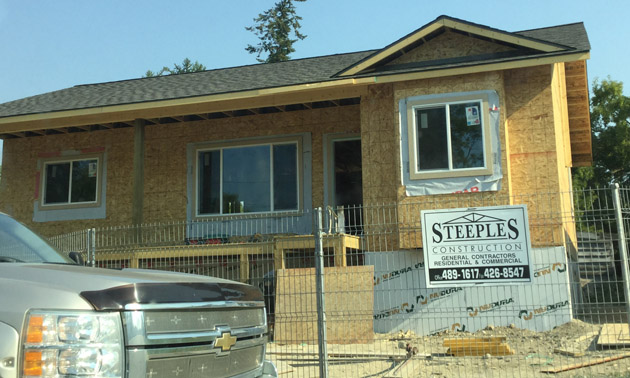 However, building construction can come with a few bumps along the way.
"We did have a small delay in the beginning as that year was the year of all the flooding," Misty explained. "They were digging the hole, and the water just kept coming out of the ground. We had a swimming pool. We needed to decide if we were going to keep digging deeper or leave it where it was."
Geotechnical engineers were brought in to help with the problem. Once the site had dried up, Steeples Construction staff got to work building the new house, always making clients feel welcomed to visit the construction site.
"From there on, it was smooth sailing," Misty said. "We popped over every now and then to check and see the progress."
If the couple wanted to make small changes, Misty said Earl was very good about letting them know if the changes would work or not.
"I've been told you need to build a few houses to get it right—not happening!" Misty joked.
Home sweet home … and business
The Ahlefelds' new home is a 1,231-square-foot bungalow.
"It's just the two of us so we didn't need anything too big or grand," Misty said.
The first floor is the living space with one bathroom. Technically, it's designed with three bedrooms upstairs along with two bathrooms and the laundry, and one or two bedrooms downstairs. The basement is totally open and not finished as of yet.
Then there was the required space for Misty's hair salon.
"I have turned one of the upstairs bedrooms into my home-based salon, Miz Teaz House of Hair," she said. "I have been working out of my house since 2005, so with this new build I was able to do what was needed. The salon has its own outside entrance so clients aren't walking through the house anymore."
Happily settled into their home for several years now, Misty said, "We would definitely recommend Steeples Construction—their workmanship and quality were fantastic. It was on time and very close to budget. They got the house done and put together a great build for us."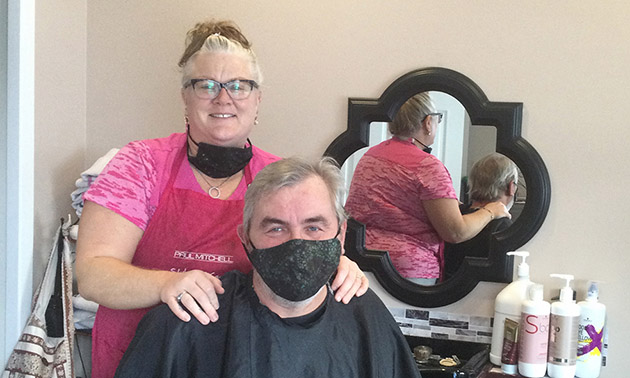 Misty also gives a shout-out to all the friends and family who helped out during the move and new build. The process was an exciting one for the Ahlefelds.
"When it's ready and you walk into your brand new home, you love it!" said Misty. "It's new, it's yours, and it's perfect."
And for Misty, it's in the perfect place. After all, real estate does come down to location, location, location.
_________________________________________________________________________________________
. . .
_________________________________________________________________________________________
Should I buy or build a house?
As for all tough decisions, there are pros and cons of buying versus building a new house. Here are a few points to consider:
Pros of building a new house:
Customization: you get to build what you want (and can afford)
Lower maintenance costs: you won't have big repairs or replacements for a while as everything is new
Lower energy costs: new homes are much more energy-efficient than older homes
Newness: as the first owner, you get to enjoy all the cleanliness of a new house
No real estate rat race: you don't have to worry about looking at new listings immediately or getting into a bidding war in a tight housing market
No toxicity: new homes won't have any older, toxic materials like asbestos or lead paint
Cons of building a new house:
Longer wait time: on average, a new build takes at least six months
Lots more decisions: you will have to make many more design decisions including the materials and features you want in your house
Price: building a house may cost more than buying an older home
Landscaping: a new house often requires the cost and work of landscaping the property
In the end, a house that meets your needs and budget is what matters most. Not getting exactly what you want is one of the biggest drawbacks of buying a house.
Are you looking for help on designing or building a new home?