Archdesign Cabinetry: A fresh take on custom cabinets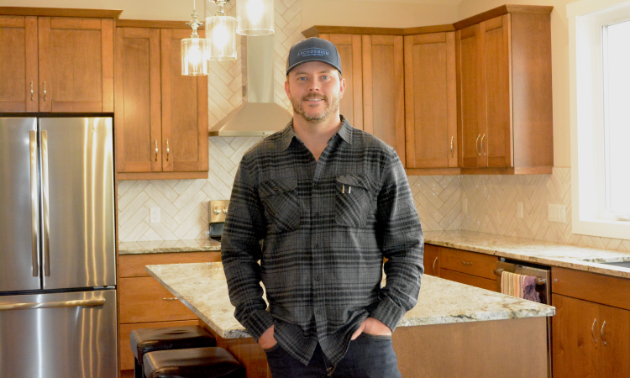 Nestled in the heart of the Kootenays, Archdesign Cabinetry is the newest up and coming cabinetry firm in Cranbrook. Archdesign arrived on the scene in 2019, and since then, has been steadily growing their client base and taking on more and more projects. Garold Gipman and his team are extremely passionate about creating custom cabinets that fit their clients' needs and specifications while sourcing top-notch products from suppliers. They design and install cabinets that are meant to last forever in peoples' homes.
With a small shop located in Cranbrook, Archdesign can outsource to Canadian manufacturing companies that have extremely high standards in their output product while still being able to custom build certain projects in-house locally. Their mission at Archdesign is to create an experience for their clients and turn dreams and ideas into reality. From start to finish, their professional and experienced team will put your needs first to ensure the result is exactly how you envisioned it to be.
"We specialize in bringing exceptional service to our clients and getting their project to the finish line, on time and on budget, every single time."
______________________________________________________________________________________________
. . .
______________________________________________________________________________________________
As your business continues to grow, what drives your passion forward?
Cabinetry is what I know and what I'm good at, and it doesn't seem like work when I'm doing it. This is an extremely complex business when done right. You always have to be thinking 5 steps ahead, it's not just what you see in front of you; you have to have a vision of how things will all come together.
The challenging projects are what I seek out these days. I enjoy and thrive playing at the highest level. I like to collaborate with like-minded individuals who are working on their projects and want to get to the finish line successfully. We get projects brought to us that have some very detailed specifications. We take that very seriously, and we bring peace of mind to our clients that it will get done right.
Our clients know we think outside the box and we will get the job done no matter what it takes.
I love working with new businesses and making connections within our community. The majority of our clients are referral based; we don't usually work with people who haven't been referred to us by a past client. At the end of the day, if our clients are happy, they will share with the community.
What are some things that you can offer as a small business that has made Archdesign so successful in its first year?
Number one is reliability. We show up when we are scheduled to show up and are done ahead of schedule. After finishing the job, our clients or contractors are confident to refer us to friends and family or their next client because of how we executed their project.
Next is function, design, and simplicity. We have great design ideas and will make kitchen magic for our clients. We have a very simple business model. We don't try to complicate anything and we are extremely flexible when it comes to working with clients and their needs. A common comment we hear from clients is how easy we made the process for them.
Next is the quality of our products; there isn't an element that will fail in our projects. We finish the job and bring exceptional value to the project.
Lastly, as a small business, every aspect of the design process is with the customer. We're able to build a strong rapport and ensure that they are completely satisfied with every detail. We go the extra mile for our clients; it isn't just a business transaction, it's a business relationship. We follow up with clients months after we complete the job and make sure they are still happy. The quality of the experience will be as real and as enduring as the project.
As an expert in the industry, what is your favourite material to work with?
NexGen. We are in the Next Generation of cabinetry. Don't get me wrong, painted cabinets and wood cabinets are beautiful and are comparable in longevity and durability, but if possible to use on a project, the quality of NexGen exceeds what painted or lacquer finish can withstand over time.
What are some ways you incorporate sustainability in your business practices?
Sustainability we see as the earth, our community, as well as our client's health. We hold high standards within the purchasing of our products. We need to use safe and sustainable products for our clients.
There are massive differences between box store quality and high-end manufacturing that take the well-being of our client's health into account. Formaldehyde and off-gassing are always considered when we choose materials and manufacturers. We have clients that have serious health concerns and require certain measures to be taken with their cabinets. Health shouldn't be a concern when choosing cabinets for your new home or renovation. With our products, there is no concern. It's what some see as the little differences that make the biggest impact, and we have your back from the start of your project to the completion.
We measure twice and cut once; we don't waste. Unwavering attention to detail is carried into every aspect of our work.
______________________________________________________________________________________________
. . .
______________________________________________________________________________________________
It may seem like a small aspect of a reno or build, but your cabinets are the bones of your home; the foundation that starts everything off, transforming chaos into order. They're where celebrations begin and end, where families come together, where starting each meal takes place. Cabinets should be beautiful and functional and should be designed and installed with care and passion. That is exactly what Archdesign believes and will do for you.
Click here for inspiration and ideas at Archdesign online.