Nelson's Morning Mountain Coffee Co. aims to be a game changer in the coffee industry
Cherie Evans, owner of Mountain Morning Coffee Co., hopes to challenge the K-cup industry with her unique product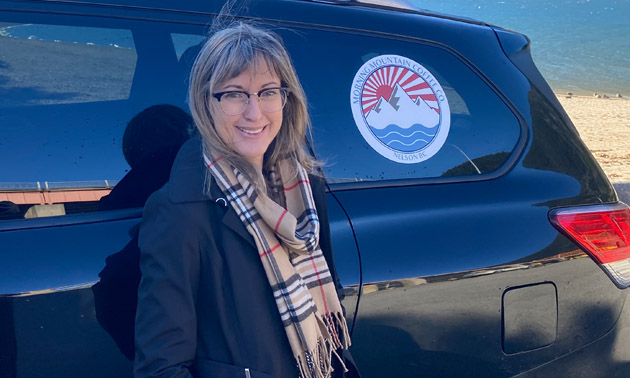 Cherie Evans is a woman on a mission. Owner of Morning Mountain Coffee Co. in Nelson, she's passionate about the environment and she strongly believes that we, as consumers, need to make smart, informed decisions about the products we buy.
"We all want to enjoy life, but it's up to us to be mindful of our choices and not just pass the problem down the line for someone else to deal with," she said.
One of the big problems that concerned her was the environmental impact and waste of K-cups—the plastic, foil-topped single-serve containers that are used in K-cup coffee machines. She decided to do something about it. Evans produces a unique product on the coffee market: single-serve, pour-over coffee bags.
These handy coffee packets are portable, biodegradable, recyclable and compostable. Moreover, they don't require a fancy coffee machine. The concept is simple: tear off the top of the coffee bag, place the X-wing hangers onto each side of a cup and pour water slowly over the bag. The result? A perfectly brewed cup of organic, ethically-sourced coffee. Convenient and easy-to-use, the coffee bags are ideal to bring along on an outdoor adventure or camping. They are also a simple alternative to coffee machines for home and office use. There are three different roasts to choose from: Peruvian medium, Peruvian dark and Columbian medium decaf.
KootenayBiz chatted with this inspirational businesswoman to find out more about her coffee journey.
When did you start your business? Are you the sole owner?
I officially started the business in March 2021. I am the sole owner. But that's not to say I haven't had any help! My partner, Dave Dando, has helped me in numerous ways. He has very specific skills to assist me where needed, but the day-to-day operation is all me.
What are the core values that you bring to your business?
I feel quite strongly that we need to make small decisions as consumers that can add up to make a greater impact. We need to ask ourselves questions about what we are buying and how we are consuming. The product may be convenient, but sustainability should be its most important attribute.
Of course, nothing we do is 100 per cent sustainable, and unfortunately that term is slowly losing (in my opinion) its relevance as companies "greenwash" their products. Sustainability is about keeping our environment at the forefront of our thoughts.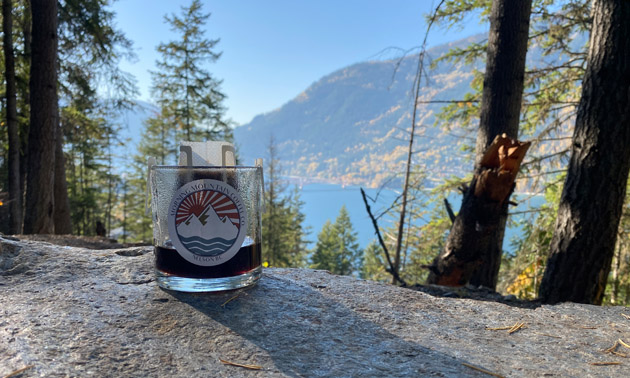 What's your employment background? Did you have previous business experience before starting the Morning Mountain Coffee Co.?
Over the years, I have started two other businesses. I am a trained commercial artist and I had a business where I designed and manufactured stained glass windows. I operated this business for 12 years (but I no longer do stained glass). Around the same time, I also started a boutique accommodation business. I started with one in 2006 and now have three self-contained retreats.
Both of those businesses have helped me greatly with the coffee business. Both are first and foremost customer service. I love to talk to people, and find out how I can assist or facilitate their needs. Coffee customers or wholesale clients are not much different.
Portable single-serve coffee bags are unique on the coffee market. Did you see a growing market for this product? Are they being well-received by customers?
I have always been alarmed at the waste the coffee pod industry produces. These single-serve pour-over coffee bags can be a game changer to challenge the coffee pod industry. The handling of coffee as a volatile organic product is not something the pod industry prioritizes. Practices that involve maximum profit to the grower and producers are followed, the product sought is bland and [the coffee] is non-organically grown on a massive scale and not targeted for terroir (origin).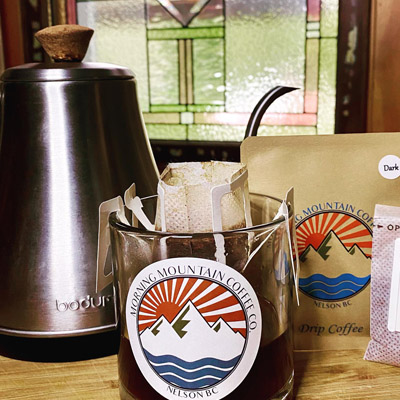 Companies try to suggest they are committed to composting and recycling their product by offering a recycle process that relies heavily on consumers recycling a product that is faulty and energy intensive. In this process, the knowledge that the majority of consumers will just throw [the pods] out is a given.
We need to look critically at the products we buy and patronize companies that divert waste from landfill and design low-use energy products.
Customers are genuinely excited about this product. It's a new product so there is a certain amount of education needed to show people the efficacy of it. Once you get past the unique delivery system, it's a really good-tasting cup of coffee.
How did you come up with your coffee bag design?
Once I had decided on a name and registered it, the design came pretty quickly for the logo. I have experience with design and was able to draw what I wanted. I made three different designs and put them on the wall to look over for a few days and then decided on the one that resonated with me the most. I then engaged a graphic designer to digitize the drawing.
What are your top tips for living a sustainable lifestyle?
Compost. Recycle. But most importantly, reduce—both the spot impact of the product and reliance on excessive processing and energy use within the supply chain.
Make a menu plan for grocery shopping to reduce food waste and save money.
Look at the second-hand market before buying new. It's amazing what you can find.
Plan your trips in the car. Don't idle your car unnecessarily.
Try to walk or bike when possible.
Choose products that can be repurposed.
And finally, this is a big one for me . . . stop using the dryer. Not only do your clothes last longer but you will save tons of money on your electricity bill.
Is there anything else you'd like to share with our readers?
I start with fair trade and organic beans. I source from a coffee district that has a specific microclimate and flavour profile. [My priority is] looking after people at all stages of production and looking after the environment.