Australian company buys old phosphate mine site near Sparwood
Fertoz Limited acquired the Marten property on February 3, 2014.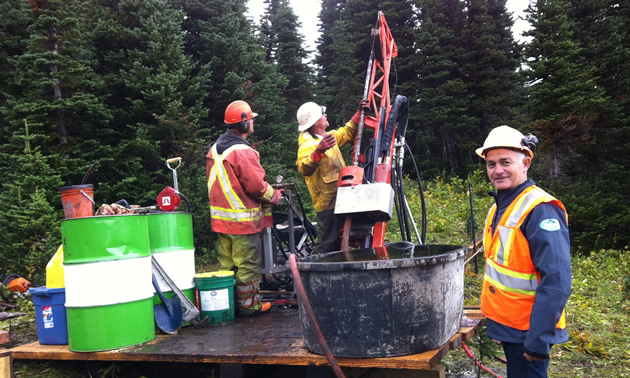 Australian company Fertoz Limited recently acquired a property near Sparwood property in the B.C. interior with the plan to develop a phosphate mine. The Marten project was secured by Fertoz International Inc., a Canadian subsidiary, on February 3, 2014.
Les Szonyi, managing director of Fertoz, said its senior geologist Jo Shearer identified the Marten Project after carrying out sampling at the company's nearby Barnes Lake and Crows Nest projects.
"Fertoz secured the property because it fits with our strategy of commercializing small, high-grade deposits of phosphate with low capital cost," said Szonyi. "The Marten project was the site of surface and underground exploratory work for phosphate from 1926 to 1930 by Cominco. Cominco established an underground phosphate mine there in 1929, employing 13 people, for exploration purposes."
The old workings exposed an approximately two-foot-wide phosphate horizon with an average grade of 55 per cent calcium triphosphate. Cominco stopped exploration in 1930, but Fertoz believes the project is worth reviewing—given its small size, shallow phosphate, proximity to infrastructure and potential low capital cost, all of which are consistent with the company's strategy. The company intends to undertake site works on the Marten project, Barnes Lake and Crows Nest in the 2014 exploration season.
Why phosphate?
Fertoz Limited (ASX: FTZ) listed on the Australian Stock Exchange on September 2, 2013, after raising $4 million, to be used mainly to fund exploration activities in Canada.
Fertoz is exploring for high grade phosphate resources in Canada and the United States, which are two of the largest agricultural economies in the world and both of which import phosphate rock. Fertoz is targeting small, high grade resources that can be commercialized quickly and inexpensively, with high grade product sold to organic farmers or third-party fertilizer plants.
According to Szonyi, phosphate rock provides the only source of phosphorus, which is required by all crops. Phosphorous is vital for root development and helps plants resist drought. Phosphate fertilizers assist with water use efficiency, early plant maturity and higher crop yields. Phosphorous is one of the three primary nutrients required for plant growth. The other two are potassium and nitrogen.
Phosphate potential
"The project is small and initially it will create jobs to carry out further exploration," Szonyi said. "This will involve two to three people. As we develop our projects in the area, we expect to create jobs for more people on a permanent basis and one day may get close to the sort of numbers employed by Cominco all those years ago. It all depends on the exploration results."
Fertoz currently has five phosphate projects in British Columbia: Wapiti East and Wapiti West near Tumbler Ridge, Crows Nest, Barnes Lake and now Marten near Sparwood. Szonyi said that in 2013 the company spent approximately $1 million on exploration in British Columbia, mainly at Wapiti East. It is in the process of getting approval to collect a bulk sample of up to 7,500 tonnes from that site for farm trials and sales to customers in 2014.
"The Marten project excites me because the historical exploration work has identified a good grade deposit outcropping on the surface, which has rail and road access," Szonyi said. "It should be able to be commercialized quickly, with the main target being use as an organic fertilizer."