The way we vote: Should things change or stay the same in B.C.?
Andrew Wilkinson on electoral reform referendum: "It stinks"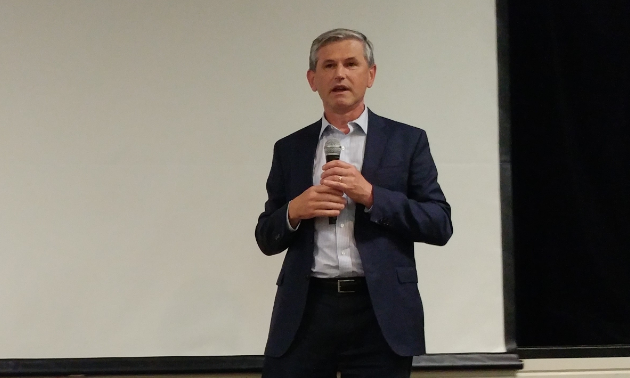 The way we vote: should things change or stay the same?
British Columbians will be voting on a referendum on electoral reform between October 22 and November 30, 2018. The referendum will decide whether or not we should keep our current first-past-the-post system or change it to one of three new proportional representation options.
During the Cranbrook Chamber of Commerce luncheon on September 19 at the Heritage Inn, B.C. opposition leader Andrew Wilkinson shared his views on the upcoming referendum on electoral reform. Wilkinson discussed why a new voting system could mean the end of local representation and clear the path for fringe parties to make decisions in the B.C. Legislature. He also believes the deck has been stacked by politicians to ensure the referendum succeeds.
"Proportional representation is going to be a problem with the new voting system," Wilkinson said. "MLAs won't be able to represent small population centres."
Wilkinson took aim at the NDPs regarding the upcoming referendum.
"The NDP has set this up to be confusing," he said. "Turnout is likely to be low. The NDP designed the rules behind closed doors. This is undemocratic. It stinks."
Wilkinson also spoke about the tensions between Alberta and B.C., saying that the friction between the two provinces is unhelpful. To highlight how dependant the provinces are on one another, Wilkinson asked chamber luncheon attendees to raise their hands if they have lived or worked in Alberta at some point in their lives. Approximately half the room held up their hands.
"We need Albertans," Wilkinson said, before adding that "B.C. is a land of opportunity."
On a side note, the Cranbrook Chamber of Commerce was pleased to announce that it has hired Kristin Parsons to the position of executive director. Parsons joins the Cranbrook chamber on November 13th.